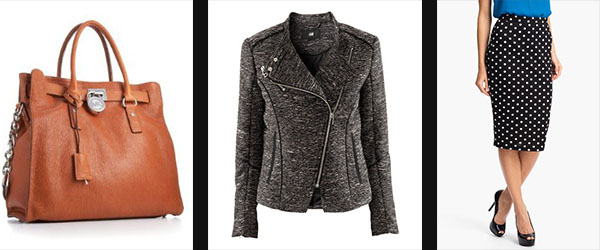 by Natalie Davis Castro
The clothes you wear will depend upon the life you lead and obviously everyone has different needs. But I believe there are ten basic essential pieces that every woman should have in her wardrobe.
My top ten basic essential pieces are:
Little black dress
Strappy cami
Classic trench coat
Crisp white shirt
The 'perfect' jeans – different for each body type
Tailored jacket
Gorgeous black trousers that make you look slim and sexy no matter what
A knee-length skirt
A pair of sexy court shoes that can be worn all year round
Fabulous leather handbag
You may be thinking: what about T-shirts, tops, dresses, and boots? Remember the capsule is the heart or core of your wardrobe, which you can add to each season to create a new look. The good news is with these ten timeless classic pieces in your wardrobe you will never have a style crisis again. Each item is versatile and can be mixed and matched within the capsule as well as with other items in your wardrobe.
It's always best to think in terms of complete outfits, putting clothes together for daytime as well as evening, along with accessories. Once you've identified which pieces of the capsule you need to get, the secret is to spend some time and money on the basics. These ten items form the backbone of your wardrobe, so it's worth investing in pieces that will go the distance and make your look expensive. Each season you can easily add trend pieces to your capsule in order to update your look. For instance, you may swap your skinny jeans for high-waisted flares or a shift dress for a wrap dress – but the core pieces stay the same.
It's actually quite liberating to think how few clothes we actually need and how many looks we could create out of ten timeless items! This doesn't mean to say you can't have a signature style. Once you've got your capsule in place, use high fashion pieces and accessories to individualize your look. For example, team jeans with a T-shirt, headband and bug-eye specs for weekend cool. Alternatively, mix jeans with white shirt, tailored jacket, chunky necklace and heels for a more stylish feel, or layer a cashmere sweater over white shirt and cami with jeans for a more preppy look. The options are endless.
To ensure your capsule wardrobe is as versatile as possible, it probably makes sense to go for more neutral colors for the building blocks and add vibrant pieces to create flair and individuality.
Whether you're a career girl, housewife or sexy singleton – each and every one of us needs to have these ten staple items in our wardrobe!
Natalie Davis Castro has been in the fashion and beauty industry for the past 15 years from working behind the scenes at fashion shows as a makeup artist in London to designing windows for department stores to now living in San Jose and becoming a personal wardrobe stylist. Natalie has been styling clients with a Silicon Valley based company, Urban Darling for the past 3 years she helps the everyday woman get the wardrobe she deserves, from closet audits to personal shopping sprees. Natalie has a degree in Fashion Promotion from London College of Fashion.