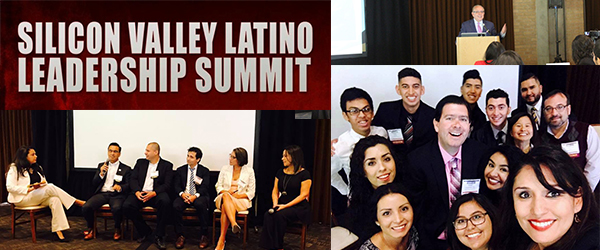 Get your tickets for the 9th annual Silicon Valley Latino Leadership Summit (SVLLS), on May 19, 2018. The summit is an opportunity to hear compelling and insightful sessions provided by nationally recognized speakers.
Join the conversation with top industry leaders as they concentrate on topics on this year's theme is "Building Diversity and Inclusion in the Workplace– It's Time! (Es Tiempo)".
SVLLS Agenda
8:00 Registration & Light Continental Breakfast
9:00 Welcome: Frank Carbajal, Founder, Es Tiempo, LLC and SVLLS
9:05 Opening Keynote: Brian Tippens, VP, Chief Diversity Officer, Hewlett Packard Enterprise
9:35 Sponsor Spotlight: TBD
9:40 Networking Break
10:00 Morning Plenary: Elevating Diversity and Inclusion
Moderator, Victor Arias, Senior Client Partner, Korn Ferry International
Panelists:
Anna Dapelo-Garcia, Administrative Director, Stanford Health Care & Founder, Lean in Latinas
Marshia Escobar, Director, LinkedIn
Isaura Gaeta, VP, and General Manager, Systems Engineering, Platform Engineering Group, Intel
Silvia Johnson (Siguenza), VP, Diversity and Global Talent, Symantec
Maria Medrano, Director, Inclusion & Collaboration- Employee, Customer & Partner Experiences, Cisco
Gina Miranda, HOLA Co-Chair, Cloud Services Global Operations, Oracle
11:25 Sergio Castillo, Actor, Producer – Film Preview, "Hole in the Wall"
11:35 Lunch & Networking
12:35 Luncheon Discussion: Innovative Latino Start-Ups
Moderator: Jorge Titinger, Founder, and CEO, Titinger Consulting
Panelists:
Robbie Cabral, CEO, and Founder, Benjilock, LLC
Martha Hernandez, Founder, and CEO, MadeBOS
Marisela Garcia Marquez, Founder, Iberus
Bá Minuzzi, Founder & Managing Partner, Babel Ventures
1:10 Award Presentation: Lifetime Leadership Award
Dr. Antonio Flores, President, and CEO, Hispanic Association Colleges & Universities
1:30 Coffee & Networking Break
1:40 Award Presentation: Visionary Leadership Award
Ramon Baez, Former SVP, Customer Evangelist and Customer Advocate, Hewlett Packard Enterprise
2:00 Award Presentation: Pioneer Leadership Award
Adriana Gascoigne, Founder, and CEO, Girls in Tech
2:20 SVLLS Young Latina Scholars (Ivy League Project & Salinas Dream Academy Collaborative)
2:40 Closing Keynote Speaker
Dr. Robert Rodriguez, President, Dr. Rodriguez Advisors, LLC.
3:00 Private Reception Co-hosted by Hispanic-Net
Speakers and times are subject to change
Purchase your tickets here http://bit.ly/2CJ6BWO