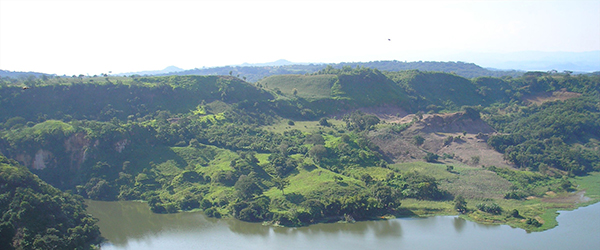 by Ana D.
Going back to El Salvador for me is always like a homecoming…even though I was born and raised in California. Something about going there makes me feel at home and a strong connection to my culture
I am fortunate enough to be able to travel back to the native country of my father. I am able to see where he lived as a child and became a young adult. For me that experience provides me a strong connection to my culture.
Another reason I love going to El Salvador is because it is an amazing place to visit! And I highly recommend it. El Salvador is a beautiful tropical paradise with kind people, delicious food, rich culture and places to visit that are truly amazing. So instead of just stopping over on your way to Costa Rica or Peru…stop and stay.
El Salvador is located in Central America between Guatemala and Honduras. From California it is about a 4-5 hour direct flight (Taca Airlines).  They use US dollars and the weather is always nice because of their tropical climate. There is a wet and dry season, the dry season is typically November to April, and the wet season is May to October. It can be very hot and humid during the wet season.
Here is a list of key places that I like to go and visit:
San Salvador (Capital): A busy city filled with food, shopping and nightlife.
Beaches: Costa del sol, La libertad, El flor .The water is over eighty degrees on average.
Towns to visit for lunch, historical sites, shopping for traditional items and views: Suchitoto, Ilobasco, Santa Ana, La Palma and San Sebastián.
Things to Do: Drive the Ruta de las flores. A bumpy ride through coffee country and a view of beautiful wildflowers that are only found between October and February. Along the way there are many cobblestone lined pueblos to wonder through. Other things to do are: hike volcanoes, visit coffee plantations, sugar cane fields, and the Mayan Ruins of Tazumal
For Surfers: Surfers come from all around the world to surf the waves. Many say that the breaks of El Salvador's Pacific coast are compared to some of the best in the world.
To read more about traveling to El Salvador visit:  http://www.lonelyplanet.com/el-salvador/
Ana D. ( Healthy Latina in the City) was born and raised in the Bay Area, Ana studied Broadcast Electronic Communication Arts at San Francisco State University with a minor in Recreation focused on Event Planning. Towards the end of her Bachelor's degree program, she began her career as a Production Supervisor at channel 26 inPacifica,California. After working for local Bay Area TV stations and production companies as a Production Assistant, Field Producer and Co-Producer, she moved toLos Angeles and worked as a Script Writer for LATV, a bilingual music entertainment program. Upon her return to the Bay Area, she completed a Masters degree in Communication Studies and graduate coursework in Education. Ana currently works at a local college in the Bay Area as a Communications Coordinator. She develops educational campaigns and publicity through online videos, photo campaigns, social media, marketing, public relations and special events. Ana has a personal passion for storytelling about culture and healthy living.