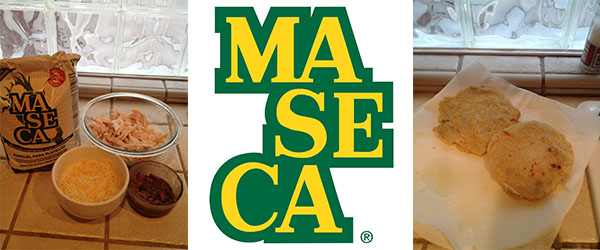 Discosure: This is a sponsored post in collaboration with Latina Bloggers Connect and Maseca. All opinions are my own.
by Linda Castillo
This Sunday I made pupusas for the first time. A pupusa is a traditional Salvadoran dish made of thick, handmade corn tortilla filled with cheese, cooked pork meat, and refried beans. But you can think of so many alternative fillings. For example, for the vegetarians in your family you can fill the pupusas with spinach and cheese, carrots and cheese, zucchini and ricotta, to name a few combinations.
For my dish, I chose to make the filling with cheese, pinto beans and shredded chicken. I used Maseca® Centroamericana to make the handmade corn tortilla. Pupusas are a great simple dish to make especially since I took the short cut by buying a Costco rotisserie chicken to use for the filling. Shaping the pupusas takes a few tries. The first few pupusas I made were odd shapes but by the fourth one they started to look pretty good.
Pupusa Recipe
Ingredients:
2 Cups of Maseca
1 1/2 Cups Water
Salt to taste
1/2 cup shredded cheddar and Monterey Jack Cheese
1 cup refried pinto beans
1 cup shredded chicken
Directions:
Place the Maseca® Centroamericana, water and salt in a bowl and knead the dough until it is soft. A good test to see if it is ready is to make sure that it doesn't stick to your hands.
In another bowl, combine the cheese, refried beans, and chicken.
Form the dough into six small balls.
Take the ball of dough and insert a hole with your finger. Then fill the hole with the chicken, cheese and bean filling. Close the hole.
Place olive oil on your hands and slap the ball of dough back and forth until it becomes a flat disc.
Cook the pupusas on a pan for about 2-3 minutes on each side. Once you see dark spots the pupusas are done.
The pupusas came out delish! They tasted so yummy when they are still warm. This dish will now become a new dinner option for my family and I can't wait to try some different fillings.
Maseca® provides the perfect corn flour to make tortillas and other dishes such as tamales, enchiladas, sopes, quesadillas, empanadas, flautas, and much more. And more importantly the corn four is 100% natural. For more recipes using Maseca® visit http://www.mimaseca.com
Linda Castillo is the Founder and Executive Editor of http://www.modernlatina.com/. She writes on topics that empower and inspire Latinas including art, motherhood, green living, culture, travel, and issues transforming the Latino community. Linda has earned a B.S. in Business and a M.S. in Mass Communications from San Jose State University.