This post is sponsored by Dove® ClearTone™ Deodorant – designed to visibly reduce underarm dark marks and even skin tone.
by Linda Castillo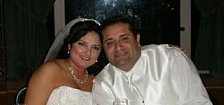 You have spent months planning the wedding of your dreams and now the big day has arrived. Below are some of my tips to help you survive and enjoy one of the most wonderful days of your life.
Wedding Itinerary Snap Shot – Prepare a one page sheet with all the vendor contact information and an itinerary of what should be happening during the entire day.  I made several copies and provided it to all my bridesmaids. That way if I lost track of time I had a few others to ensure that we were sticking to the schedule.
Carry Snacks/Water – From the time you are getting your hair and make up done until the last dance at the reception, the day will be long.  To keep from passing out or dehydrating carry water and snacks for yourself and your bridal party. Have a basket full of crackers and cheese for everyone to munch on after the church and between the photo sessions which will save you and your bridal party from fainting from dehydration or getting too cranky.
Corset Wedding Dress – With so many things to think of leading up to the wedding, having to worry about fitting into your wedding dress is one of the lasts things you want to stress about.  It is a given that your weight may fluctuate after you had the last fitting. So you don't have to worry about squeezing in your dress choose a corset style wedding dress so it will accommodate a 5-10 pound shift in your weight.
Bridal Emergency Kit – Prepare a kit that will have fixes for anything that may happen on that day.  Here are some top items to have in your kit:
Brush
Hair Spray
Tissue
Safety Pins
Bobby Pins
Sewing Kit
Super Glue
Static Remover
Pain Reliever
Foot Petals
Mints
Stain stick — just in case
Fabric tape
Lint brush
Deodorant
Toothbrush and toothpaste
Blotting sheets
Band-aids
Enjoy Yourself – You probably have heard this from everyone you know and it may seem cliché, but the day truly goes by so fast. You will be pulled in different directions all during the event to catching up with friends and family to cutting the cake. With everything going on try to take a few moments alone with your husband as you begin your life journey together.
Note: I was compensated for this post by the Clever Girls Collective.com. All the opinions expressed here are my own.
Linda Castillo is the Founder and Executive Editor of http://www.modernlatina.com/. She writes on topics that empower and inspire Latinas including art, motherhood, green living, culture, travel, and issues transforming the Latino community. Linda has earned a B.S. in Business and a M.S. in Mass Communications from San Jose State University.