by Linda Castillo
Tis' the season for colds and flus~ It's that time of year when we may inevitably catch a cold or worse yet the flu. Those few days you feel miserable with the congestion, foggy head, fever, sore throat and more. I hate when I get sick and I hate it even more so when one of my family members is sick.
And while I may not be able to cure my loved ones when they are sick I do like to show them some TLC to help them get better. Here are some things that I like to have when I am sick in bed and in turn I also do for my loved ones.
Favorite blanket – Sure we associate a favorite blanket with a toddler who runs around carrying a beat up old cartoon character blanket for comfort. But let's face a warm, cozy blanket is so comforting. When I am sick I like to curl up in my favorite thick fleece blanket and the blanket is even more comforting when is freshly washed and has just come out of the dryer!
Tea – My kitchen is stocked with all types of teas to help aid in everything from promoting healthy digestion to relaxing tea to aid in getting to sleep. For the cold and flu season, I like to drink Echinacea tea which is know is an excellent herb for all kinds of viral and bacterial infections because it strengthens the immune system.
Favorite Movie/Magazine/Book/Tablet – Being stuck in bed is the worst and the day lasts forever. For this reason, it is so important to have something to keep you entertained and keep you from going stir crazy. I like to have a few current magazines to read through or even watch a movie, usually a romantic comedy. For my little one I like to snuggle up with her to watch her favorite cartoon, usually an episode of Sesame Street.
Hugs and Kisses – I can't help but hug and kiss my little one (on the forehead to keep from getting the cold myself) when she is feeling miserable.  While she is in the routine to fall asleep on her own, I always rock her to sleep when she has a cold or isn't feeling well. Sometimes, I may even sleep alongside her in case she wakes up during the night.
Caldo de pollo – Last but not least, I like to prepare a homemade pot of Caldo filled with chicken, corn, potatoes, carrots and celery. When I cook up caldo de pollo the house is filled with the yummy aroma. Sick or not, caldo de pollo is one of my favorite comfort foods.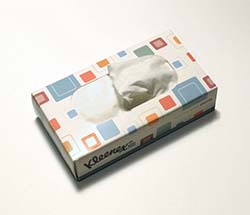 Lastly, I am sure at one point or another we have all suffered from a red nose as a result of over blowing. Keeping a box of Kleenex® tissue next to the bed is a necessity when you are sneezing and stuffed up. Right now Kleenex® would like you to send a Kleenex® Share Pack to someone you love today.
Note: This post is compensated an in collaboration with Latina Bloggers Connect and Kleenex.
Linda Castillo is the Founder and Executive Editor of http://www.modernlatina.com/. She writes on topics that empower and inspire Latinas including art, motherhood, green living, culture, travel, and issues transforming the Latino community. Linda has earned a B.S. in Business and a M.S. in Mass Communications from San Jose State University.