by Linda Castillo
World-renowned financial advisor Suze Orman recommends having at least eight months of living expenses set aside in an emergency fund. Achieving that amount can seem so daunting but taking small steps to reach that savings goal is the way to go.
In 2014, I heard about the 52-week Savings Challenge and this will be my third year doing it. It's an easy way to save $1378 each year. The concept is simple, basically you save a dollar for the number of weeks there are in the year.
While most of the 52-week Savings Challenge start with saving $1 in week 1, $2 in week 2, and so forth, I actually prefer to start the year in the reverse. I like to start the beginning of the year saving the largest amount of $52 and go down from there. This worked well for me because it's a great way to start the year off with momentum and I find saving the larger amounts more challenging towards the end of year when I have additional expenses in during the holidays. Start now and by week 27 you will have saved $1027!
So if saving money is one of your New Year's resolutions, then try the 52-week Savings Challenge. Here is a free downloadable to help you with your priority to save money this year.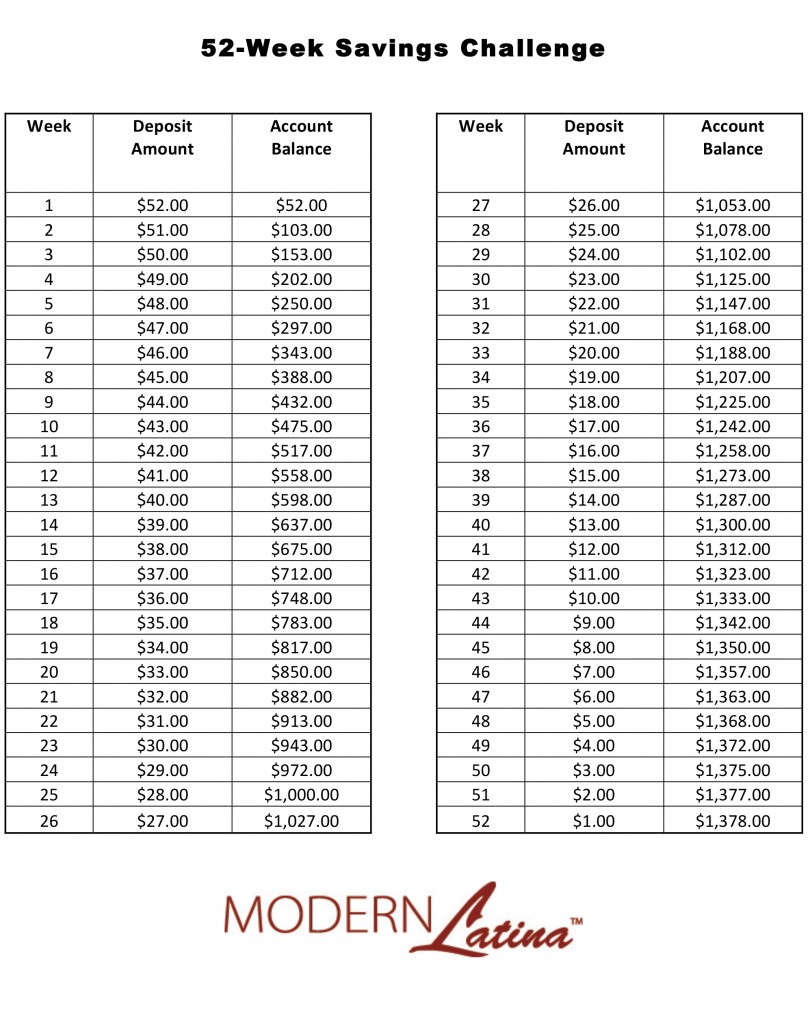 Linda Castillo is the Founder and Executive Editor of www.ModernLatina.com. She writes on topics that empower and inspire Latinas including art, motherhood, green living, culture, travel, and issues transforming the Latino community. Linda has earned a B.S. in Business and a M.S. in Mass Communications from San Jose State University.