Featured Event: Latina Success Network (LSN) presents The Power of YOU | 9/26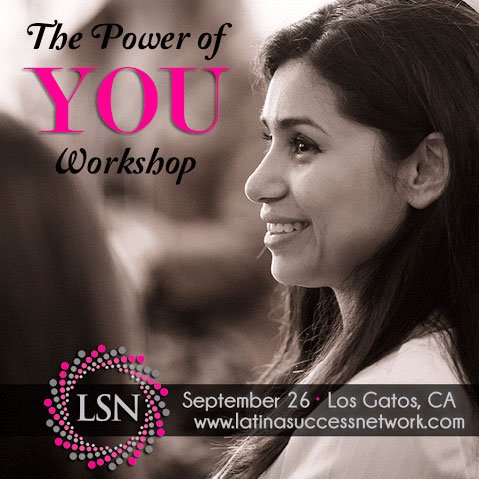 One day professional and self development workshop that will bring together Latina professionals and entrepreneurs in a community of authentic learning and growth. How many times have you attended seminars and workshops, take notes, go home and nothing happens? In this very interactive workshop, tailored with your unique cultural needs for leadership and self development, you will walk away with more confidence, get over your fear of failure and get real tools you can start implementing immediately, no matter where you are in your journey. Saturday, September 26, 2015 from 8:30 AM to 4:30 PM Location: Los Gatos Lodge 
50 Los Gatos-Saratoga Rd 
Los Gatos, CA 95032 Here is what you will learn:
Ignite Your Personal and Professional Power
Create a Realistic Vision for Your Success
Implementation and Execution of Your Individual Roadmap
Setting up Your Accountability Partners
7 Seconds to Make An Impression
In addition to the above, you will receive:
2 group coaching sessions for maximum integration and accountability on your Individual Roadmap
During these sessions you will learn about the language and mindset of success
Participants will also engage in a unique opportunity to connect with other Latina professionals and entrepreneurs, network and share their stories and journeys.
Purchase tickets: http://www.eventbrite.com/e/latina-success-network-lsn-the-power-of-you-tickets-14004815781?aff=LSNThePowerofYOUAFFILIATE&afu=15567959187
West Side Story (Pacifica) | 9/3-9/5
Shakespeare's "Romeo and Juliet" is transported to modern-day New York City, as two young and idealistic lovers find themselves caught between warring street gangs. Their struggle to survive in a world of hate, violence, and prejudice is one of the most innovative, heart-wrenching, and relevant musical dramas of current times. Fri, Sat: 8pm Sun: 2pm – plus – Thurs 9/3: 8pm Sat 9/5: 2pm. Location: Pacifica Spindrift Theatre, 1050 Crespi Drive, Pacifica 94044. Ticket Information: $25-$30 http://www.pacificaspindriftplayers.org/
Chabuca Granda's 95th Birthday Anniversary: Celebrating Peru's Greatest Songwriter | 9/4
A tribute to one of the greatest composers of Peru on her 95 birthday anniversary. A delightfull night remembering her best compositions including la MISA CRIOLLA DE BODAS (Creole Wedding Mass) by Chabuca Granda Chabuca Granda wrote the "Misa Criolla de Bodas" three years after the Second Vatican Council allowed congregations to use their native language in public worship in lieu of the ecclesiastical Latin used by the Catholic Church for centuries. The songs in Chabuca Granda's Misa Criolla are set to traditional musical genres from the coastal region of Perú. This work of sacred popular music was first performed by Chabuca Granda, and her accompanists on guitar and cajón, at her daughter Teresa's wedding in January 1969. The only published version of the Misa Criolla for soloists and chorus was arranged by Julio Caipo in 2001. Free.
Comedian Felipe Esparza |9/4-9/6
Felipe Esparza in San Jose this weekend! Time: 7:30 PM – 7:00 PM Location: 62 South Second Street, San Jose, CA 95113 Tickets: $ 22.00.Restrictions: 18 & over 2 Item Minimum Per Person Required Dress Code Enforced. Cameras and video/audio recording devices are not permitted. http://sanjose.improv.com/
45th Annual Millbrae Art & Wine Festival | 9/5-9/6
The Bay Area's biggest Labor Day weekend event, huge crowds transform downtown Millbrae into the "Big Easy" with a Mardi Gras-style celebration featuring two sun-splashed days of live music on stage and street throughout downtown, a juried show with 250 professional artists and craftmakers showing their latest handcrafted wares, festive food and drink, premium wines, microbrews and margaritas, artisan specialty food, "Hops Haven" microbrew tasting tent with tasty seasonal craft beer, an organic and green products showcase, home and garden exhibits, health and wellness displays, the "Classically Cool Car Show" and tons of fun for kids with the Streets Filled With Talent Music & Dance Showcase plus an ultra thrilling zip-line, wild and wacky "waterballerz", thrilling carnival-style rides, and an abundance of amazing amusements for kids in Playland. Free round trip shuttle service will be available from the Millbrae BART/Caltrain station every 20 minutes from 10 am to 5:30 pm. Festival admission is free. Presented by the Millbrae Chamber of Commerce. The blockbuster entertainment lineup includes Love Fool, Super Huey, Beau Funk, Big Bang Beat, Key Lime Pie, Fito Reinoso, Loudin' Cleer, John Clarke, Guy Palazzolo and HeartStrings Music. WHEN: September 5-6, 2015. Hours are 10 a.m. to 5 p.m. both days. WHERE: On Broadway (one block west of El Camino Real) between Victoria and Meadow Glen in Millbrae CA. INFO-LINE: 650-697-7324 http://millbrae.miramarevents.com FREE.
Chayanne |9/6
The Sexy, Sultry Singing Sensation Chayanne comes to the San Jose – Sunday September 6th 2015 at the SAP Center in San Jose. Location: SAP Center, 525 West Santa Clara Street, San Jose, CA 95113. Tickets: $ 70.00. http://www.ticketmaster.com/chayanne-san-jose-california-09-06-2015/event/1C004E37EB078C66
Ariana Grande & Prince Royce | 9/8
Latin heartthrob Prince Royce joins singing sensation Ariana Grande in concert.  Location: Shoreline Amphitheater One Amphitheatre Parkway Mountain View, California 94043. Tickets are $79.50, $59.50 and $39.50 for reserved seats and $25.00 for general admission lawn plus applicable charges (click here). http://concerts.livenation.com/event/1C004E7910FE78A1
CANTE JONDO: CANTE GITANO – 10th Annual Bay Area Flamenco Festival | 9/10
A special evening featuring two luminaries of today's flamenco, this concert features the Bay Area debut of LA SUSI, a major star of Seville's flamenco scene of the 1980s who toured with Camarón and Paco de Lucía, and JOSÉ MÉNDEZ, the extraordinary singer from Jerez de la Frontera who performed at the Bay Area Flamenco Festival a year ago, in the fall 2014. Accompanying them are renowned guitarist PACO FERNÁNDEZ, one of the great artists of his generation who has not been in the Bay Area for well over 10 years, acclaimed dancer LAKSHMI "LA CHIMI" and percussion wizard, LUIS DE LA TOTA. Tickets: $ 30.00. http://www.bayareaflamencofestival.org
A Night for Nicaraguan Education | 9/10
Members of the band LoCura will be play a benefit concert to help raise money for the Asla Foundation and ArteSana Foundation, both of which support education in Nicaragua. Thursday September 10th 7:30-9:30pm La Peña Cultural Center 3105 Shattuck Ave, Berkeley, CA 94705 Sliding scale $15-$30
PBS documentary On Two Fronts: Latinos in Vietnam | 9/10
A free pre-screening of PBS documentary On Two Fronts: Latinos in Vietnam, which features two Bay Area Latino natives – POW Everett Alvarez, Jr. and Delia Alvarez who recount their stories from the Vietnam War era. Guarantee yourself a seat RSVP NOW.  If you don't live in the Bay Area you can catch it on PBS on September 22 at 10pm. Location: School of Arts & Culture  1700 Alum Rock Avenue, San Jose, CA 95116. Time: 6:30 PM. Free. https://www.eventbrite.com/e/free-film-screening-on-two-fronts-latinos-vietnam-tickets-17889604288?aff=erelexporg
8th American Indian Heritage Celebration | 9/12
The American Indian Heritage Celebration (AIHC), an inter-tribal collaboration of American Indian leaders and volunteers of the Santa Clara Valley, will bring together thousands of people to the Santa Clara County Fairgrounds. This is a daylong event celebrating American Indian heritage, cultural traditions, history, language, art, music, and community. 12pm-10pm. Location: Santa Clara County Fairgrounds, 344 Tully Road, San Jose 95111. Ticket Information: Free admission $5 for parking. Website: https://www.facebook.com/pages/American-Indian-Heritage-Celebration/634033696668989
"CANVAS DAYDREAMS" | August 19 – September 13
Carmen Milagro & The Payne Mansion Hotel Present: "CANVAS DAY DREAMS" An exhibit by Peruvian-born Talavera-Ballon and emerging artist Andrew Rosas for SF art lovers. AUGUST brings established and emerging artists to the Payne Mansion Hotel and YOU are invited! ARTIST RECEPTION 8/19/15 (6-9pm) with Wine and Tasty bites by Chef Bronson. ~ http://www.talavera-ballon.com/ Time: Opening reception 8/19 from 6- 9 pm Location: The Payne Mansion, San Francisco. https://www.eventbrite.com/e/carmen-milagro-presents-canvas-daydreams-by-talavera-ballon-and-andrew-rosas-tickets-17823344102 Featuring two artists:
Andrew Rosas :San Francisco born Andrew Rosas finds much of his motivation from artists such as: MC Escher, Vincent Van Gogh, Edvard Munch, and Georges Seurat.
Talavera-Ballón: "Claudio Talavera-Ballón is a Peruvian-born painter based in San Francisco, CA. A disciple of acclaimed artist Luis Palao Berastain, he captures with great talent the essence of ordinary people's lives and their surroundings across diverse regions and cultures of the Americas. Talavera-Ballón explores themes relevant to his experience living in several regions across Peru, highlighting important social and cultural aspects of people living in diverse landscapes of the Americas. His work is also a tribute to immigrants like himself who left their home countries in search of new horizons.
Beta Space Diana Thater – Exhibition – Now through 9/13
Long interested in the mysteries of the night sky and of the natural world, internationally recognized artist Diana Thater has created a dramatic new video and light installation based on her fascination with the dung beetle and its relationship to our galaxy. Larger-than-life moving images of the jewel-like insect float on the barrel-vaulted ceiling of San Jose Museum of Art (SJMA)'s soaring skylight gallery. Directly below this starry scene, a 16-by-20-by-8-foot box emits a soft yellow light like that of the Sun. Thater enveloped the entire gallery with blue light to mimic the environment that the beetle inhabits. Nearby, two video walls display animations of the Milky Way and its galactic neighborhood based on the latest scientific observations of the universe. Location: San Jose Museum of Art,  110 S Market Street . Ticket Information: $8 for adults $5 for students, seniors, and youth Free for SJMA members and children six and under $5 after 5pm on Third Thursdays. http://sjmusart.org/exhibition/beta-space-diana-thater
Antique Autos in History Park | 9/13
The 15th annual Antique Autos in History Park, presented by the Santa Clara Valley Model T Ford Club and History San Jose, fills History Park with antique autos, fire equipment, bicycles and motorcycles of all makes from 1900 to 1945. Early Cadillacs will be featured this year. Also located on the grounds will be the Early Day Gas Engine and Tractor Association. There will be antique crafts demonstrated and antique collectibles displayed. A Dixieland Band will play for your entertainment. 11am-4pm. Ticket Information: $5 Free for participants and History San Jose members http://www.scvmtfc.org/
44th Annual Mountain View Art & Wine Festival | 9/12 and 9/13
Silicon Valley's World-Class Art & Music Festival is a vibrant multicultural celebration featuring 600 professional artists and craftmakers showing exceptional handcrafted wares, stellar live music on stage and street throughout downtown with headliners Ruckatan and Orquesta Borinquen heating things up on "Salsa Sunday", "Wine Haven, Taste of the Mountains Passport Days" premium wine tasting tent sponsored by the Santa Cruz Mountains Winegrowers Association, the "Comcast Pigskin Party Lounge" with football and baseball on the giant screen TV, festive food and drink with premium wines, microbrews, sangria and margaritas, artisan specialty food purveyors, an organic and green products showcase, health and wellness displays, home and garden exhibits, sensational young performers strut their showstopping stuff on the "Mountain View's Got Talent" Community Stage, and action-packed Kids' Park with ultra thrilling bungee jumping, wild and wacky waterballerz, super cool temporary body art, face painting and hula hooping fun. The entertainment lineup includes the return of smash-hit "Salsa Sunday" with Orquesta Borinquen and Ruckatan plus The Peelers, Old School, Lyin I's (Eagles Tribute), Pacific Soul, Emerson & The Growiser Band, Bob Culbertson, Aryeh Frankfurter, HeartStrings Music, Oscar Reynolds, John Clarke, and Ancient Winds. Admission is free. Presented by the Chamber of Commerce Mountain View. WHEN: September 12-13, 2015. Hours are 10 a.m. to 6 p.m. both days. WHERE: On Castro Street between El Camino Real and Evelyn Avenue in Mountain View CA. http://mountainview.miramarevents.com Free
Tequila Kickoff Fiesta with Watsonville Film Festival | 9/12
Last year we had so much FUN that we are doing it again! Join us for our second annual Watsonville Film Festival Tequila Kickoff Fiesta, bringing together people who believe in the power of film to transform our community. Taste a unique selection of top-shelf Tequilas, enjoy delicious food & live music at a beautiful property overlooking a vineyard. This is also an opportunity to participate in a silent auction of fabulous items donated by our sponsors, and pledge your support for the 2016 Watsonville Film Festival! SPACE IS LIMITED so please purchase your ticket in advance on EVENTBRITE to guarantee admittance. Early bird $60 / Regular price $70. Since its inception in 2012, this high-quality cinematic program has inspired our local community and is putting Watsonville on the cultural map. ¡Viva el cine! https://www.eventbrite.com/e/watsonville-film-festival-fiesta-fundraiser-tickets-17888338502
 "Mis Raíces" Documentary film presented by Bay Area Flamenco Festival | 9/12
Bay Area Flamenco Festival presents: "Mis Raíces" (My Roots) a documentary film directed by Paco Fernández. Spain, 2015 (55 min., English subtitles) Q & A with director after screening.View Trailer: https://youtu.be/-KvcdEJC9Jc Visiting flamenco guitarist from Spain, Paco Fernández presents his recently released film "Mis Raíces," an exploration of his legacy in the Gypsy families of Triana and Lebrija, two fundamental communities in the development and survival of flamenco culture.  $ 5.00
CELEBRACIONES MEXICANAS | 9/12
Ballet Folklorico Mexico Danza presents CELEBRACIONES MEXICANAS! Join us as we celebrate Mexico's Independence Day with an evening of dance, music, and culture – with special guest singer Marcy Garcia, 'La Potranquita de Jalisco'! **Please see mexicodanza.com for more information – tickets are available now! ($15/Adult, $10/Child – 12 & Under) *This event is wheelchair accessible. $ 15.00. Henry J. Mello Center, 250 Beach Street, Watsonville, CA
Bay Area Latino Fest |9/12
Oracle Arena and O.co Coliseum are excited to announce the Inaugural Bay Area Latino Fest on Saturday, September 12th, 2015 featuring: LOS TIGRES DEL NORTE,  LOS ANGELES AZULES , OZOMATLI, LOS RAKAS, GRUPO FANTASMA, TIERRA and TRIO ELLAS. Tickets: $ 40.00. 7000 Coliseum Way, Oakland
Fiestas Patrias 2015 | 9/13
Fiestas Patrias is Northern California's most prestigious Latino event – It is a FREE signature Event with Top Talent line up, that celebrates Hispanic Heritage Month and it ends with El Grito from the Mexican Consulate! Date: Sunday, September 13th, 2015 Start: 12:30 pm – 8:30 pm Location: Discovery Museum (180 Woz Way) www.epicentroams.com/bayareahispanicevents/ Free Downtown San Jose, San Jose, CA
Teatro Vision presents Macario Movie Night | 9/17
A free screening of the Classic Mexican Film that inspired Teatro Vision's play MACARIO. Doors open at 6pm and screening at 7 pm. Location: School of Arts & Culture, 1700 Alum Rock Ave, San Jose. www.TeatroVision.org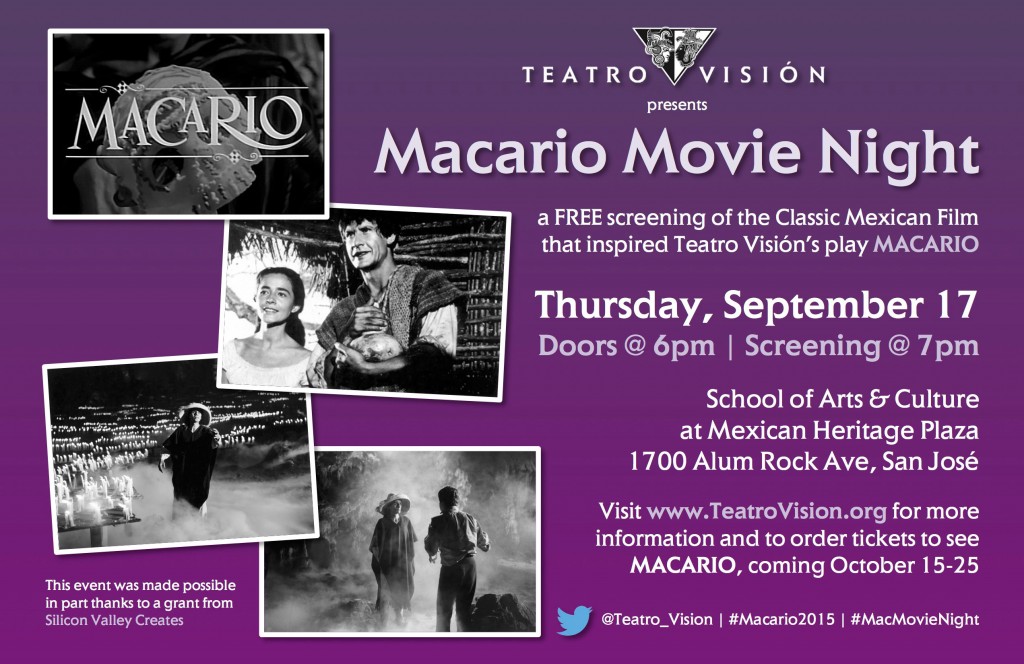 Ricky Martin "ONE WORLD TOUR" | 9/17
The multi-platinum award winning artist's highly-anticipated 10th studio album, A Quien Quiera Escuchar, available in all distribution formats, and in two versions – original and deluxe – is possibly the most personal and intimate to have been released by the acclaimed singer, philanthropist, author, actor and businessman.  The lead single, "Adios," has already amassed over 14 million views on Vevo since its release in October. Produced by Colombian composer, arranger, and pianist Julio Reyes Copello and recorded between Australia, Puerto Rico, Los Angeles and Mexico City, A Quien Quiera Escuchar showcases his vocal maturity and depth of artistry. Oracle Arena in Oakland. Tickets are $126.00 for general admission pit and $126.00, $90.50, $69.50, $49.50, $39.50 and $26.00 for reserved seats plus applicable charges.
American DREAMers screens at Cine+Más – SF Latino Film Fest |  9/19
On Saturday, September 19, 2015, American DREAMers, a film by iNDIGO PROjECT MEDIA, screens at Cine+Mas – SF Latino Film Festival. The documentary, directing debut of Latina power team Jenniffer Castillo and Saray Deiseil, follows the journey of the Campaign for an American DREAM (CAD), a group of undocumented youth who walk 3,000 miles across America's heartland, from San Francisco to Washington D.C., to organize for immigrant rights.The six young people featured in the documentary are part of a larger undocumented youth movement. As a result of the movement's collective efforts, approximately 1.7 million undocumented youth now benefit from the Deferred Action for Childhood Arrivals (DACA), which grants legal presence and two-year work permits. President Obama announced the program after the subjects featured in American DREAMers staged a series of sit-in and hunger-strikes in the Obama for America campaign offices in cities across the nation. Castillo and Deiseil followed the subjects through their journey of nearly 3,000 miles to capture their courageous story. Screening begins promptly at 3pm. Location: Mission Cultural Center for Latino Arts 2688 Mission Street @ 25th, San Francisco, CA 94110. Q&A with walkers and directors will follow the screening. Tickets:
www.brownpapertickets.com/event/2220734
8th Annual Luna Park Chalk Art Festival | 9/19
The Luna Park Chalk Art Festival attracts over 6,000 artists, students, vendors, and community members for a colorful day in Backesto Park in San José. Artists, students and chalk enthusiasts create over 150 pieces of diverse art throughout the park's pathways, including original works, classical re-creations, 3D realistic works, cartoons, modern abstractions and more. In addition to the artwork, the festival features a main stage of local musicians, dancers and performers, as well as local food trucks and vendor booths. Time: 10AM to 5PM. Backesto Park – San José, California. The festival is free to attend and open to the public. http://lunaparkchalkart.org/
On You A Story of Wearable Computing – Exhibition | Now-through 9/20
Pioneers have experimented with wearing computers for half a century, yet aside from a few specialized apps like fitness trackers, our bodies remain largely free of the smart tech that fills our pockets and purses. Why? Besides huge questions around how wearable computing might fit into our social and everyday lives, the technology wasn't ready. Early devices were too bulky, hot, isolated, or hard to use. Displaying consumer, professional, and home-made devices, "On You" explores the four key technical hurdles to making a consumer wearable computer: power and heat, networking, mobile input, and displays. Have they been solved? Come find out, and discover the technology that yearns to be on you! Location: Computer History Museum,  1401 N Shoreline Boulevard, Mountain View 94043 Ticket Information: $15 for general museum admission* *Note: Exhibit is included with museum admission price. http://www.computerhistory.org/events/upcoming/#you-story-wearable-computing
A Walk on the Wild Side – Exhibition | Now thru 9/20
Lee Aurich's photography encapsulates his deep love of the peace and beauty of the natural world. He seeks unseen stories of the wildlife surrounding us, such as the delicate nails of a gopher holding a blade of grass, two-month-old osprey squabbling over their lunch, an egret extracting sushi breakfast from a lake, and cormorants basking in the moonlight. A semi-retired CFO and systems consultant, and a photographer since high school, his images are collected and exhibited around the East Bay Area Location: Hayward Shoreline Interpretive Center,  4901 Breakwater Avenue, Hayward 94545 Ticket Information: Free . http://www.haywardrec.org/401/Exhibits
Summer in St James Park | Now – 9/25
Free family-friendly programming Mon-Fri and some Saturdays. Inculding but not limited to Monday Music and Movement Program for Children, Yoga in the Park at Noon, Words & Music Tuesdays, Noontime Happenings, Thursdays Twilight Concerts: Check website for scheudle updates, exact times and dates! Location: St James Park – Downtown San Jose,  St James Street & Second Street, San Jose 95113. FREE. http://sjdowntown.com/summerinstjames/
Art Exhibit: Leaving Our Legacy Chican@ Latin@ In The Arts  | 9/19
Leaving Our Legacy: Chican@ Latin@ in The Arta mission is to showcase and high light Chican@ and Latin@ artist at Cal and their Artistic contributions through the three areas of the arts.This event provides an art exhibition, educational experiences, and demos, that support the arts and engage the diverse community that we live in. Free. UC Berkeley
FUNNY DROP presented by CHUY GOMEZ & For The People Comedy  | 9/20
CHUY GOMEZ AND FOR THE PEOPLE COMEDY PRESENT: THE FUNNY DROP with Frankie Quinones, music by DJ Sol Wright. 7:30 PM $ 20.00. Location: COBB'S COMEDY CLUB, 915 Columbus Avenue, San Francisco.
CONNECT: Latin@s in Tech Meetup by Iberus | 9/24
We are a passionate social group of Latinos in tech looking to increase the representation of our community and the success rate of entrepreneurial initiatives at a national and international level. Our mission is to develop leadership programs that inspire and empower Latinos in the San Francisco Bay Area and Ibero-America through a network that advocates for social impact. Time: 6:30. Location: 235 Montgomery Street, San Francisco, CA 94104 $ 15.00 Buy Tickets: http://www.eventbrite.com/e/iberus-latins-in-tech-united-tickets-18305149194?aff=eprofsaved
Ask a VC Silicon Valley – Investors, Panels, Lightning Round, Venture Fair | 9/25
Want an opportunity to hear from the region's best investors? Want an opportunity to pitch in front of your peers and investors, and meet investors 1:1? We're bringing this awesome event to Silicon Valley! Get a chance to meet with investors, engage with investors through two panels on VC and investing, two lightning rounds, and a Venture Fair where you get a chance for some 1:1 with the investors there. Location: AOL, 395 Page Mill Rd, Palo Alto 94306. Ticket Information: $29 http://www.eventbrite.com/e/ask-a-vc-silicon-valley-presented-by-sidley-austin-10-investors-panels-lightning-round-venture-fair-tickets-17416285579?aff=dirsara
2° Annual Festival of Latin American Contemporary Choreographers "FLACC!" | 9/25-9/27
"FLACC!" is proud to present a group of contemporary choreographers from the US and Latin America celebrating our Latino/s heritage together and our dedication to innovation in the dance community. "FLACC!" is the 1st festival of its kind on the West Coast and brimming with creativity, experimentation, border-crossing, rule-breaking, abstract, avant-garde, and diverse perspectives as Latina/o contemporary dancers. Location: Mission Cultural Center for Latino Arts Tickets: $ 20.00
Bless Me Ultima: Opera | 9/26
Opera Cultura in association with the Mexican American Studies and Cultural Heritage Center-MLK library, San Jose State University will be presenting excerpts from Hector Armienta's opera, Bless Me Ultima, based on Rudolfo Anaya's epic novel of the same title. Four arias will be performed by an incredibly talented cast, including international star mezzo soprano Suzanna Guzman. After the performance there will be a discussion with the composerAfter the performance, there will be a discussion with composer/librettist Hector Armienta and cast about the work. Seating is limited ( 100 seats) so make reservations right away.You won't want to miss this event. The entire presentation will last approximately one hour ( including the discussion). Time: 3:00 PM Location: 150 E San Fernando St, San Jose, CA 95112. Free tickets: http://www.brownpapertickets.com/event/2125871
Fatal Laughs The Art of Robert Arneson – Exhibition | Now through 9/28
Robert Arneson revolutionized the medium of clay, transforming it from a "craft" medium into "fine art." Over a career of more than 40 years–frequently using himself as a subject–he explored ideas for art that were outside the conventional repertory, including those involving physical pain and psychological expression. Moreover, he did not flinch at sensitive, topical subjects, including many that were sexual, racial, or political in character. Location: Cantor Arts Center at Stanford University, Lomita Drive & Museum Way, Stanford 94305-5060. Ticket Information: Free. http://museum.stanford.edu/
Reflect and Create Where Art and History Intersect – Exhibition | Now through 9/30
Artists, makers and creators from throughout the broader community have been creating new work inspired by items in the Museum collection. "Creating things is uniquely human," says exhibit coordinator Johanna Fassbender. "It connects us to the world around us and is a form of storytelling. Objects in museum collections also inspire storytelling and can help us draw unexpected connections to contemporary issues and perspectives." To that end, several objects and oral histories were chosen from the collection as the starting point for this exhibit; local artists, makers and creators are being inspired by these old things to create something new and original that explores their connections to our past–and present.  Location: Los Altos History Museum, 51 S San Antonio Road, Los Altos 94022. Ticket Information: Free. http://www.losaltoshistory.org/