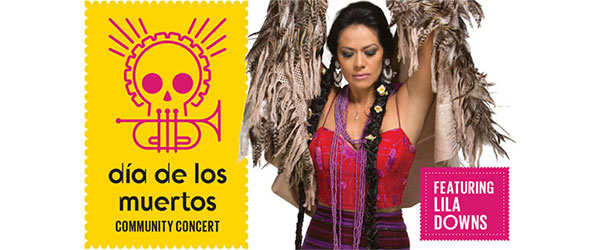 Featured Event: LILA DOWNS "DIA LOS MUERTOS" SHOW // SAN FRANCISCO
Lila Downs (Oaxacan singer-songwriter and multi Grammy-award winning artist) joins the SF Symphony in her symphonic debut, with new album, Balas y Chocolate.
November 7th at the San Francisco Symphony's Annual Día de los Muertos Community Concerts and Celebration.
This year there will be two performances: 2pm and 8pm. Prior to each show there will be complimentary refreshments, live music and dancing, colorful altars, traditional crafts, and more.
The event includes a range of art forms, including orchestral music, visual art, traditional crafts and dance. The celebration focuses on the Oaxacan region of Mexico in recognition of Downs's heritage and the region's colorful folk art and traditional music and dance.
Link:
http://www.sfsymphony.org/Buy-Tickets/2015-2016/Dia-de-los-Muertos-Community-Concert.aspx
Tickets:
$20 – $90. Half price for ages 17 and under with the purchase of an adult ticket. Tickets are available at sfsymphony.org, by phone at 415-864-6000. http://www.sfsymphony.org/Buy-Tickets/2015-2016/Dia-de-los-Muertos-Community-Concert.aspx
Día de los Muertos | November 1, 2015
Join us to celebrate 20 years of Bailando con la Muerte – Dancing With Death – a Community Celebration of Life & Remembrance!  Art exhibit featuring local artists, live music, poetry, dance performances, ofrendas, a procession to Maya Cinemas, and the Night of Fridas – a Frida Kahlo Look-alike contest.  Refreshments include Pan de Muertos (Bread of the Dead) and Mexican Hot Chocolate. Sunday, November 1, 2-5pm. http://myemail.constantcontact.com/Day-of-the-Dead—Bailando-con-la-Muerte—Dancing-with-Death.html?soid=1102009606466&aid=lWpQMmwk_Mc
DÍA DE LOS MUERTOS MASK MAKING WORKSHOP W/ DIEGO MARCIAL RIOS | October 3-November 17
Día de los Muertos Mask Making Workshop w/ Diego Marcial Rios Oct 17 at 2:30pm in PDT Show Map Mission Cultural Center for Latino Arts 2868 Mission Street @ 25th St, San Francisco, California 94110 Create and hand-paint a mask steeped in the rich cultural history of Mexico's Día de los Muertos celebration. Once you've got the basics down, roll up your sleeves to create and hand-paint your own one-of-a-kind masterpiece alongside internationally acclaimed artist Diego Marcial Rios. October 17 Day: Saturday Price: $15 (2 hour workshop) Location: Studio D Ages: All Note: All Materials included. Mission District, San Francisco, CA, USA View Map
$ 15.00
DÍA DE LOS MUERTOS | October 9- November 7
SOMArts' annual Day of the Dead exhibition, beginning in mid-October and concluding around the time of the holiday itself, is a beloved and uniquely San Francisco event. Curated by Rene Yañez and Rio Yañez with assistance from architect Nick Gomez, the event features work by more than 70 artists each year. The 16th annual Day of the Dead exhibition, Today is the Shadow of Tomorrow, will be on view October 9–November 7, 2015. To learn more about this year's exhibition, exhibiting artists and related events, click here. Opening Event Friday, October 9, 6–9pm $12–15 sliding scale admission shadowopens.eventbrite.com Exhibition unveiling features a Día de los Muertos inspired artist market and an opening procession by music and theatre ensemble Loco Bloco. Poet and performance artist Denise Benavidez hosts and performs alongside artist and poet Adrian Arias. Gathering the Embers Friday, October 23, 7–9:30pm $8 in advance & $10 at the door gatheringtheembers.eventbrite.com Multi-disciplinary performers connect past and present with an evening of story and performance. Closing Event Saturday, November 7, 6–9pm $7–10 sliding scale admission shadowcloses.eventbrite.com The final opportunity to view and interact with the altars features live music and interactive installations. Extended gallery hours during Day of the Dead: Tuesday–Friday 12–7pm, Saturday 11am–5pm and Sunday 11am–3pm. Day of the Dead is a celebration that is continually in transition, especially under the mentoring of curators Rene and Rio Yañez who have expanded the artists' part to extend beyond the traditional altar to a loved one. The father and son team challenge artists to use their creative visions to look at personal loss, as well as local and global issues. In past years artists have created installations about contemporary issues including health care, the presidential election and neighborhood violence. In past years 30 classrooms from 16 different Bay Area public and private schools (grammar school to high school) have visited SOMArts and learned about the traditional and contemporary celebrations of the Day of the Dead. The students are given a docent tour of the gallery exhibition. In addition, SOMArts creates a black light room, where students make art inspired by the iconography and traditions surrounding Day of the Dead in a room that glows. DÍA DE LOS MUERTOS Opening Event Friday, October 9, 6–9pm $12–15 sliding scale admission 934 Brannan Street San Francisco, CA 94103
18TH ANNUAL DÍA DE LOS MUERTOS 2015 | October 12 – November 6
18TH ANNUAL DÍA DE LOS MUERTOS 2015 San Jose State University's Karet Plaza, behind the Dr. Martin Luther King Jr. Library at the corner of San Fernando and 4th Streets, 150 E. San Fernando Street, San Jose, CA 95112. All vendors to set-up between 10:00am and 11:00am. Procession arrives between 11:30am and 12:00 noon. "The San Jose Multicultural Artists Guild (SJMAG) is a diverse, professional, cross-cultural  arts organization, that serves the community by presenting traditional and  contemporary performing arts to Silicon Valley. We offer professional theatre productions,  arts education programs, artists in residence, art festivals, special events, and  arts enrichment programs for all ages." Location: 4th & San Fernando, San Jose, CA 95112. Free
MEXICAN MUSEUM: LA COCINA & MAESTROS
October 15, 2015 to January 07, 2016
12:00 PM – 4:00 PM
Fort Mason Center 2 Marina Boulevard Building D San Francisco, CA 94123 United States View Map
Free
The soul and spirit of the arts and cultures of Mexico and the Americas are fundamentally linked. Through its programs, The Mexican Museum voices the complexity and richness of Latino art throughout the Americas, encouraging dialogue among the broadest public.
Hours:
Thursday through Sunday, Noon to 4pm
Admission is free.  Donations are welcome.
Address:
Fort Mason Center
2 Marina Boulevard Building D
San Francisco, CA 94123
DIA DE LOS MUERTOS EXHIBITION October 16, 2015 to November 20, 2015
The Mission Cultural Center for Latino Arts announces its 29th annual Day of the Dead / Dia de los Muertos exhibition. Exhibition: October 16-November 20, 2015. Opening Reception: Nov. 2nd from 6-11pm. *Free hot Chocolate and pan de muerto. This exhibition reinterprets the them of Día de los Muertos to memorialize the endurance and survival of Indigenous Peoples and protest the recent canonization of Junipero Serra by Pope Francis of the Catholic Church. Curators Celia Herrera Rodriguez and Theresa Harlan. $7.
ÍA DE LOS MUERTOS COMMUNITY CELEBRATION AND GATHERING FEATURING ASTRID HADAD
October 27, 2015 to November 02, 2015
Bryant St & 24th St, San Francisco, CA 94110, USA View Map
Free
Día de los Muertos Community Celebration and Gathering. 6-8PM (in front of the digital mural on Bryant at 24th) Galería de la Raza Presents Astrid Hadad at its annual Dia de los Muertos Community Celebration. This evening community gathering will feature poets and musicians that weave our cultural traditions and define new ones into the future.  We are thrilled to present headliner, Astrid Hadad, opening blessing by Nauhxa (educator), and performances by Loco Bloco (youth percussion ensemble), Denise Benavides (poet), Chhoti Maa (hip hop artist) and Taller Bombalele (Afro-Puerto Rican Bomba). This event will be hosted by performer/comedian Marga Gomez. http://galeriadelaraza.org/eng/events/index.php?op=view&id=6250
November 01, 2015
2:00 PM – 8:00 PM
1700 Alum Rock Ave, San Jose, CA 95116, USA View Map
$ 5.00
DIA DE LOS MUERTOS – LA ULTIMA PARADA // SAN JOSE
DATE AND TIME: 2 to 8 p.m. Sunday, Nov. 1, 2015
LOCATION: School of Arts and Culture at Mexican Heritage Plaza, 1700 Alum Rock Ave., San Jose
TICKETS: $5 for adults; kids 12 and under free.
Advance tickets available at laultimaparada.brownpapertickets.com. More event info is available at laultimaparada.org
Date:   November 1
Time:  2:00 pm – 8:00 pm
Cost:    $5
Event Category:         Art
VENUE
Mexican Heritage Plaza
1700 Alum Rock Avenue
San Jose, CA 95116 United States
5:00pm – 6:00pm
Starts in about 7 hours · 67°F Clear
Show Map
Maya Cinemas
153 Main St, Salinas, California 93901
Find Tickets
Tickets Available
www.artistasunidos.org
20th Annual Frida Kalho Look-Alike Contest is fun for people of all ages. Prizes for every category you can imagine: Youngest Frida, Oldest Frida, Blondest Friday, Ginger Frida, Frida w/a Monkey, Self-Portrait Frida, Alien Frida, Zombie Frida, Blue Frida, any Frida! Come and join the fun at this popular event in celebration of Dia de los Muertos.
https://www.facebook.com/events/1518516548467872/
Dia De Los Muertos Ceremonia de Danza | November 2
5:00pm – 9:00pm
Tomorrow · 62°F / 47°F Chance of Rain
Show Map
Mi Pueblo Foods
1745 Story Rd, San Jose, California 95122
You are invited to our annual ceremony and celebration to honor our ancestor and love ones who have passed on to the spirit world. We are happy to announce maestro Xavier Quijas Yxayotl will be with us with his beautiful music.
https://www.facebook.com/events/647447318730800/
GHOST MAN book release Reading/Celebration. Featuring Donnelle McGee, Louise Hammonds, Harmeet Kalsi, and Angel De Jesus Mora. | November 10
t 7:00pm
· 69°F / 47°F Clear
Show Map
School of Arts & Culture @MHP
1700 Alum Rock Ave, San Jose, California 95116
Donnelle McGee reads from his novel GHOST MAN. Poets Louise A. Hammonds, Harmeet Kalsi, and Angel De Jesus Mora will also join Donnelle to read and celebrate the evening.
"Donnelle McGee writes with an incisive grace and insight. Uncompromising in its exploration of grit and themes of history, weaving noir into the literary, GHOST MAN is an exciting and timely book. With some Chester Himes and some Walter Mosley and hints of Mat Johnson and Victor LaVelle, McGee has made a style all his own. A strong debut."
– Chris Abani, THE SECRET HISTORY OF LAS VEGAS
Donnelle McGee is the author of NAKED (Unbound Content, 2015) and SHINE (Sibling Rivalry Press, 2012). He earned his MFA from Goddard College and is a faculty member at Mission College in Santa Clara, California. His work has also been nominated for a Pushcart Prize.
https://www.facebook.com/events/1076489809058007/
Santana Row Annual Tree Lighting Ceremony
5:00pm – 9:00pm
Show Map
Santana Row
377 Santana Row, San Jose, California 95128
Find Tickets
Tickets Available
LEADERSHIP LECTURE SERIES: ISABEL ALLENDE IN CONVERSATION WITH DON GEORGE | November 4
In 1939, as Poland falls under the shadow of the Nazis, young Alma Belasco's parents send her away to live with her aunt and uncle in their opulent mansion in San Francisco.
Facebook: http://www.bookpassage.com/book/9781501116971
Book Passage San Francisco | 1 Ferry Building, San Francisco, CA 94111 | (415) 835-1020
Store Hours: MON-FRI 9-7pm | SAT 8-6pm | SUN 10-6pm
About:
There she encounters Ichimei Fukuda, the quiet and gentle son of the family's Japanese gardener. Unnoticed by those around them, a tender love affair begins to blossom, but the two are cruelly separated by the consequences of the Japanese attack on Pearl Harbor.
Ichimei and his family, like thousands of other Japanese Americans, are declared enemies and forcibly relocated to internment camps run by the United States government.
Throughout their lifetimes, Alma and Ichimei reunite again and again, but theirs is a love that they are forever forced to hide from the world. Irina Bazili, a care worker struggling to come to terms with her own troubled past, meets the elderly Alma and her grandson, Seth, at San Francisco's charmingly eccentric Lark House nursing home. As Irina and Seth forge a friendship, they become intrigued by mysterious gifts and letters sent to Alma, eventually learning about Ichimei and this extraordinary secret passion. Sweeping through time and spanning generations and continents, The Japanese Lover explores questions of identity, abandonment, redemption, and the impact of fate on our lives.
20TH ANNUAL FRUITVALE-OAKLAND: DIA LOS MUERTOS FESTIVAL | November 8
Dia de los Muertos is the most anticipated family event of the year!
This is a beloved festival that has been rooted in our community, honoring Mexican tradition while generating modern interpretations that connects with a broad spectrum of demographics.
Come and enjoy the flavors of Latin American cuisine and enjoy a day filled with  entertainment, art and community. Fun for the entire family. There will be continuous entertainment on two stages.
http://www.unitycouncil.org/dia-de-los-muertos/
American Gun Show
WORKS San José
10/2/2015 – 11/13/2015
Times: Thurs & Sat: 12pm-4pm; Fri: 12pm-6pm
American Gun Show… an exhibition of artistic responses at the intersections of free speech, personal liberty, and national identity. Curators James Morgan and Dorothy Santos explore the art and technology of guns with an objective focus to provide a much needed dialogue around an object rife with cultural, social, and political meaning.
Featured Artists: Morehshin Allahyari David Bowen Micha Cárdenas Caroline Covington Joseph Delappe Christopher Elliman Nancy Floyd Philip Bronson Gann Charles Krafft Linda Lighton Julie Meridian Joe Miller Nick Montfort Lydia Moyer Tal & Omer Golan / OMTA Barbosa Prince Asa Scheibe Marnika Shelton Brett Stalbaum Unicode 6.0 Annie Wan Daniel Wechsler Cody Wilson Henry Witecki Minoosh Zomorodinia.
Join the public discussion with the curators Friday, October 23rd at 7pm.
24th Annual Jewish Film Festival
Silicon Valley Jewish Film Festival
10/10/2015 – 11/8/2015
$11-$70
This year, SVJFF introduces an exciting new venue, AMC Saratoga 14 with two weeks of screenings, and two weeks at the Oshman Family Jewish Community Center in Palo Alto, for 35 total screenings of features and documentaries from around the world, plus some very special guests. Don't miss the Opening Night Special Event with Israeli superstar recording artist, David Broza, who will perform and speak about the film East Jerusalem West Jerusalem. Closing Night will feature a screening of The Outrageous Sophie Tucker! Six time Emmy® award-winning comedy writer Bruce Vilanch, along with the producers, will join us to discuss this provocative movie.
*The festival will take place in Cupertino, Palo Alto, San Jose, Saratoga, and Campbell.
Please confirm directly with the promoter or box office to ensure event details have not changed. http://www.svjff.org/
Quickbooks Connect 2015 (QBCon 2015)
Intuit Quickbooks | November 2-4
The QuickBooks Connect conference brings together small business owners, entrepreneurs, accounting professionals, and developers for QuickBooks expert talks, training, hands-on workshops, networking, and more! $149-$449
Kiss Me Kate
Broadway By The Bay 11/6/2015 – 11/22/2015
Winner of three Tony Awards and Critics Circle Awards for Best Musical, Kiss Me Kate; is a musical with music and lyrics by Cole Porter. The story involves the production of a musical version of William Shakespeare's The Taming of the Shrew; and the conflict on- and off-stage between Fred Graham, the show's director, producer, and star, and his leading lady, his ex-wife Lilli Vanessi. A secondary romance concerns Lois Lane, the actress playing Bianca, and her gambler boyfriend, Bill, who runs afoul of some gangsters.
$47-$69
http://www.broadwaybythebay.org/
South First Fridays – November
11/6/2015
7-11pm
The art walk is self-guided evening tour through galleries, museums, and independent creative businesses featuring exhibitions and special performances. The art walk takes place on the First Friday of the month, year around, except for January & July due to the major holidays. During the summer months, the folks behind the art walk also produce special outdoor events that take place in conjunction with the art walk: SubZERO Festival (June) and Street Mrkts (August & September). These events are an effort to give local artists, bands & indie creative retailers the opportunity to exhibit & sell their work directly to the public.
http://www.southfirstfridays.com/
Fall Passport Weekend
Guglielmo Winery
12pm-5pm
Enjoy the wonderful flavors and viticulture of many local wineries during the Fall Passport Weekend.
Venue: Guglielmo Winery
Address: 1480 East Main Avenue
Morgan Hill, CA 95037
http://www.guglielmowinery.com/
SPSM Beer Bash
San Pedro Square Market
November 8
12-4
Sample craft brews at the San Pedro Square Market Beer Bash. Find new and tasty brews from the Stone Brewing Company while strolling the market for other delightful taste treats.
Venue: Market Beer Company
Address: 87 San Pedro Street
San Jose, CA 95110
http://www.sanpedrosquaremarket.com/
Always – Patsy Cline
Limelight Actors Theater
Dates: 11/13/2015 – 12/5/2015
Fridays-Sundays
Times: Fri, Sat: 8pm Sun: 2pm
$25
This is the story of Patsy Cline (Diane Milo) and her dear friend, Louise Seger (Christy Wait), complete with down-home country humor, true emotion and even some audience participation. It includes many of Patsy' unforgettable hits such as Crazy, I Fall to Pieces, Sweet Dreams and Walking After Midnight…27 songs in all.  The show's title was inspired by Cline's letters to Seger, which were consistently signed "Love ALWAYS… Patsy Cline."
Limelight Theater is a "bring your own dinner and wine" theater. http://www.limelightactorstheater.com/
Christmas in the Park
Christmas in the Park
Dates: 11/27/2015 – 1/10/2016
Daily
Christmas in the Park is an annual holiday tradition that takes place in the heart of Downtown San José at the Plaza de Cesar Chavez. For over 30 years, this whimsical event has brought people from all over the Bay Area together during the holidays. Each year, the two-acre park is transformed into a holiday fantasy with over 60 musical and animated exhibits, glittering lights and the 60-foot Community Giving Tree. Some of the original displays housed in one of the largest exhibits, the Lima Train, include a melting snowman, caroling mice and elf woodcrafters. Guests enter a winter wonderland of lights, songs and local entertainment while strolling through an enchanted forest of trees decorated by San José schools, community groups and businesses. Venue: Cesar Chavez Park
Address: South Market Street
San Jose, CA 95112 http://christmasinthepark.com/index.php
Santa Cruz Holiday Lights Train
Roaring Camp Railroad
Dates: 11/27/2015 – 11/28/2015 , 12/5/2015 – 12/6/2015 , 12/12/2015 – 12/13/2015 , 12/18/2015 – 12/23/2015
9am-5pm
Choo, Choo, Santa Claus is coming to town, not by sleigh, not by snow but by Train! Vintage excursion cars, adorned with thousands of colorful lights, roll through the streets of Santa Cruz as passengers lend their voices to holiday carols, sip hot spiced cider and listen to musical entertainment while Santa visits the little ones, or the young at heart! Continue the merriment with your choice of arcade games, mini-golf or laser tag at Santa's Kingdom at the Santa Cruz Beach Boardwalk. Bring the whole family for festive fun. Happy Holidays! http://www.roaringcamp.com/
Makers Market on the Row
Santana Row November 28
Enjoy a Makers Market on The Row featuring local artisan talent. Event takes place in Park Valencia on Saturday, November 28th from 11am-5pm. Specialty vendors to be announced soon! 11am-5pm. Venue: Santana Row
Address: 377 Santana Row
San Jose, CA 95128
A Christmas Carol
San Jose Youth Shakespeare
Dates: 11/28/2015 – 12/6/2015
Times: Fri: 7pm
Sat: 3pm & 7pm
Sun: 6pm
"Let me hear another sound from you and you'll keep your Christmas by losing your situation!" Bitter old miser Ebenezer Scrooge finds his way to a gentler, kindlier man after visitations by the ghost of his former business partner Jacob Marley and the Ghosts of Christmas Past, Present and Yet to Come. Come see SJYSs Fall production of Charles Dickens' A Christmas Carol. Original theatrical adaptation by Artistic Director, Bob Rumsby. Venue: The Studio Theatre at Houge Park
Address: White Oaks Avenue and Twilight Drive
Building 1
San Jose, CA 95124 http://www.sanjose.org/events/a-christmas-carol/
Juan Gabriel Concert | November 27
DATE
NOV 27 , 2015
Juan Gabriel initiated the first leg of his "Volver Tour" in 2014 and successfully completed the second leg of the tour in February of this year. This most recent tour consisted of 19/22 sold out shows and had over 184,248 overall attendees in the U.S. alone. Not to mention that Juan Gabriel also managed to do the impossible and break record at the prestigious Auditorio Nacional in Mexico City by performing for an impressive 5 consecutive hours. With that same energy, Juan Gabriel's "Bienvenidos al Noa Noa Tour" will reach new cities including Sacramento, CA; Kansas City, MO; Tucson, AZ and Seattle-Tacoma, WA.
DOORS OPEN
7:00PM
AVAILABILITY
Buy Tickets
PARKING
$25
http://www.sapcenter.com/events/detail/juan-gabriel-2