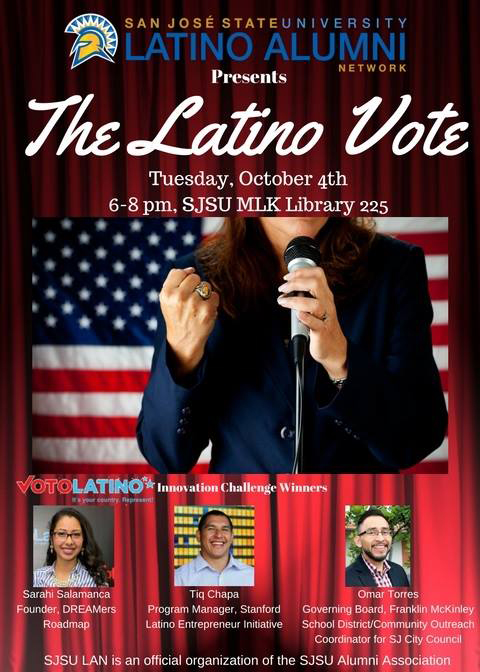 SJSU Latino Alumni Network invites SJSU students and alumni to join their upcoming event Tuesday, October 4th from 6-8pm in MLK Library Meeting Room 225 where they will discuss the impact and importance of The Latino Vote.
In California, Latinos make up 38% of the population with 7 million eligible to vote but only 17% are likely to vote.
Guest Speakers:
Connecting immigration, business, education, and what the Latino Vote means to them.
**Onsite voter registration will be available for those eligible to vote.
The Latino Vote
When: Tue, October 4, 2016
Time: 6:00 PM – 8:00 PM
Location:  San José State University MLK Library 225, 1 Washington Square, San Jose
Tickets are available https://www.eventbrite.com/e/the-latino-vote-tickets-27339737892?utm_term=eventname_text
To learn more about the SJSU Latino Alumni Network visit http://www.sjsulatinoalumninetwork.com/