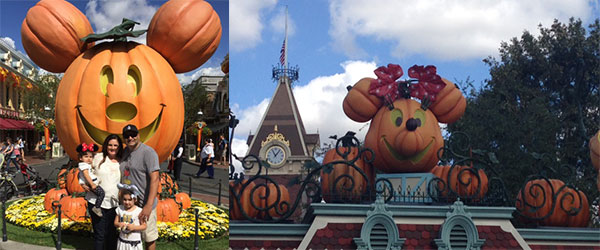 by Linda Castillo
What a better way to experience the happiest place on earth during Disneyland's 60th Anniversary coupled with our favorite holidays Halloween! As part of the Disney's Diamond Celebration, the park offered a glittering new parade, new fireworks spectacular and all-new "World of Color." All of these new experiences will leave your family in awe. My daughters loved watching the "Paint the Night – All-New Electrical Parade," the luminescent parade was filled with their favorite characters including Tinker bell, Cinderella, Elsa, and Anna and so many more beloved characters in the most spectacular presentation of props and costumes. We stayed after to watch the "Disneyland Forever" fireworks show which took over the evening sky taking us through all of the timeless Disney tales from "The Jungle Book" to swimming "Under the Sea" with the Little Mermaid.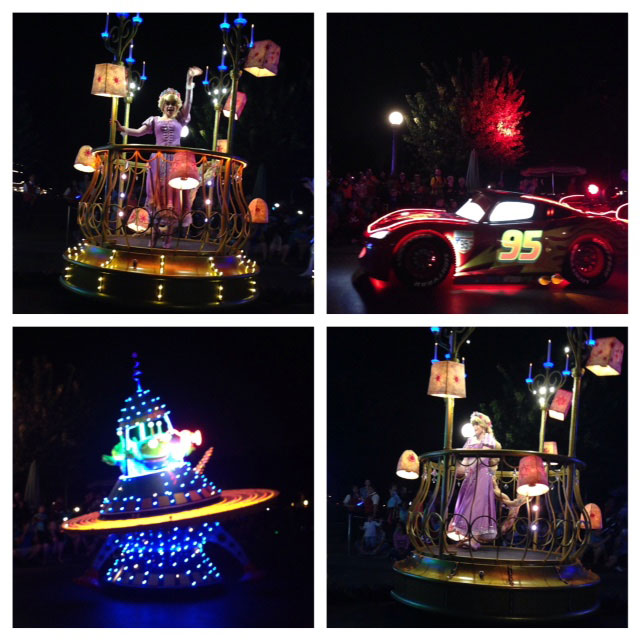 It was such an enchanting time to visit Disneyland, the park still had my favorite spots that I loved as a child while having wonderful new rides and additions. We were excited to add some spookiness to the sparkle of the Diamond Celebration. When visiting during the Halloween season you will see some scary transformations of the Haunted Mansion, Space Mountain and observation of the traditional Mexican "Dia de los Muertos". Not to mention, you will be able to get a photo with Jack Skellington and Sallie from the "The Nightmare before Christmas." Also, for those wanted to come specifically for the night experience, Disney offers Mickey's Halloween Party for guest to visit in Costume and trick-or-treat throughout the Disneyland Park for select nights.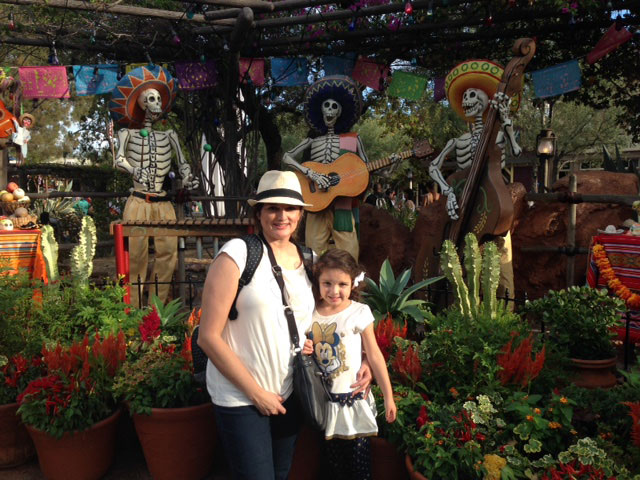 I wanted to take my daughter when she was under 5. Right now everything is real for her. When she met and took a picture with Tinker bell, she really thought it was Tinker bell and asked her questions about how she flies. I was so excited that my one year old also went on all the rides – yes all the rides!
At the end of the trip, I asked my daughter what her favorite part of Disneyland was. I was not sure what she would pick because there were so many amazing options to choose from such as the rides, the parades, fireworks, and more.  "Meeting and taking a picture with Minnie Mouse," she happily responded.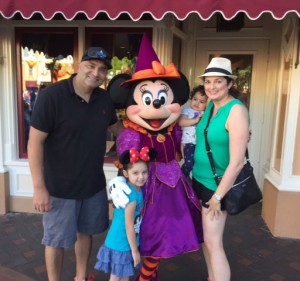 Disneyland will forever be a place where dreams do come true and guests stay forever young. For me, I was able to experience the magic through my daughters' eyes making the trip so much more special.
Some Mommy Travel Tips for Disneyland
I admit I wasn't sure how my two daughters, 4 and 1 year old would handle a 6 hour drive to get to Disneyland, let alone 3 continuous long days at the park. I am happy to say they great! Here are some of my tips for any moms taking their tots to Disneyland:
1. Go Early with an Action Plan: I admit it the first day we didn't do this because we were all in awe of being at the "happiest place on earth." But at the end of that first day, I was bummed that we had not even scratched the surface of Disneyland and only went on a handful of rides. In fact, I can say that we didn't even leave Fantasy Land. The next day, I had an action plan – leave early and tackle the different lands within Disneyland strategically so that we see the most of the park and get the most value from our tickets! Be sure to hit up those rides with the average 50 minute wait first thing in the morning. Special note: For the "Paint the Night – All-New Electrical Parade" be sure to get your spot at least two hours early (yes two hours but it will go quick). Here we are taking taking some selfies waiting for the parade.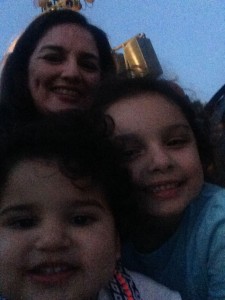 2. Snacks and Water: Have plenty of snacks and water on hand to help keep the family fueled and hydrated throughout the day. The snacks are essential especially since it will be inevitable that one family member is a little hungry right after a meal.
3. Tricks to Help you Navigate the Park: Fast passes are awesome. If a line is longer than 20 minutes stop by the Fast pass dispenser and stick you tickets in and then you will be delivered the exact time to return to the ride without waiting in the long lines.Download the Mousewait Disneyland App. While I relied heavily on the printed map the app was great to see which rides had shorter waits and which rides are closed for servicing.
4. Pack the Essentials: To be prepared for the long days at Disneyland, here are few necessities I recommend you have on hand:
Sunscreen
Sun hats
Extra outfits
Clothing layers,
Blanket for sitting to watch parades
Strollers (we even brought one for our 4-year old to give her a break from walking)
Milk, food, snacks and water
Baby carrier to give your back a break when you are holding baby in long lines
5. Make it a Family Affair: This year not only did we enjoy the 60th Anniversary but we celebrated my best friend's 40th Birthday. Our kids are the same age and enjoyed hanging out and going on the rides together.  Plus, a cousin may bolster each other if one child may be afraid of a scary ride.
6. Take Frequent Breaks: It's easy to run around all day and forget to take a much-needed break. On the day that our family stayed for the fireworks and evening parade, we headed back to our hotel which was thankfully walking distance from the park to get recharged for the long evening ahead. We had lunch, took a nap and then we were ready to embark on the second part of our day. It was the best way to make sure our kiddos enjoyed and stayed awake for the special evening festivities. Also, find out where all the closest bathroom locations are because that will be one of our most frequent stops during the day.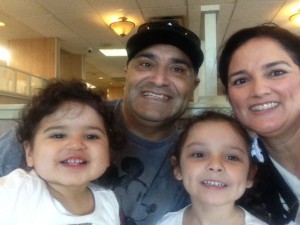 And now you are set to make some happy memories at Disneyland!!