Disclaimer: This is part of a sponsored collaboration with DiMe Media and Pampers.  All opinions are 100% mine.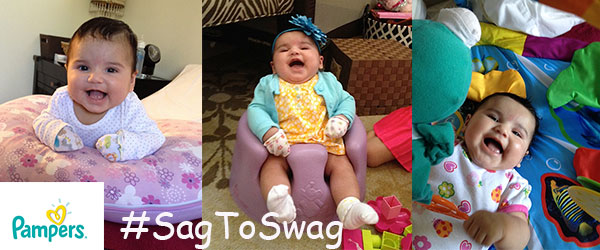 Both my girls love music, dancing and playing. Just like their mommy, my baby girl's love to dance– must be the Latina in us! It's so cute to watch their dance moves aka swag! As a mom, I have always tried to encourage baby movement and growth at every age. Time on a play mat, tummy time and water play during bath time are great ways to develop your baby's motor skills early on. And before you know it your little ones will walking and then you won't be able to keep up with them!
Tummy time with mommy: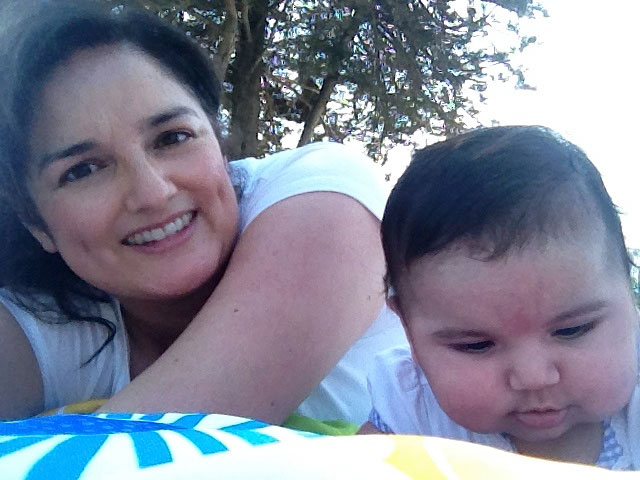 Playtime with sissy: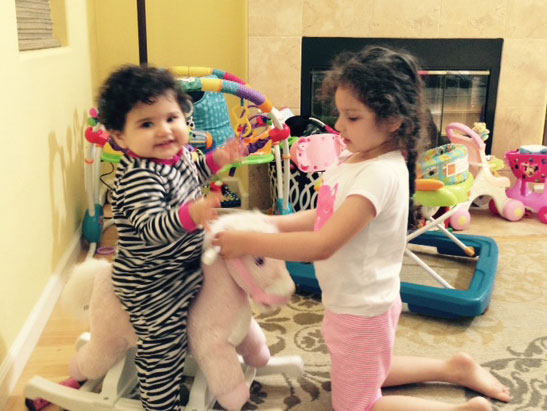 Outdoor fun:
To keep up with my baby girl's moves or swag, Pampers recently launched Pampers Cruisers diapers that feature three Extra Absorb Channels TM that help little ones stay drier and do not sag like ordinary diapers* – helping babies go from #SagToSwag. So what makes Pampers Cruisers so different from a poor fitting or saggy diaper that limit babies' freedom of movement:
Pampers Cruisers have three channels in the core of the diaper that help distribute wetness evenly and prevent diaper sag, helping babies move without restriction.
Pampers diapers have three layers of protection and a thin core to help lock away wetness and provide up to 12 hours of protection.
Pampers Cruisers feature fun Sesame Street® character designs and include wide, stretchy sides to help the diaper stay in place and flex comfortably with baby's every move, for Pampers best fit.

Be a part of #SagToSwag excitement by joining:
@PampersLatinoUS and @DiMeMedia for the #SagToSwag Twitter Party on Tuesday, 8/25 from 9-10pm ET! Visit www.dimemedia.net for additional information and to RSVP.
Pampers Cruisers #SagToSwag nationwide tour heading to a city near you. The Pampers Cruisers #SagtoSwag Tour will deliver new Pampers Cruisers diapers to little ones – and their parents – across the country.
The tour consists of five event stops where Pampers babies can show off their own one-of-a-kind swag and every joyful wobble, crawl, run, skip, dance and bounce that makes each baby so uniquely special.
The tour will feature free samples of the new Pampers Cruisers diapers, music, dancing, inflatable slides, crawling tunnels, a video booth, interactive product demonstrations and more.
As part of Pampers commitment to supporting the happy, healthy development of every baby and making life #BetterforBaby, Pampers will make a diaper donation to local Feeding America® food banks at each Pampers Cruisers #SagtoSwag Tour stop, continuing the brand's mission to provide millions of diapers for U.S. families in need each year
Stay connected to Pampers:
–       Facebook: https://www.facebook.com/pamperslatino or https://www.facebook.com/Pampers
–       Twitter: @PampersLatinoUS or @Pampers (https://twitter.com/PampersLatinoUS or https://twitter.com/pampers
–       Website: http://es.pampers.com/home AND http://www.pampers.com/home