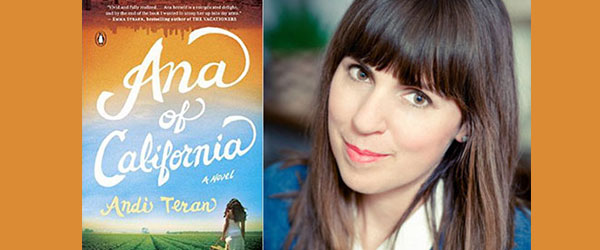 Andi Teran is a writer and performer originally from the deserts of West Texas. She has written about fashion, film, and culture for Vanity Fair, MTV, New York, and Monocle, as well as written and performed for various New York stages. She lives in Los Angeles. Ana of California is her first novel.
About Ana of California
In the grand tradition of Anne of Green Gables, Bridget Jones's Diary, and The Three Weissmanns of Westport, Andi Teran's captivating debut novel offers a contemporary twist on a beloved classic. Fifteen-year-old orphan Ana Cortez has just blown her last chance with a foster family. It's a group home next—unless she agrees to leave East Los Angeles for a farm trainee program in Northern California.
When she first arrives, Ana can't tell a tomato plant from a blackberry bush, and Emmett Garber is skeptical that this slight city girl can be any help on his farm. His sister Abbie, however, thinks Ana might be just what they need. Ana comes to love Garber Farm, and even Emmett has to admit that her hard work is an asset. But when she inadvertently stirs up trouble in town, Ana is afraid she might have ruined her last chance at finding a place to belong.
Event: Guest Author Series – 'Ana of California' Join the National Steinbeck Center and Penguin Publishing as we welcome author Andi Teran. Andi will be on hand to discuss, and sign copies of her new book Ana of California.
Date: July 2, 2015
Time: 6:00 PM – 7:00 PM
Location: National Steinbeck Center – Rotunda, 1 Main Street, Salinas, CA 93901
This is a free event. Seating is limited. http://www.steinbeck.org/events/guest-author-series-ana-of-california
Add this book to your summer reading list! And the lucky Modern Latina Facebook fan of the month for June will win a copy of the book.

To learn more about Ana of California, and the author, please visit www.anditeran.com.