by Linda Castillo
Have you been shopping in Downtown San Jose lately? I just discovered Ay Dios Mio nestled in the new San Pedro Square Market at100 N. Almaden Ave,San Jose,CA. The indoor marketplace will eventually house over 20 unique vendors offering farm fresh vegetables, tasty food and imported gift items. Ay Dios Mio is one of the first shops now open with limited store hours on Friday-Sunday from 11:00 am to 6:00 pm. The shop specializes in Latino Arte Popular and Mexican Folk Art as well as vintage religious products.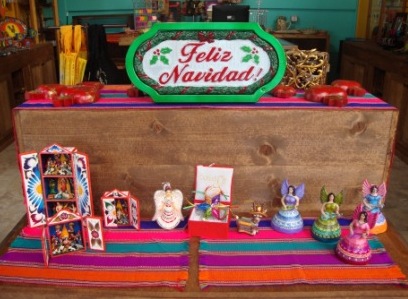 I had a chance to speak with shop owner, Rose Mendoza about her latest venture. Combining her love for Latino culture and art along with her business background, Rose has expanded her online website to open Ay Dios Mio shop. As aCalifornia native and resident of San Jose for nearly 30 years, Rose has been an active volunteer and advocate for the arts community and opening Aye Dios Mio is another opportunity to share her love of the arts with the local community.
"The vision is to create awareness of the Latino cultura through popular art in all mediums," explained Rose.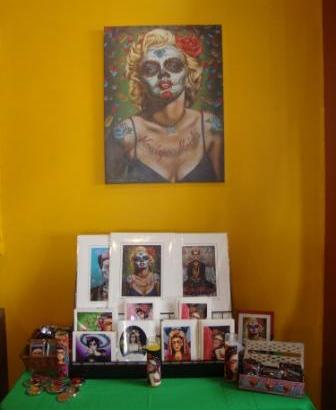 And she has definitely created a unique shopping experience showcasing rare art pieces. The shop houses many original art pieces from California artists as well as folk art from Oaxaca, San Miguel de Allende, Tlaquepaque and Mexico City.
"Art collectors love the shop, due to the rare and hard to find artistic product offering, along with first time art collectors gain the opportunity to invest in unique art as well," noted Rose.
The walls are filled with unique prints from artist Francisco Franco. In fact, Ay Dios Mio is one of the few retailers that sell his paintings. The pieces range from $45 to $500 so the price is right for the avid art collector or for anyone who is just getting their art collection started.
Rose has future plans to take advantage of the ample space at the shop's new location by hosting future community events including Mexican Folk Art festival, Latino Artwalk, arts and craft workshops, and trunk shows to name a few.
I fell in love with everything in shop and I like the fact that I can find traditional folk art and as well as contemporary items. Every little nook in the shop is filled with colorful and vibrant décor and Latino cultural themed products including jewelry, aprons, purses, kitchenware, keepsake boxes and so much more.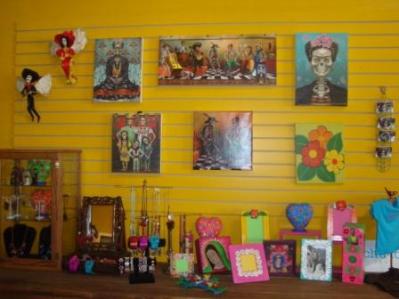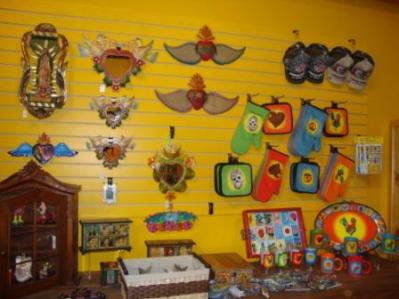 And while I was there for an interview, I couldn't resist purchasing an adorable "Frijolitos/Peditos" onesie for my little one. I fell in love with the Dio de los Muertos sugar skull wallets and purses by Lounge Fly Collection. I will save that purchase for my next trip to Ay Dios Mio! 
Stop by and support Ay Dios Mio for Shop Small Business Saturday, November 26 and receive free Oaxaca Tin with each purchase. In addition to the friendly atmosphere, you can enjoy Along with Mexican spiced cocoa and pan dulce-~ ay que bueno!
For those looking for unique holiday gifts for their loved ones, Ay Dios Mio has gift options with prices points to meet everyone's budget. If you don't live close by, you can also purchase select items from the Ay Dios Mio website.
Linda Castillo is the Founder and Executive Editor of www.ModernLatina.com. She writes on topics that empower and inspire Latinas including art, motherhood, green living, culture, travel, and issues transforming the Latino community. Linda has earned a B.S. in Business and a M.S. in Mass Communications from San Jose State University.