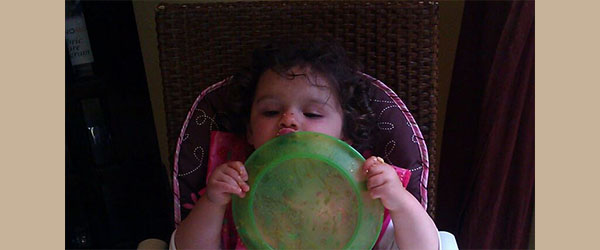 by Linda Castillo
Getting your little one to eat can be such a daunting task. From spills to ducking thrown food, every meal is full of new surprising challenges but I wanted to share with you a few essentials to help make the task a little easier.
Now these solutions won't get your little one to eat all the food but at least it will make your life a little easier and possibly less messy.
Here are some of my favorite picks from Munchkin:
9oz Click Lock™ Insulated Sippy Cup
So one of the most frustrating things about some sippy cups is that I can't tell if the lid is properly shut. And then I give it to my little one and before I know it her clothes are wet from the cup leaking. The Click Lock™ Insulated Sippy Cup is designed so that you hear a "click" to ensure that it is locked – yeh no leaks!  Plus I love their cute designs from butterflies, flowers, zee animals and cute sea creatures.
Multi Cups, Multi Plates and Multi Bowls
My little one was ready start the next stage of eating on her own but she wasn't quite ready for grown up silverware and breakable plates. Munchkins Multi cups, plates and bowls are great when your little one is ready to try eating on their own. I love all the colors and cute fish images. I also like that these items are BPA free and they are dishwasher safe (top rack only) making clean up a breeze.
Soft-Tip Infant Spoons
These spoons are great because they are soft so I know that my little on won't hurt her sensitive gums. Plus the handle is long so it is easier for my little one to hold.
Snack Catcher® Snack Dispenser
Last but not least is my favorite eating solution – Munchkin Two Snack Catchers. These are great to put my little ones favorite snacks (goldfish crackers and Cheerios) for her to eat without spilling. She can easily put her hand in the lid and only grab a few at a time to snack on. I especially love that these catchers work well for when we are on the go and our little one can be munching on her favorite snacks in her car seat.
If you want to see another Munchkin product review check out Munchkin Toy Review.
Note: Some of these products were provided by the Munchkin, Inc. for this product review.
Linda Castillo is the Founder and Executive Editor of http://www.modernlatina.com/. She writes on topics that empower and inspire Latinas including art, motherhood, green living, culture, travel, and issues transforming the Latino community. Linda has earned a B.S. in Business and a M.S. in Mass Communications from San Jose State University.