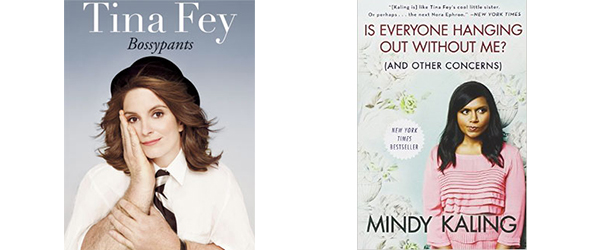 by Nicole Moreno-Deinzer
Imagine yourself walking into a cool West L.A. coffee shop, on a bright sunny day. The interior has light beach colors and the tables are made out of wood that has a polished finish. Your best friend you haven't seen in years, Mindy Kaling, is sipping an espresso like a boss.
You hug and ask her how she's been. You make sure to order your overpriced mocha before she gets started. Because damn, does she have some amazing stories to tell you!
But in reality you're on your couch, in your favorite sweats drinking your favorite mint tea. You are laughing to yourself because your friend Mindy is cracking you up.
I decided before the New Years began that I would finish two books: Mindy Kaling's Is Everyone Hanging Out Without Me? and Tina Fey's Bossypants. I accomplished my goal before Christmas while in Texas.
Mindy's conversation (yes conversation, because it read more like a conversation than a book) included her favorite comedy moments and the day her boss at her dream job yelled at her (yes I am talking about her job as a writer at The Office).
"I was so embarrassed and angry I got up, stomped out the room, stole a twenty-four pack of bottled water from the production office, kicked the bumper of Greg's car and left the studio." – Kaling, pg. 114.
Now close your eyes again. You are back at the coffee shop and Tina Fey walks in. She spots you both and runs over, out of breath, because she hates parking in LA. She quickly grabs herself an iced coffee because it's hot outside.
In reality, you have finished Mindy's book and are giggling to yourself on a plane while reading Bossypants, hoping that the other passengers don't think you are crazy.
Tina's conversation is filled with stories about being broke in Chicago while taking improv classes, failing at breastfeeding, and making it as an actor on SNL.
Both of these women are honest about their imperfections, which I loved and admired.
As a young entrepreneur and woman, I sometimes feel embarrassed about failing. Especially at that workplace. Both of these women are honest about their workplace mistakes.
Tina was the only one to go home after an anthrax scare at 30 Rock. This was shortly after 9/11 and she saw it on the news. She quickly walked out of the building and went home. But she was a writer for SNL and everyone else was working.
"The point is, Lorne did not what I would have done, which is to say, 'You're being crazy. Get back in here. Everyone else is here. Do you think you're more important than everybody else?' He also didn't coddle me, which is what I would have done if I were trying to overcompensate for my natural sternness.' – Fey, pg. 131
Both women knew they were at fault and went back to work. But they both worked under some amazing people. So in the workplace, if you work for an amazing leader, it's easy to admit your wrongs.
I can go on and on about these memoirs. I can tell you that both women interviewed for jobs they didn't get. That boys didn't like them when they were younger. But why ruin it for you? If you want some honest insight and a great conversation. I would pick up either of these books/memoirs/great reads. 
Nicole Moreno-Deinzer has always considered herself more of a city girl, however she grew up in the outskirts of Gilroy, a little country town just two hours south of San Francisco. From her internship days at KPIX 5 in San Francisco to her current position as a Community Development Director for Girl Scouts of northern California she has always had a product or company to promote. Currently she is a member of the San Francisco chapter of the American Marketing Association, Alpha Kappa Psi Business Fraternity, Bay Area Advertising Relief Committee and volunteers with Alzheimer's Association and Reading Partners.