by Jasmine Colón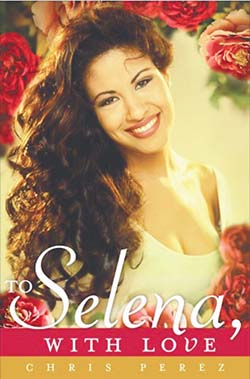 The Day the Music Died is in honor of the day when the world lost The Big Bopper, Buddy Holly and Richie Valens.  Yet heartbreak in Latino/a music culture will show up again when Selena Quintanilla's life was taken from us on March 31, 1995. Chris Perez, the widower of Selena Quintanilla, finally broke his 16 years of silence and allowed us a look into the private lives of one of our most cherished modern Latina figures in American history in a To Selena, with Love
.
Selena y Los Dinos were making their path in Tejano music when Perez joined the band.  Looking for some stability in his chaotic life, Chris finds himself falling head-over-heels for the beautiful, talented, and has-it-all-together Selena.  The feelings are mutual and the  two embark on a secret love affair.  When Selena's over-protective father Abraham Quintanilla discovers the romance, he quickly moves to protect his daughter and prohibits the two from continuing.  However, Selena and Chris become deeply devoted to one another and the two decide to elope in 1992 after the guilt of of sneaking around becomes unbearable.
Throughout To Selena with Love, we are treated to a side of Selena that only her husband would know.  While he is very respectful of their personal lives, we get to see Selena as a real woman who is loving, humorous, and a bit mischievous.  We are treated to an insider's view of a woman who loved her family and fans fiercely and took risks (including riding motorcycles!) at every turn.  This intimate look into Selena and the woman she was makes the heartbreak  of knowing she is about to put all of her trust in the one person who will betray her.
The writing style may be a little juvenile, Perez details their lives with warmth and pure love.   His experience with her murder and the aftermath is told in such a heartbreaking manner in which the reader is going to "want to crawl into her coffin and close the lid" with the two of them.  While this is a memoir from Perez, it is clear that this memoir is not so much about him, but rather a tribute to keep Selena's star shining brightly for her fans. Readers are treated to a "Where are they now" moment on what Perez has done with his life since her murder, but he fails to make a connection with his audience.  However, it is may be safe to assume that the reader is not going to pick up this memoir in hopes to learn more about Perez. No, the reader is going to pick this memoir up to learn more about Selena.  Fans of Selena are likely to feel as if they have one more piece of her life and death that had been missing…her husband's ode to the love of his life.
Jasmine Colón grew up in the Central Valley of California where she suffered through hot summers and foggy winters.  Hiding from the local elements, she was often found in her school library with her nose in multiple books.  Exchanging extreme temperatures for a more mild setting she headed off to the beaches of Santa Cruz where she earned her B.A. in Literature from U.C. Santa Cruz.  Moving on to San Jose, she found a renewed love for libraries and earned her M.L.I.S. (Master of Library and Information Science) from SJSU.  Jasmine is employed as a part-time academic librarian and adjunct instructor at two Bay Area community colleges.  She is currently trying to beat her personal best of reading 95 books in one year.