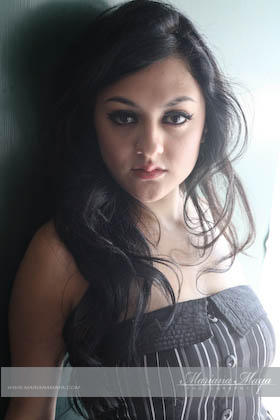 A photogragh should not just be taken for a particular occasion but as a way to celebrate life and beauty. And that is just what Mariana Maya had in mind when she created her Femme Fatale boudoir session. These photo sessions capture women with a classic look.
"My Femme Fatale sessions came to be from a need to portray women in their natural beauty. Enhancing what we were born with, through the lens with the help of a great make-up artist and beautiful natural lighting" says Mariana.
There are so many reasons that spark women to book a Femme Fatale boudoir session. Sometimes women want a special gift to give to your husband on their wedding night or as an anniversary gift.
"I am also beginning to see many women coming to me as they begin a new life due to a recent divorce and some as a result of surviving breast cancer. As a celebration of life" says Mariana.
But for many of women the thought of wearing something sexy and baring yourself in front of a camera can be intimidating. In order to help her clients feel comfortable in front of the camera, Mariana creates an easy going atmosphere. She interacts with her clients but tries to capture the moment by giving minimal direction.
"I always joke around and talk to my clients. I try to share something personal with them, since they are sharing so much with me. Sometimes I will even show one or two in camera images to assure the client they look great!" says Mariana.
Many times the photo sessions turn into a way for a woman to overcome their insecurities and embrace their natural beauty. Mariana recalls on particular woman who requested no close-up shots because she as very conscious of her wrinkles on her face.
"I told her she was beautiful and had a great smile she shouldn't cover up. Reluctantly she let me photograph more of her face. When she viewed her proofs she was smiling ear to ear! She loved her images and much to my surprise choose to have printed ONLY images where her face was not covered by her hair," recalls Mariana.
That particular client loved how she came out in the photos.
If you are ready to celebrate your natural beauty with a Femme Fatale and Boudoir photo session by Mariana Maya. Whether you want a special gift to give to your husband on your wedding night or as an anniversary gift, the photos are sexy, timeless, and classic. Mention Modern Latina and receive 20% discount off regular price portrait session (Sessions must be booked by Sept 30, 2010). Visit http://www.marianamaya.com, email info@marianamaya.com or call (408)916-3474 to reserve your photo session.