by Linda Castillo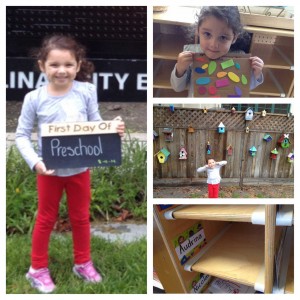 Everyone tells you how quickly children grow up but it isn't until you have your own that you truly see how fast time flies. And while I wish my baby girl could stay this precious age forever I know that I can't stop time. So I try to capture as many moments of her childhood.
You can capture your little one's first day of school with an easy to make sign. Simply take a chalkboard and write the grade and year. Similarly, you can also use a cute frame and print out the grade and year.  Go a step further by asking them what they want to be when they grow up. They will surely change what they want to be from teacher, doctor, engineer and more over the years to come. It will be fun to reminisce with your children all the different stages they went through while they were growing up.
For instructions and supplies to make the 'Chalk First Day Of School Sign' visit Michael's.
For the digital moms, you can create a picture collage and add the text and cute graphics.
Also, it is great to start new back to school traditions with your little one. For example, celebrating the first day back to school with a trip to the yogurt shop or cooking their favorite meal.
Enjoy every moment and if it is your little one's first day of preschool don't forget the Kleenex tissue!
Linda Castillo is the Founder and Executive Editor of www.ModernLatina.com. She writes on topics that empower and inspire Latinas including art, motherhood, green living, culture, travel, and issues transforming the Latino community. Linda has earned a B.S. in Business and a M.S. in Mass Communications from San Jose State University.