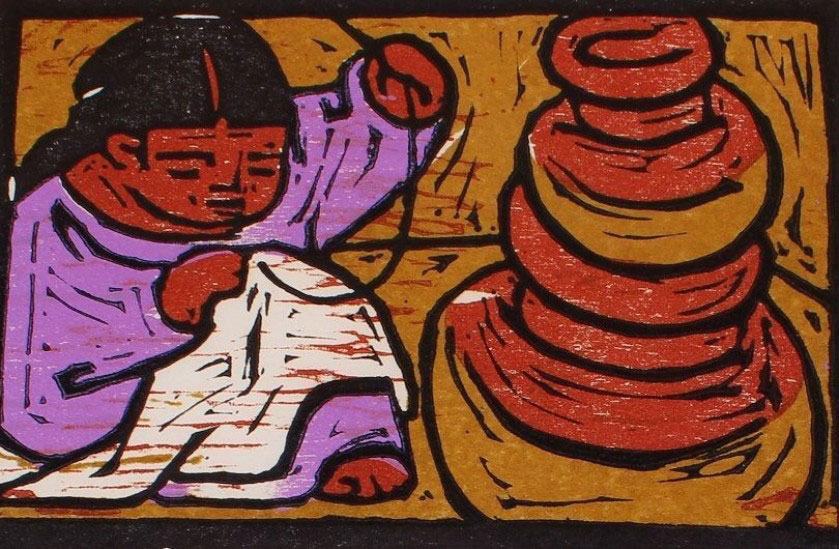 by Marcela Davison Aviles
If you really want to know how the Latino community is changing, has changed and continues its transformation just look at Latino art. Ponder the illustrations of the Aztec codices. Or stand beside the urban murals of the Chilango art project. Take in the meaning of piety found in the art of a gilded ratablo.  Or you might pick up a hand carved and painted alebrije and receive a gift of whimsy which extends itself online through the digital creativity of Mexico's contemporary artisans.
Or you can have lunch with Cayetana Gomez, the new CEO of the Mexican Museum in San Francisco, and listen to the story of her life. Born and raised in Mexico City, Cayetana grew up within hallowed ground – Mexico's National Museum of Anthropology, where her Mother worked for over thirty years.  Imagine a lifetime of "A Night at the Museum" – and then imagine how someone raised to speak the language of preservation, creativity and contemplation might translate her native "language" with a collection of Mexican art comprised of over 16,500 objects, much of which has not seen the light of day in years. A new day dawns for San Francisco's Mexican Museum as long awaited construction of a state of the art building which will showcase the Museum's vaunted collection begins this year. Construction on the new permanent home of the Museum is scheduled to start summer of 2015. Until the new venue is completed, Mexico's identity will be revealed through temporary exhibitions reflecting the blended lens of cultural hybridity that is both the hallmark of Latino culture and the foundation of the Museum's collection.
The venue is off to a great start under Cayetano's leadership with the exhibition "Maestro's: 20th Century Mexican Masters" which both samples and showcases the breadth of the Museum's collection. The exhibition runs through June 28 and contains 40 paintings, sculptures and works on paper created by thirty of Mexico's major post revolutionary artists, spanning a period from the 1920s through the post WWII era.
As the notes to the exhibition state, post-revolutionary Mexico saw the emergence of some of the greatest artists of the 20th century – individuals that influenced a whole generation of artists at home and abroad. Many of the works on view reflect colonial and postcolonial European influences, including cubism and surrealism. At the same time, many works indicate a breaking from European trends, along with a post revolutionary emphasis on non-colonial, native and distinctly Mexican styles and themes.
Beginning with the trio of artists known as "Los Tres Grandes," the exhibition celebrates three of the most influential Mexican artists of the 20th century: Diego Rivera, David Alfaro Siqueiros, and Jose Clemente Orozco. Catalysts of the monumental muralist traditions that would deeply influence public art for decades to come, Los Tres Grandes visual style influenced the world of creativity both in Mexico and abroad in an explosion of pictorial pageantry depicting a post-revolutionary world of industrial modernity, revolution, and indigenous Mexican culture.
Other painters and muralists who were friends of Los Tres Grandes, such as Jean Charlot, Julia Lopez, Carlos Merida and Roberto Montenegro, made their own contributions, individually and collectively, to what historians call the Mexican Mural Renaissance.
Another group of Mexican artists featured in the exhibition emerged during the 20th century and embraced classic, figurative, and representational forms of expression. Federico Cantú, Rafael Coronel, and Francisco Corzas steadily evolved as highly-accomplished painters and printmakers. Others, such as Jose Luis Cuevas and Francisco Zuniga, became known internationally for their paintings and monumental sculptures. Talented artists such as Edmundo Aquino and Francisco Toledo chose the graphic arts as a primary means of expression.
Zuniga's 1973 lithograph "Mother with Child" blends a representational style with a subject focus on Central American traditions. Rafael Coronel's "Old Woman," from 1967, belies its contemporary origins with a red and black portrait at once dignified and mysterious. The subject is posed in a central position against a red background, and recalls the classic humanity represented in the art of Rembrandt.
The surrealist artworks on display showcase the work of key members of the movement: Leonora Carrington, Alice Rahon, Alfredo Castañeda, Alejandro Colunga, Pedro Freideberg, and Rufino Tamayo. Roberto Montenegro is also in the exhibition; a Mexican folk-art advocate, his work shows the influence of time spent in Europe, and the influence of his colleagues Picasso and Braque. Other artists in the show include Rufino Tamayo and the Post-World War II abstract artists Vicente Rojo, Leticia Tarrago and Mathias Goeritz. The exhibition also features ephemera such as books and other items, including paintbrushes used by Rivera.
"Maestro's" closes at the end of June. Its broad sampling of some of the most famous names in Mexican art is itself a bold stroke of expression – matching the vision and passion of the Museum's new leader. We await her next curatorial adventure with anticipation.
To learn more about this exhibit and The Mexican Museum in San Francisco visit http://www.mexicanmuseum.org/ or like at https://www.facebook.com/TheMexicanMuseum
Note: All art images courtesy of The Mexican Museum.
Marcela Davison Aviles is an author, lawyer and founder of Chapultepec Group, a leading cultural insights agency serving the arts and entertainment industry and Managing Director of El Camino Project, a new arts social venture initiative.