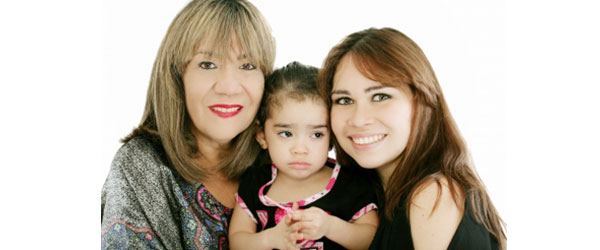 by The Mari Twins
Mother's day is fast approaching, and more than likely we are all trying to come up with innovative ways to honor our Mothers. This year let's also take time to show your Abuelita how important she is! After all Grandmothers are mothers too. Abuelitas are known for their laid back behavior, their unconditional love and fun filled stories of their buenos tiempos. They are the ones that keep the family together and are the first to lend a helping hand, especially when grandchildren are involved. For the most part Abuelitas have a major role in the upbringing of grandchildren; and we absolutely love them for it! They do a great job keeping us grounded and are a direct connection to our culture. They are the warm phone call in the morning when living at a distance and the delicious morning cafecito if we are lucky enough to have them in your homes. Their love is never ending and they will do anything possible to make certain the family moves forward. They take their role of Matriarch seriously and their wisdom is unmatchable. That is why this Mother's Day let's take time to celebrate the beautiful woman we call Abuelita.
Tea Time! Surprise your Abuelita this year with the perfect Tea Party. Be sure to invite all of your grandmothers' friends for a bit of quality time. Dust of the old record player that and bring out the records to play your grandmothers favorite boleros. You will quickly notice how this will transport them back to los tiempos de las serenatas.
Create a Scrapbook. Invite all the grandchildren to spend time with Abuelita, to create a family scrapbook. What better way than to spend time and celebrate your grandmother than surrounding her with her grandchildren. Contact family members for any material that can be included in the scrapbook. This will allow for your grandmother to reminisce and tell stories of the past.  More importantly you will learn about your family history. Use that time to take pictures of your grandmother with her grandchildren and include the pictures it in the scrap book.
¡A Cocinar! We come from a culture with delicious cuisine and nobody is better in the kitchen than our grandmothers! Spend Mother's Day cooking with your grandmother. Allow her to teach you her favorite dish and her famous dessert. She will greatly appreciate your interest and honored that you are taking the time to learn some of her secrets in the kitchen.
Brunch con la Familia. Food is always a great way to bring the family together and celebrate. On this occasion it is to honor your grandmother. Choose your grandmother's favorite location and be ready to indulge in more than just good food. Have everyone around the table share their favorite moment with your grandmother. Plan to keep this tradition going by setting aside time each year to acknowledge some of the happiest moments with Abuelita!
A little pampering. Consider yourself very lucky if you are able to enjoy the love of both your mother's and father's mother. Bring both amazing ladies with you for some pampering. Indulge in a day of hair, manicures and pedicures. They will truly enjoy the special treatment.
Modern Abuelita. Maybe this year Grandma wishes to do something different from the traditional brunches and lunches. Plan to take Abuelita to the theater! Find a play near you that your grandmother can relate to. She will enjoy the excitement of an afternoon out in the city.
Family Portrait. When was the last time you took time with your family to schedule a family portrait? As the family gets bigger it is always fun to document with pictures that the family is in fact getting bigger. This will also be a great occasion to dress up and catch up with family members you haven't seen in a while. Your grandmother will be delighted to see the entire family together. Her smile will be unforgettable!
Abuelitas are true visionaries and always lead by example. One of her most important qualities is the love for her family. Grandmothers have taught us strong values and how important our culture is in our everyday lives. She allows us to embrace her knowledge and never judges us. She is willing to do anything to protect us and help us. She constantly reminds us how important we are to her. Porque eres única, este Día de las Madres te celebramos Abuelita querida. ¡Muchas felicidades a todas las abuelitas!
Maribel and Marisol Joven, better known as the Mari Twins were born in New York City from Ecuadorian and Spaniard Parents and they serve as positive role models in their community. They are passionate about their culture, health and wellness, education, and fashion. Currently residing in New Jersey, Maribel and Marisol have successful careers in the Education and Healthcare fields. Maribel and Marisol's efforts to better the well-being of others or create awareness can be found in their volunteer work. The Mari Twins are proud to represent the Icla DaSilva Foundation, Literacy Volunteers of America, Handfuls of Hope, and are Sunday School Teachers at their local church. Maribel is the current Ms. Latina Galaxy and former Ms. Belleza Latina International 2013. Marisol is the current Ms. New Jersey Belleza Latina.