by Laura Posadas
"Sí, se puede" makes it's way to the big screen in upcoming Cesar Chavez film nationwide hoping to inspire change in the community to stop further injustice.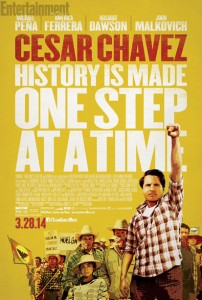 Director Diego Luna believes that "change is on our hands" and that the Chavez film will show the audience just that.
"It's a beautiful story about a man who inspired change in an entire community.," Luna said during an interview at Premio Lo Nuestro. "They found the strength to change their reality and make a difference. I believe this is the perfect example for anyone today,"
Luna explained that it was challenging to get U.S financing at first but as the film built hype, Participants and others came on board therefore making the film have distribution in both Mexico and U.S. The film will release March 28 in the U.S. and May 2 in Mexico.
"The cinema today still doesn't represent Latinos as it should. We need to stand up and support projects like this so that we can have our stories represented on the big screen. Hopefully we will send a message with this film— it's in our hands to create change," Luna said.
Keir Pearson, co-screenwriter from "Hotel Rwanda", wrote the script for the Chavez film and focused on a stirring story of real-life fight for social justice.
The screenplay will begin its setting from 1962, where he and Dolores Huerta founded the National Farm Workers Association and continue to cover ten years of the activist's life in California following his strikes.
"Cesar Chavez represents the largest non-violent protest movement in U.S. history; his goal was to achieve basic human rights for the more than 50,000 farm workers in California," Canana Films, co- owned by Luna and Mexican actor Gael Garcia Bernal, said in a statement. "Chavez did something that everyone thought was impossible with courage that inspired an entire nation."
Actor Michael Peña will portray Cesar Chavez, Rosario Dawson as Dolores Huerta, and America Ferrera as Helen Chavez.
The Cesar Chavez film has helped to inspire a petition that has been launched urging President Obama to declare March 31 as the Cesar Chavez National Day of Service, a day that will honor his legacy and continue his mission of treating workers fairly. Petition may be signed here: http://www.takepart.com/chavez