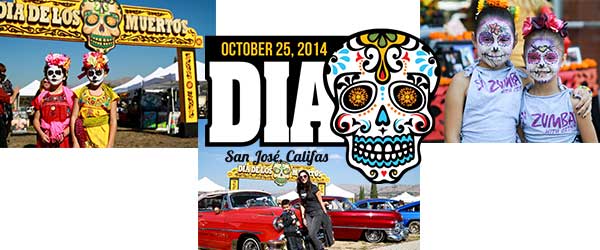 by Linda Castillo
Tonight the City Hall Rotunda was filled with music, traditional art, images, and other elements as guests gathered to enjoy the "Colors in the Hue of Mexico" exhibit. This special exhibit curated by Tullio Flores included over 40 local artists whose work depicted the Day of the Dead through diversity and acceptance by the people of San Jose.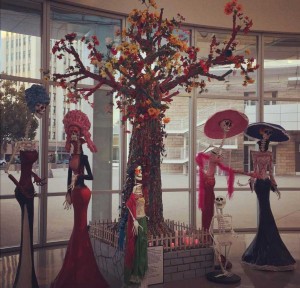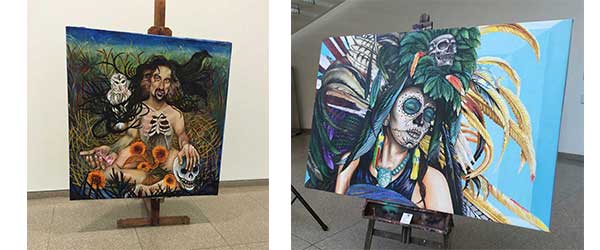 Modern Latina caught up with Melinda Chacon, who brought this magnificent event to downtown San Jose, the heart of our community. As the Event Coordinator, Melinda and many other community members have been working since July to bring this week's Day of the Dead events to fruition.
"I walked into the rotunda this evening and the transformation took my breath away," recounted Melinda. "The artwork, live performers and our beautiful community brought City Hall to life."
The Day of the Dead celebration will continue this Saturday, October 25, 2014 at the 5th Día de Los Muertos Festival. The event will be held at St. James Park in Downtown San Jose from 11:00 am – 6:00 pm. This FREE event will include music, food, local artists and vendors, Lucha Libre Wrestling, MLE Taco Eating Contest, and more.
Many traditional aspects of the Día de Los Muertos holiday were part of the "Colors in the Hue of Mexico" exhibit as well as the upcoming Saturday event. "Saturday will be filled with tradition as well. Altares, calavera face painting, a traditional procession throughout the park as well as music, Lucha Libre Wrestlers and the first MLE sanctioned taco eating competition," explained Melinda.
Don't miss the 5th Día de Los Muertos Festival. It will be a great time for the family to come together and celebrate Day of The Dead holiday traditions. To stay posted about the Día San José you can like their Facebook page at https://www.facebook.com/diasanjose
Note: Images courtesy of Marcela Davison Aviles, Melinda Chacon, and Día San José.
Linda Castillo is the Founder and Executive Editor of www.ModernLatina.com. She writes on topics that empower and inspire Latinas including art, motherhood, green living, culture, travel, and issues transforming the Latino community. Linda has earned a B.S. in Business and a M.S. in Mass Communications from San Jose State University.