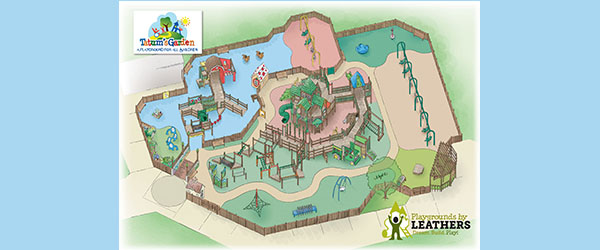 by Linda Castillo
It is so great when you see the community come together for a great cause. That is exactly what is happening in Salinas with the development of Tatum's Garden, a fully accessible, all-inclusive playground for children of all abilities. This wonderful play area is being designed and built by the community, with the funding come from local residents and businesses.
The inspiration and namesake for Tatum's Garden is a beautiful, happy toddler Tatum who was born with spina bifida. Tatum uses a manual wheelchair to maneuver her world and for the majority of the time, Tatum adapts and is able to be included in most activities. "However, a source of frustration for all of us as she has gained her mobility is that she is still really excluded when it comes to play at a typical neighborhood playground. She simply can't roll over sand or wood chips, and so she's left on the sidelines," explains Tatum's mother Amanda Bakker.
Amanda recalls the day the idea was born during a family vacation on their way to Yellowstone Park. After her son got sick in the car, the family decided to find a place to stretch their legs. "We were in the middle of rural Idaho, and pulled up to an incredible place. It was our first experience of a fully inclusive and accessible playground. It is called Brooklyn's Playground, named for another little girl with spina bifida, and fundraised and built by their entire community," recounts Amanda.
After their experience at Brooklyn's Playground, the Bakker family found their calling and within 6 months Amanda was before the Salinas City Council seeking approval to get the project started and make their dream of Tatum's Garden a reality.
There is still time to get involved with this wonderful project by helping with the fundraising efforts to reach the $1,000,000 goal or volunteering your time to build the park.
"There are truly ways for everyone to give on any level to our project, from sponsoring a $50 personalized fence picket that will help enclose Tatum's Garden with a safety fence, to larger gifts such as sponsoring each component of the playground–slides, swings, tunnels and bridges and more!  The other things that will help reduce our overall budget are donations of materials needed for construction, such as bags of concrete, paint, tile, and the recycled lumber needed to build the structures and ramps," says Amanda.
Moreover, during Build Week they will need over 1,000 volunteers to help construct the playground itself to on-site childcare for the worker, food committee volunteers, and more.
Build week is planned to happen this September with hopes to have the park open by the end of October. Tatum's Garden is centrally located on the corner of Maryal and Bernal in Sherwood Park, behind the Rodeo Grounds, in Salinas.
For more information and to follow the progress of this wonderful community project visit http://www.tatumsgarden.org or follow on Facebook.
Linda Castillo is the Founder and Executive Editor of http://www.modernlatina.com/. She writes on topics that empower and inspire Latinas including art, motherhood, green living, culture, travel, and issues transforming the Latino community. Linda has earned a B.S. in Business and a M.S. in Mass Communications from San Jose State University.