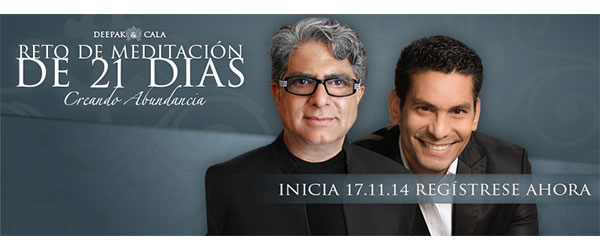 The Chopra Center and Cala Enterprises present "Creating Abundance," a 21-day meditation challenge, for the first time in Spanish and free of charge, with Deepak Chopra and Ismael Cala. It is an easy, personal and inspiring method for learning to meditate in 21 days with audio meditations. Each day participants will receive:
Guided meditations by Chopra and Cala.
Practical advice for creating infinite abundance in your life.
More than three million people from 194 countries have participated in the challenge. It is now hoped that hundreds of thousands of people in Latin America and Spain will avail themselves of this opportunity.
The "Creating Abundance" challenge begins on November 17. Registration is completely free at www.choprameditacion.com/Cala.
"I am very enthusiastic about the expansion of the 21-day meditation challenge in Spanish with Ismael Cala. It is an opportunity to reach the Spanish-speaking world with practical tools that yield proven benefits for physical, mental and emotional health and wellbeing," said Deepak Chopra.
In the words of Ismael Cala: "It is an extraordinary honor to work with master Chopra on this challenge. Together we want to help a great many people in Spain and Latin America to create abundance through meditation. Learning to meditate is one of the great paths that has transformed my life."
Participation in the "Creating Abundance" challenge is completely free. Sign up now at www.Choprameditacion.com/Cala to take the next steps towards creating an abundant life.
ABOUT DEEPAK CHOPRA, MD
Deepak Chopra is the creator of the Chopra Foundation and the Chopra Center for Wellbeing. The author of more than 85 books in more than 43 languages, Chopra is a specialist in internal medicine and endocrinology. The Chopra Center for Wellbeing is a pioneering institute in the field of mind-body medicine and personal transformation.
ABOUT ISMAEL CALA
Ismael Cala, host of the CALA show on CNN en Espanol, has more than 25 years of media experience in Cuba, Canada, the U.S. andMexico. His first book, "El poder de escuchar ['The power of listening']," has become a best seller in Latin America and the U.S.
SOURCE Cala Enterprises