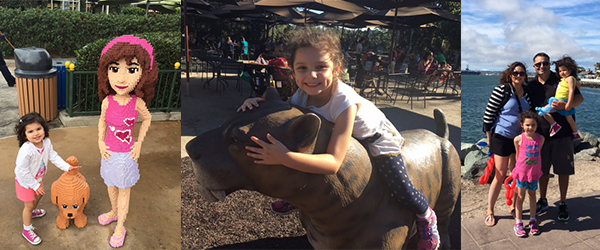 by Linda Castillo
By far one of my favorite places to visit with the family is San Diego. I love the cool beach city vibes and with Balboa Park, San Diego Zoo, LEGOLAND and so much more, San Diego has so places for the kids.
We stayed in San Diego for a week, which was the perfect amount of time. For the first part of the trip we stayed at Embassy Suites close to the San Diego Zoo. We loved the fact that it felt like a little home with a separate living room and bedroom. Every morning my girls looked forward to feeding the Koi fish.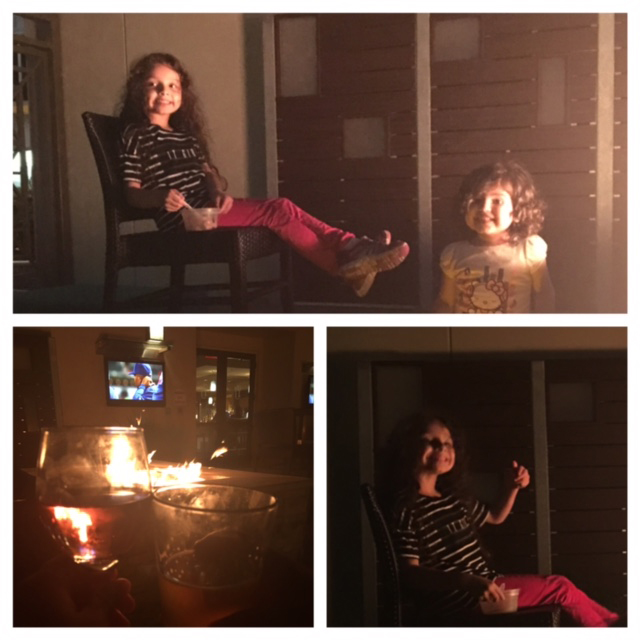 San Diego Zoo
San Diego Zoo was our first stop on the trip. Be sure to wear comfortable shoes to explore this 100-acre zoo that is the home for the largest collection of 3,500 rare and endangered animals in the world. We only had a planned to visit the zoo, however, I think that to fully see the zoo I would recommend visiting over two days.
Seaport Village
Sometimes you need a day just to relax and wander. Seaport Village was the perfect place to enjoy ice cream, view local street artists and take in the ocean view.  My girls loved riding the historic carousal and my hubby was happy that we stumbled upon a local classic car show.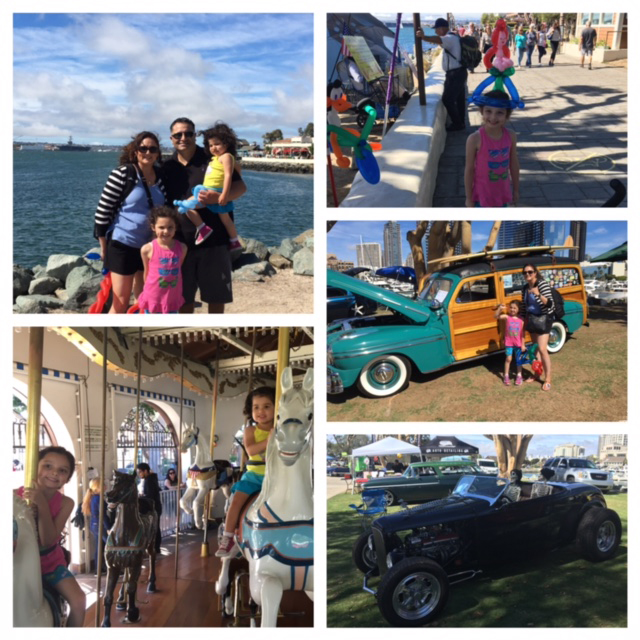 LEGOLAND
We saved the best for last and ended our trip at LEGOLAND. We stayed at the LEGOLAND resort. It was if kids had designed the hotel. From the Lego themed rooms to all the fun kids' activities like dance night, movie night, scavenger hunt and more, staying at the hotel was just as fun as the park itself! And I can't forget to mention the "Disco" elevator experience – so fun and unexpected!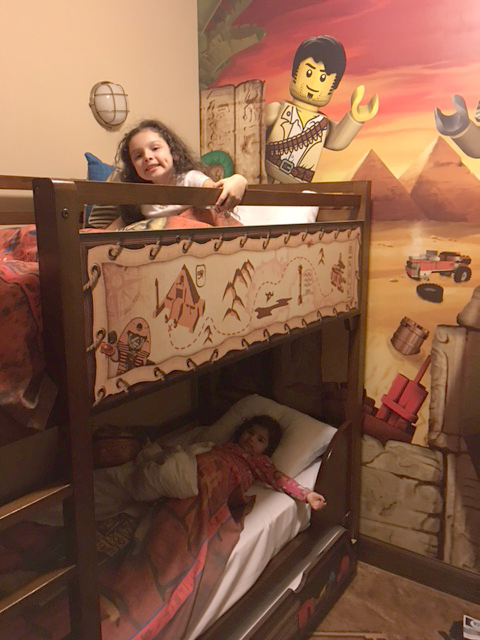 The force was with us as we toured the Star Wars Miniland exhibit featuring scenes from all six movies. I loved seeing all the mini version of the states from San Francisco to NYC. Our kids could run and explore freely in the many play areas in the park.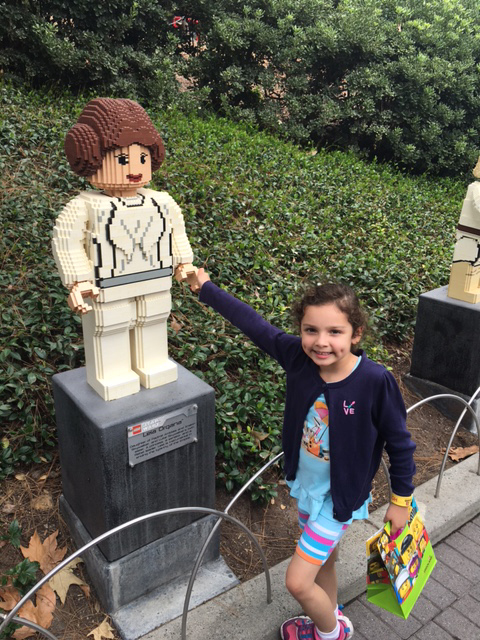 We visited during the off-season of October so we enjoyed no lines for the rides and see the special Halloween decorations. If you have more than one day to visit you can also check out the LEGOLAND Water Park and Sea Life aquarium.
LEGOLAND was the perfect place for my two and five year old daughters. They are already asking when we will go back.
Note: Media passes for San Diego Zoo and LEGOLAND were provided to produce this story.
Linda Castillo is the Founder and Executive Editor of www.ModernLatina.com. She writes on topics that empower and inspire Latinas including art, motherhood, green living, culture, travel, and issues transforming the Latino community. Linda has earned a B.S. in Business and a M.S. in Mass Communications from San Jose State University.