by Linda Castillo
When I heard the news about "Elena of Avalor," Disney's new Latina princess I am not sure who was more excited, my 3-year old daughter or me.
"Look at the new Princess Elena. She is Princess Sofia's friend," I told her showing her the image of Elena of Avalor from my phone.
"She is so pretty mommy. Can we watch the movie tonight," my daughter happily responded.
My daughter is too young to realize the significance of princess Elena joining the Disney royal family. As a child, I didn't see any movies, television shows or cartoons that had characters that looked like me. Now that I am a mom, I understand just how important it is to expose children to diversity early on. While television is primary source for entertainment it is also a learning tool and a lense for children to learn more about the wider world. Even though these characters are fictional and based in a fantasyland the addition of Elena of Avalor makes for a more true reflection of the real world.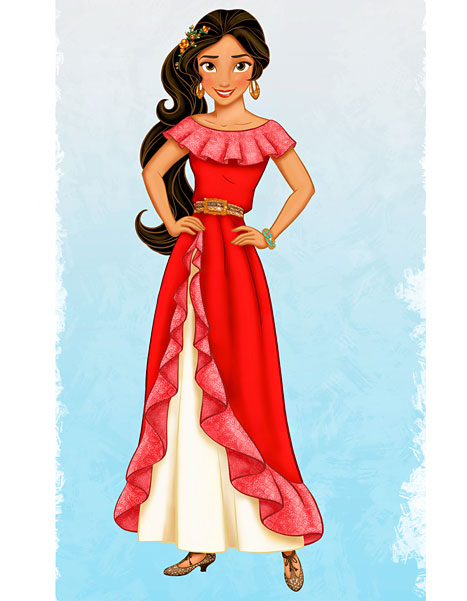 So let's meet Elena of Avalor
Princess Elena of Avalor is a confident and compassionate teenager from an enchanted fairytale kingdom inspired by diverse Latin cultures and folklore.
Princess Elena's journey began long ago when her parents and kingdom were taken from her by the evil sorceress, Shuriki. Elena bravely faced the sorceress to protect her little sister, Princess Isabel, and grandparents but in the process, her magical amulet pulled her inside its enchanted jewel, saving her life but imprisoning her at the same time. Decades later, Princess Sofia of Enchancia discovers the truth about the amulet she has worn since joining her royal family and sets out to restore Elena to her human form and help her return to the kingdom of Avalor.
She will be introduced in a special episode of Disney Junior's hit series "Sofia the First" beginning production now for a 2016 premiere.
I can't wait to watch Princess Elena with my daughters. I am so happy that my daughters will enjoy the Disney classics from my childhood, Cinderella, Snow White, and Sleeping Beauty and that they will also watch the adventures of the new diverse generation of princesses, Princess Tiana, Princess Jasmine, Mulan, Pocahontas, Princess Sofia and now the first Latina, Princess Elena.
Linda Castillo is the Founder and Executive Editor of http://www.modernlatina.com/. She writes on topics that empower and inspire Latinas including art, motherhood, green living, culture, travel, and issues transforming the Latino community. Linda has earned a B.S. in Business and a M.S. in Mass Communications from San Jose State University.