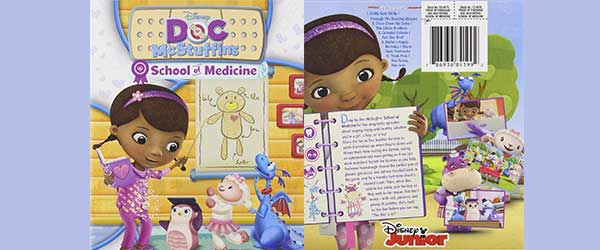 Disclosure: I was provided the Doc McStuffins School of Medicine DVD to review. However, all opinions are my own.
by Linda Castillo
Our family is big fans of Doc McStuffins. As a mom, I like how all the episodes have an underlying important message for the kids to learn and my daughter just loves how all the stuff animals come alive.
Now you can treat your kids to the latest video release of Doc Mcstuffins: School of Medicine
available September 9, 2014. This is a great video to watch with your little ones as they return to school this season. My little one enjoyed watching all of the episodes.
We loved that the video included a Doc McStuffins dress-up play set included that makes for a fun activity for the kids. This is a nice way to make the movie experience more interactive for your children. The set also includes her friends Stuffy, Lambie and Chilly.
Drop by DOC MCSTUFFINS' SCHOOL OF MEDICINE for five song-tastic episodes about staying happy and healthy, whether you're a girl, a boy… or a toy! Share the fun as Doc teaches the toys to patch themselves up when they're down, and shows them how visiting the dentist, seeing an optometrist and even getting an X-ray can work wonders! Banish the blurries as you help Professor Hootsburgh choose the perfect pair of glasses, get soccer star Johnny Foosball back in the game, and fix a friendly bath-time shark's cracked tooth. Then, when Doc sprains her ankle, join the toys as they rush to her rescue. But don't worry — with rest, patience, and plenty of cuddles, she's back on her feet before you can say, "The Doc is in!"
The DVD includes 5 Episodes:
Chilly Gets Chilly / Through The Reading Glass (Optometry)
Hallie's Happy Birthday / Shark-Style Toothache (Dentistry)
Think Pink / You Foose, You Lose (Sports Medicine)
Disco Dress Up Daisy / The Glider Brothers (Imaging/Radiology)
Celestial Celeste / Run Doc, Run! (Imaging/Radiology)
Linda Castillo is the Founder and Executive Editor of www.ModernLatina.com. She writes on topics that empower and inspire Latinas including art, motherhood, green living, culture, travel, and issues transforming the Latino community. Linda has earned a B.S. in Business and a M.S. in Mass Communications from San Jose State University.