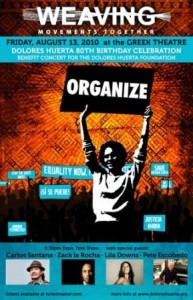 Dolores Huerta Celebrates 80th Birthday with "Weaving Movements Together" Benefit Concert. Santana to Perform with Latin-Jazz Great – Pete Escovedo's Band. Co-Hosted by Martin Sheen, Ed Begley Jr., Benjamin Bratt and Others, Plus Special Musical Performances by Rapper-Activist Zack de la Rocha and World Music Singer-Songwriter Lila Downs
Tickets go on Sale Through Ticketmaster Saturday, July 17th
LOS ANGELES, CA (July 13, 2010) – Internationally recognized for her role in promoting human rights for women, immigrants, workers and the gay community, Dolores Huerta, President of Dolores Huerta Foundation (www.doloreshuerta.org) and Co-founder of United Farm Workers of America, is celebrating her 80th birthday with an inspiring benefit concert to celebrate the victories of the past, address the challenges of the future, and collectively envision a better world. "Weaving Movements Together," which will be webcast live to over 25 simultaneous parties nationwide, will unite several social movements and help raise funds for the Dolores Huerta Foundation.
PERFORMANCE DETAILS:
WHO: Host Dolores Huerta; Performances by Carlos Santana, Pete Escovedo, Lila Downs, Zack de la Rocha; celebrity co-hosts Martin Sheen, Ed Begley Jr., Benjamin Bratt, Mayor Antonio Villaraigosa, Culture Clash, and Jodie Evans from Code Pinkwith more to be announced.
WHAT: "Weaving Movements Together" benefit concert unifying social movements such as Women's Rights, Social Justice & Immigration, Environment & Sustainability, Peace Movement, and GLBT Rights. FOR EVENT
INFO GO TO: www.facebook.com/doloreshuertafoundation
WHY: Celebrate Dolores Huerta's 80th Birthday while promoting unity among various progressive movements and raising funds for the Dolores Huerta Foundation to support its ongoing work inspiring and motivating people to organize sustainable communities to attain social justice.
WHEN: August 13, 2010, 5:30pm – Weaving Movements Expo, 7pm – Performances
WHERE: Greek Theatre, 2700 N Vermont Ave, Los Angeles, CA 90027
COST: Ticket prices start at $35.00
For more information on the Dolores Huerta Foundation visit www.doloreshuerta.org