Disclosure: This is part of a sponsored collaboration with Latina Mom Bloggers and Dreft. All opinions are 100% mine.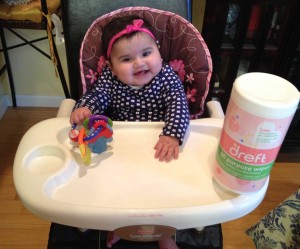 My first daughter had mild eczema and now my second daughter has even more sensitive skin. Her skin was so sensitive she would scratch herself on her chest to the point that she would bleed.  After visiting the doctor, he recommended using hydrocortisone anti-itch crème for the irritated area and keeping it dry. But I also made some changes for her sensitive skin as well. I always had an onesie on underneath all clothing so she had that extra layer of protection from any apparel that had itchy embroidery. I made sure her soap and laundry soap were for sensitive skin and Dreft has been my go to laundry detergent for both my baby girls.
With Daylight Savings Time happening this weekend, along comes the winter season and colder weather.  We can bundle up our little ones, to shield them from the harsh cold but we can also use hypoallergenic items that are gentle on a baby's sensitive skin. Dreft is the #1 baby laundry detergent choice pediatricians to be gentle and hypoallergenic on baby's skin. Specially formulated to be gentle on baby's skin but tough on stains, Dreft brings cuddle time to a whole new level of warm and fuzzy this winter season.
Dreft also has a whole line of hypoallergenic products gentle for your baby including wipes, stain remover, and odor eliminator and fabric refresher. Modern Latina moms can visit Dreft.com to receive a $2 off coupon for Dreft to try the product for themself!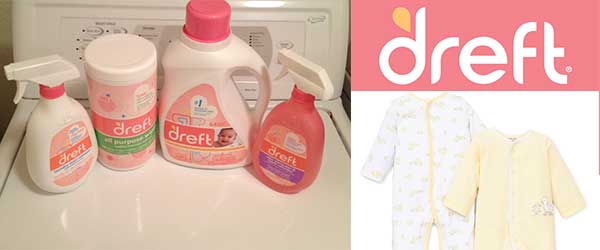 Enter our Modern Latina #DreftHypo giveaway for a chance to win:
2 bottles of Dreft (Retail Value $38)
1 set of Dreft wipes (Retail Value $10)
1 laundry stain remover (Retail Value $5)
1 to-go stain remover (Retail Value $4)
1 odor eliminator and fabric refresher (Retail Value $5)
$30 gift card for Little Me clothing (Retail Value $30)
Little Me footie pajamas (Retail Value $16)
How To Enter:
Mandatory entry, comment on this blog post with how they bundle up their little one's sensitive skin during the cooler months.
Subscribe to the Modern Latina eNewsletter
Follow Modern Latina on Twitter
Retweet the Modern Latina #DreftHypo giveaway for tweet
Share the Modern Latina Modern Latina #DreftHypo giveaway post
You can enter up to six times per person via different entry methods mentioned above. This giveaway will end November 7, 2014 at 12:00 am PST. The approximate retail value of the prize is $144. The winner will be drawn using random.org. Once winner has confirmed prize, the winner will be announced on Facebook. All entrants must be at least 18 years old and a US resident. Prize fulfillment will take 8-10 weeks.
a Rafflecopter giveaway

You can also join the Dreft and Latina Mom Bloggers for a Twitter Party on October 30th from 9-10pm ET! To be eligible to win prizes, please RSVP at LatinaMomBloggers.com. And be sure to follow Dreft on Twitter and Facebook so stay posted about new products and promotions.