This is part of a sponsored collaboration with DiMe Media and Dreft.  All opinions are 100% mine.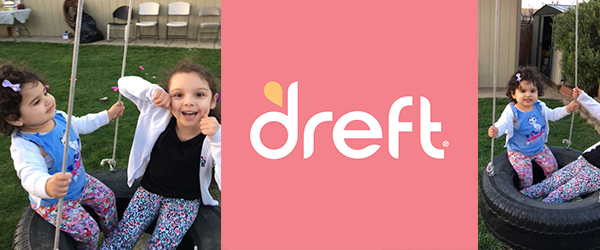 The April showers are over and the flowers are now in full bloom. With the weather warming up it is the perfect time for the family to go outside and play in the sunshine. We love to play outside and have fun in the sun. Some of our favorite activities are to go to the park, blow bubbles, riding bikes and scooters, playing ball and my little one especially loves to pick the little flowers popping up in the grass.
While spring is one of my family's favorite time of the year, I am not particularly fond of the allergens in the air and the increased temperatures which can wreak havoc on my little one's sensitive skin. My daughter has eczema and we are careful to remove any potential allergens from her contact including those that can be found in soaps and detergents. I use Dreft Newborn and Active Baby detergents to wash both my daughters' clothes because it is hypoallergenic and gentle enough for their skin. And I love the fresh baby scent from the laundered clothes. Every time I smell Dreft it always brings back so many memories of when my little ones were just born.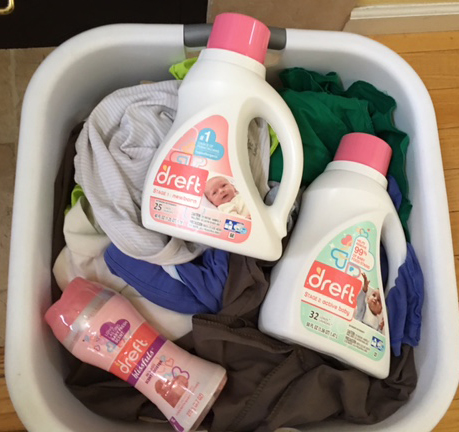 Tips for your baby during spring season
Dreft the No. 1 baby laundry detergent choice of pediatricians and the #1 dermatologist recommended brand for baby clothes. Dreft has partnered with Dr. Dyan Hes, Medical Director of Gramercy Pediatric. As a mom and pediatrician, she provided some helpful tips and advice on how to care for their baby's sensitive skin during the spring season:
For babies 6 months or older. If your baby is 6 months or older, liberally use sunscreen. Also, avoid exposing your baby to the sun during peak hours — generally 10 a.m. to 4 p.m. — and dress your baby in protective clothing, a hat with a brim and sunglasses.
For babies younger than 6 months. If your baby is younger than 6 months, keep him or her out of direct sunlight. Protect your baby from sun exposure by dressing him or her in protective clothing, a hat with a brim and sunglasses.
Make bath-time beneficial:  Over exposure to water can actually rob skin of natural moisture. Scaling back on tub time will help avoid resulting itch — about 10 minutes is plenty of time for water play and a quick scrub. Use warm water (vs. hot) and leave the suds to the very end. Use a mild cleanser to keep skin soft and itch-free. Gently pat skin dry and end with an after-bath moisturizer to seal in moisture and protect baby's soft skin.
Load up on liquids: Staying hydrated during the spring months is important as baby gets more active outdoor time and sun exposure. Start with the inside and ensure children get enough to drink throughout the day. Infants should nurse or take a bottle often; older kids should tote a sippy cup or reusable water bottle. Include plenty of fresh fruits and vegetables and smoothies in your child's diet too.
Protect Problem Skin: Heat is a common trigger for eczema and as the weather warms up, there are a few things you can do to help prevent flare ups of such skin irritations. The sun is strongest between the hours of 10 a.m. – 4 p.m. so try to shield baby from direct sun exposure during those times.

Join Dreft, Dr. Hes and DiMe Media on Thursday, May 12th at 9 pm ET/ 6 pm PST for a Twitter party and a chance to win fabulous prizes! They will be sharing spring tips, including fun activities and how to keep little ones protected from the harsh effects of seasonal allergens. To RSVP, visit www.dimemedia.net #DreftSpring
Twitter Party Details:
What: Dreft Twitter Party
When: Thursday, May 12th at 9PM ET/6PM PST
Where: Twitter
Hashtag: #DreftSpring
#DreftSpring Giveaway
Modern Latina has partnered with Dreft to giveaway Newborn, Active Baby and Blissfuls and a $50 Amex Gift Card!
The giveaway begins May 11, 2016 through May 20, 2016 at 12:00 AM PST.
How To Enter:
Comment on the Instagram post and tell us what is their favorite spring time activity to do with their little ones?
Tweet about the giveaway using the #DreftSpring hashtag
You can enter up to two times per person via different entry methods mentioned above. This giveaway will end May 20, 2016 at 12:00 am PST. The winner will be drawn using random.org. All entrants must be at least 18 years old and a US resident. Prize fulfillment will take 4-6 weeks.
a Rafflecopter giveaway