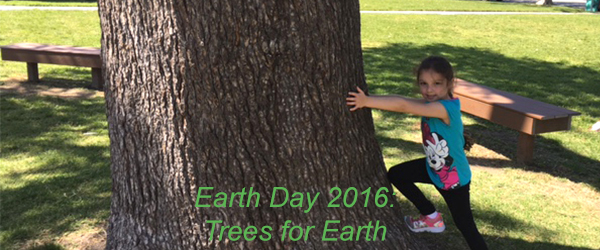 Now in its 46th year, Earth Day on April 22 continues to raise a voice for the movement for environmental issues and what we can do to make this planet sustainable for future generations. As a mom of two daughters, I try to teach them to be mindful of daily things they can do to help save our mother Earth. From turning off the lights when they are not in the room, to conserving water, recycling and using reusable bags. Now my eldest daughter is the one reminding my hubby and me to turn off the lights and recycle!
This year the Earth Day Network has a challenge to plant 50,000 trees by Earth Day 2016 and plant 7.8 billion trees for the Earth by Earth Day 2020. That's one tree for every person on the planet.
Planting trees is one of the easiest ways to fight climate change and sadly our planet loses over 15 billion trees each year (equivalent to 48 football fields every minute). According to the Earth Day Network, trees facilitate the following:
Mitigating Climate Change and Pollution – Planting trees absorb excess and harmful CO2 from our atmosphere. In a single year, it takes roughly 96 trees to absorb the amount of CO2 produced by one person. Trees also absorb odors and pollutant gases like nitrogen oxides, ammonia, sulfur dioxide and ozone, as well as filter particulates out of the air by trapping them on their leaves and bark.
Protecting Biodiversity – By planting the right trees, we can help counteract the loss of species, as well as provide increased habitat connectivity between regional forest patches.
Supporting Communities and their Livelihoods – Planting trees help communities achieve long-term economic and environmental sustainability and provide food, energy and income. Studies have shown that schools with tree cover have reduced asthma and lung disease rates and help students with ADHD concentrate for longer periods. Tree planting has a direct correlation to reduced crime rates, increased property values, reduced litter, higher social cohesion, and a number of other social and psychological benefits.
If you are unable to plant a tree but would like to donate to the cause visit: https://donate.earthday.org/events/trees-for-earth/e76443
Looking for a local Earth Day event to in the Monterey and Bay Area, here are a few that your family and you can take part in:
Earth Day Events in Bay Area
Berkeley Earth Day. Music, farmer's market, wall climbing, vegetable food court, arts and crafts. Noon-5 p.m. Saturday. Civic Center Park, Center Street and Martin Luther King Jr Way. 510-654-6346.
Earth Day at the Los Altos History Museum. Educational materials will be offered as a guide for participants on conserving and caring for our water resources. Noon-4 p.m. Saturday. Museum Courtyard, 51 S. San Antonio Road, Los Altos. Free 650-948-9427.
Earth Day Fair in Foster City. The event will feature food, live music, children's arts and crafts activities. Green vendors will showcase products and services to help attendees reduce their impact on the environment, save money and live greener and healthier. 10 a.m.-3 p.m. Saturday. City Hall Plaza, 610 Foster City Blvd. 650-286-3291.
Menlo Park Earth Day at the Refuge. Volunteers and participants are encouraged to help with cleanup at Ravenswood Point in East Palo Alto. Latex gloves and trash bags will be supplied. Wear sturdy shoes, a hat, and bring sunscreen. 9 a.m.-noon Saturday. Please register at www.savesfbay.org. 510-792-0222, extension 362.
Oakland Earth Day. Volunteers will clean more than 35 parks and recreation centers, 20 creeks and waterways and neighborhood locations. Each volunteer will receive a commemorative patch, and the first 3,000 will receive a Chinook Book filled with coupons for local, green businesses. 9 a.m.-noon Saturday. Please visit www.oaklandearthday.org for location information. 510-238-7611.
The San Jose Earthquakes Earth Day Celebration. There will be some giveaways such as eco-tip guide, and those who drive hybrid vehicles will receive $5 off parking. Fans who take Caltrain or VTA will receive a $5 discount for game admission. Additionally, the event will feature some green, sustainable businesses, along with a presentation from the Solar Decathlon Team from Santa Clara University in the Epicenter. Also, select fans will receive a Chinook Book that features discount offers at local, sustainable and healthy businesses. 7:30 p.m. Saturday. Buck Shaw Stadium, 500 El Camino Real, Santa Clara. 408-554-5550.
Redwood City Earth Day on the Bay. Children's activities, music, arts fair and an aquarium. 10 a.m.-5 p.m. Saturday. Marine Science Institute, 500 Discovery Parkway. 650-364-2760.
Earth Day Fair at Full Circle Farm, Sunnyvale.Kids activities, contests and games, music, demonstrations and food. 11 a.m.-4 p.m. Sunday. 1055 Dunford Way. $5 donation. 408-394-1464, www.fullcirclesunnyvale.org.
Party for the Planet. Discussions and storytelling, demonstrations and drum show. 11 a.m.-4 p.m. Sunday. Happy Hollow Park Zoo, 1300 Senter Road, San Jose. $12.95. 408-794-6400, www.hhpz.org.
Earth Day Events in Monterey
Beach clean-up. 10a.m.-noon Saturday at Del Monte Beach in Monterey. All clean-up materials will be provided, but if possible you are encuraged to bring reusable bags, buckets and gloves.saveourshores.org
Earth Day celebration and park clean-up. 10a.m.-1p.m. Saturday at Natividad Creek Park, Freedom Parkway and Constitution Boulevard, Salinas. 582-3686, ron.csumb.edu.
Spring Tide Arts and Crafts Festival. 10a.m.-4p.m. Saturday at Pacific Valley School, 69325 Highway 1, Big Sur, 35 miles south of Big Sur village. Music performances, home-cooked food and arts-and-crafts booths. Free. 805-927-4507.
Earth Day 5K run/walk. Registration 7:30a.m. Free 1-mile run for kids at 8:30a.m. 5K run at 9a.m. Saturday at Toro Park, 501 Monterey-Salinas Highway, Salinas. Earth Day celebration after run and walk. Registration: $35-$40. www.cogsearthday5k.org.
Pt. Lobos Easy access experience. 1-3p.m. Saturday at Pt. Lobos State Natural Reserve, Highway 1, Carmel. All visitors welcome, including those pushing strollers, using canes and wheelchairs or who have other mobility issues. Docents will be stationed along Granite Point Trail. $10 per vehicle, $9 for seniors, $5 with disbaled discount card. Parking on Highway with free entrance to walk-in visitors. 625-1470, www.pointlobos.org.
Earth Day celebration and potluck picnic. 1-3p.m. Sunday at Highland Otis Park, Mingo Avenue and Highland Street, Seaside. Live music by Heartstrings. Information tables, seed-planting workshops for children, raffle and more. 899-7934.
Beach clean-up.10a.m.-noon, Sunday at end of Bay Street, Sand City. All clean-up materials will be provided. Look for the blue Surfrider table. Information: Alison 238-2256.
Earth Day event. 10a.m.-2p.m. Wednesday at Monterey Peninsula College, 980 Fremont St., Monterey. Information booths and more. 646-4192, www.mpc.edu.
Genista pull. 10a.m.-1p.m. Sunday at Quarry Park, Via Del Pinar between Via Gayuba and Herrmann Drive, Monterey. Genista (Scotch Broom) is an invasive, non-native shrub that is highly flammable in dry seasons. Wear long pants and shirts, bring weed pulling tools and garden gloves for the bigger roots. 373-0872.