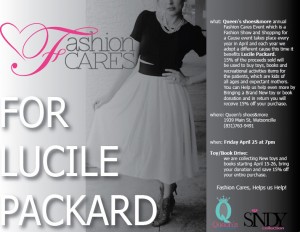 Featured Event: Queen's Shoes & More: Fashion Cares 2014 Event / April 25
April 25th at 7pm, come and Shop for a good cause. 15% of the proceeds will be used to buy books and toys for all Patients at Lucile Packard hospital. Plus see the new SINDY and Mommy&Me Collections. With the donation you make you will receive 15% off your entire purchase! 1939 Main St. Watsonville, California 95076 http://on.fb.me/1gSIdUS
Pacific Grove Good Old Days/ April 5-6
Visit "America's Last Hometown" for an old-fashioned celebration. This small town shows off its big heart with the largest event of its kind in Monterey County. There will be a parade, live entertainment on five separate stages, arts and crafts vendors, food booths, carnival rides, a classic car show, a quilt show, pony rides, a dance showcase and more. Admission is free. The Good Old Days parade starts April 5th at 10:00 a.m. and runs down Pine Avenue. Location: Lighthouse Avenue Pacific Grove, CA 93950. For more information: http://www.seemonterey.com/events/community/good-old-days/
Color Me Rad 5K/ April 5
Color Me Rad encourages you to engage in a fun race that doesn't involve running from stuff that's going to hurt you but, run to benefit charities and your cardiovascular system. If you're allergic to the metric system, corn starch, or joy they suggest you'd more comfortable watching Matlock instead of their color-filled 5k.  Location:  4701 Great America Parkway Santa Clara, CA. Registration/ Volunteer Information: http://www.colormerad.com/race/san-jose-santa-clara
Hilary Rodham Clinton/ April 10
Former Secretary of State and former Senator will be visiting the Bay Area to deliver a keynote speech seminar. In her historic campaign for President, Clinton won 18 million votes. Clinton served as the 67th U.S Secretary of State from 2009 until 2013 after decades of public service. Her "smart power" approach to foreign policy helped reposition American diplomacy and development for the next generations to come. Seminar begins at 8:00 p.m.Location: San Jose State University Event Center 290 South 7th Street San José, CA 95192 Ticket Information: Tickets are available at the Event Center Box Office and online. http://www.ticketmaster.com/Hillary-Rodham-Clinton-tickets/artist/1888600?tm_link=artist_artistvenue_module For additional ticketing information, please call (408) 924-6333.
Cesar E. Chavez Holiday Parade & Festival 2014 / April 12
San Francisco invites you to commemorate and celebrate the life and work of labor leader and civil rights activist Cesar Chavez. Chavez As a labor leader, Chavez employed a nonviolent means to bring attention to the social-fight of farm workers. He led marches, called for boycotts, and went on several hunger strikes. Chavez founded the National Farm Workers Association in 1962. His dedication to his work earned several victories with many growers signing contracts with the union. The festival will begin after the parade. The festival will include music, entertainment, and arts booths. Assembly for the parade begins at 10:00 a.m. Location: Dolores Park- 19th st/Guerrero st. Parade starts at 11:00 a.m.  Street Fair begins at 12:00 p.m-5:00 p.m.  Location: Between Treat St. and Bryan St.  (24th St. Bart stations). 
The 3rd Annual San Jose Fantasy Faire / April 12-13
The San Jose Fantasy Faire makes it way back with more fun than you can shake your wand. Dress up in your most beautiful princess dress, don your wings, or grow a bead and pick up a wand to gather your family and friends to visit the mythical festival. Find yourself a part of wondrous gathering of knights, princesses, elves, and fairies on a weekend filled with enchantment for both children and grown-ups alike. Characters of all kind from ogres to pirates will be present. Event starts at 10:00 a.m.- 6:00 p.m. Location: Guadalupe River Park, San Jose, CA 95110. Ticket Information: $12 Adults. $10 Seniors, Military Children Ages 13-17. $7 for Children Under 12. Free for Children Under 6.  http://www.sjfantasy.com/ 
Spring Break / April 14-18
For your Spring Break ditch studying and hit the beach at Santa Cruz Beach Boardwalk. Enjoy the coast, rides, games, appearances by Nickelodean's SpongeBob and Patrick, and live music from the boardwalk's contest of Battle of the Bands. Different events are scheduled for different dates. Location: 400 Beach St. Santa Cruz, CA 95060. For more information: http://beachboardwalk.com/springbreak/
Juan Gabriel / April 19
Mexican singer, songwriter and performer will make a stop at the Bay Area for his Volver Tour 2014. As a Billboard Latin Music Hall of Fame inductee, Gabriel is celebrating four decades of recording with this 40th anniversary tour. His concerts remain one of the hottest tickets in town. His concerts include a monumental two-and-a-half hour sets featuring an extravagant 30-member band backing him and an ambitious set list including songs from his whole career up to his most recent single. Location: SAP Center 525 W Santa Clara, San Jose,  CA  95113. Ticket Information: http://www.ticketmaster.com/JuanGabrieltickets/artist/761622?tm_link=edp_Artist_Name
The 23rd Annual Union Street Spring Celebration and Easter Parade / April 20
Join the diverse San Francisco community to celebrate Easter Sunday. For the past 20 years the event has been known as the Biggest Little Parade in San Francisco. Over the years the parade has grown reflecting the unique community of the Bay Area. A variety of family activities are the focus of the event including lid's rides, a petting zoo, music entertainment and more The event begins at 10:00 a.m-5:00 p.m. .The parade begins at 2:00p.m. Rain or shine. Location: Union St. San Francisco, CA. For more information: http://www.sresproductions.com/union_street_easter.html