Featured Events: Angeles, Corazones & Life | April 16
Come see Mexican artist, Danny Ayala's exhibit entitled "Angeles, Corazones and Life!" This Exhibition is a compilation of his best work crafted deeply out of his heart. It is a mix between abstract hearts, people who are like angels, Latino colors, and all of those imperfections that make the canvas and the images so innately perfect in every way. Time: 6:00pm – 9:00pm Location: Payne Mansion Hotel & Carmen Milagro Present:1409 Sutter St, San Francisco, California 94109 http://bit.ly/1HdlxcE
Latina Success Network Create a Kick Ass LinkedIn Profile | April 18
Go from a boring profile to one that gets noticed. Only 20 early bird slots available. Once a year training. In this 2-hour workshop you will learn:
the do's and don'ts of a profile
how to build a targeted network
how to brand you or your business for results
how to navigate LinkedIn
how to create a LinkedIn strategy
the basics of creating a business profile
In addition, you will see examples of successful LinkedIn profiles that get the most views and engagement. You will need to bring in your laptop (or share with someone attending), since this will be an interactive and hands on workshop. Time: 10:00am – 12:00pm. Location: 1780 Hillsdale Avenue, San Jose, Ca 95124. http://lsnkickasslinkedinprofile.eventbrite.com/
Combined Destinies: Whites Sharing Grief About Racism | April 2
Join us as we host CSUMB faculty members Dr. Ann Todd Jealous and Caroline Haskell for a discussion of their co-edited book, "Combined Destinies: Whites Sharing Grief About Racism", an anthology exploring the impact of racism on the lives of white people. 6:00pm – 7:30pm. Location: Hartnell College, 411 Central Ave, Salinas, California 93901. http://on.fb.me/1EQjV5G
MACLA's 17th Latino Art Now! Exhibition  | April 3-May 16
MACLA presents its 17th Latino Art Now! Exhibition, from April 3 through May 16, 2015. This long-running and popular exhibition, a survey of the best contemporary art from Bay Area, national, and international Latino artists, coincides with the celebration of MACLA's 25th anniversary as one of the leading community arts centers in the West Coast. This year's exhibition reflects the breadth of visual arts media for which MACLA is known. It includes New York-based photographers Remy Amezcua and Dulce Pinzón; multi-media/mixed-media artists Carmen Argote, Cristina Velásquez, Linda Vallejo, and Yvonne Escalante; muralists Juana Alicia and Wayne Alaniz Healy; Bay Area printmaker Melanie Cervantes; glass artist Jaime Guerrero, and much more. Gallery Hours: Wednesday & Thursday, 12-7 pm; Friday & Saturday 12-5 pm. Admission: Free. Location: MACLA, 510 South 1st Street, San José, CA 95113. Website: www.maclaarte.org
The New Environmentalists • Inspiring Short Films & Discussion | April 9
Community Foundation Santa Cruz County & the Watsonville Film Festival are proud to present an evening of short films and post-screening discussion with Emmy Award winning filmmaker Will Parrinello. Ten short films about environmentalists from around the globe fighting within their own communities to safeguard the Earth's natural resources from exploitation, pollution, pesticides & fracking. Program consists of one-hour of short films, followed by a post-screening Q&A with the Director.Tickets available at Eventbrite and the door the day of the event. Please note that Students under 18 with valid ID are FREE. Time: 7:00pm – 9:00pm https://www.eventbrite.com/e/the-new-environmentalists-inspiring-short-films-discussion-tickets-16009125726?aff=ehomecard
Ariana Grande: Honeymoon Tour | April 12
Ariana Grande's "Honeymoon Tour" located at SAP Center in San Jose. Time: 7:30 pm. $ 35.00. http://bit.ly/1a6EXpg
SJSU Latino Alumni Networking Event | April 12
The goal of this network is to keep our community of professionals in the Silicon Valley connected and give us all the opportunity to meet some new faces as well. Please join us for our next Networking Event Sunday, April 12th at JJ's Blues in San Jose from 2-5 PM! Location: JJ's Blues, 3439 Stevens Creek Blvd, San Jose. https://www.facebook.com/events/764566346987532/
Dinara Omarova's "From Russia With Love" Artist Reception & Tours | 3/12-4/12
Carmen Milagro & The Payne Mansion Hotel Present: Dinara Omarova "From Russia with Love" Russian-born Dinara Omarova understands this deeply. Dinara's difficult early years as a child as well as her Azerbaijani and Russian roots have shaped her perspective and view on life, art, passion and spirituality. However, rather than inhibit her passion, these hard early years drove her to seek it. Dinara embraces all of life; the light and the dark, the calm and the storm. Passion fills her heart as she lets her entire body flow with every stroke of the brush. What results are feelings captured on canvas. Art heals the soul. Location: Payne Mansion Hotel ~ 1409 Sutter Street at Franklin. For FREE tickets please go to: https://www.eventbrite.com/e/carmen-milagro-presents-from-russia-with-love-artworks-by-dinara-omarova-tickets15862510195?utm_campaign=new_event_email&utm_medium=email&utm_source=eb_email&utm_term=eventurl_text
The Breakfast Club (1985) – Cult Movie Series | April 16-18
The ultimate Brat Pack flick from the great John Hughes, and the benchmark for all that followed in the teen drama genre, finds five teenagers–Bender the dude, Andrew the jock, Claire the prom queen, Allison the weirdo, and Brian the geek–sharing a day-long Saturday detention. Situated in the school's library and watched over by their anally-retentive teacher, they begin the day as strangers and soon find themselves united by a common affliction: youth. The performances by the young cast, culminating in an exuberant pot-smoking session, followed by a genuinely touching denouement, is classic stuff. "The Breakfast Club" stars Judd Nelson, Emilio Estevez, Molly Ringwald, Ally Sheedy, Anthony Michael Hall, and Paul Gleason. Thurs: 9:30pm Sat: 12am. Location: Camera 3, 288 S 2nd Street, San Jose 95113. Ticket Information: $7.50 http://www.cameracinemas.com/midnight.shtml
Sonido Clash Presents: INAUGURAL SELENA TRIBUTE PARTY | April 18
Sonido Clash presents an inaugural Selena tribute party. There will be two rooms celebrating Selena's life. Selena look alike contest. Hear the sounds of Yo. Yolie, DJ Too Tall, DJ Abraham, DJ That Girl, and DJ Jenicyde. Doors open at 9:00 pm. 21 and over. Location: Back Bar SoFa, 418 S MARKET ST, San Jose, California 95113 RSVP/DIGITAL TICKETS: http://bit.ly/1a6Gfk4
Los Monólogos de la Vagina | April 18-24
Location: MACLA, San Jose. Time: 7:30 PM. Free. http://on.fb.me/1BIvRW8
Noche Bohemia | April 15
Time: 6:00pm Location: Sherwood Hall, 940 N Main St, Salinas, California 93906
From Trash to Treasure| April 18
Join us this year to celebrate Earth Day though art! We'll introduce you to the adventuresome world of reusing and recycling common household items to transform trash into something you will treasure. These fun family classes are filled with exciting activities, interactive discussions, and live animal encounters for adults and children to enjoy together. Class fee is for one child and one adult. (ages 4+ with an adult) Location: Happy Hollow Park & Zoo, 1300 Senter Rd, San Jose, California 95112. Time: 10:00am – 12:00pm. http://www.hhpz.org/index.cfm/id/4344/FebruaryMay-2015/
Social Security | March 20-April 18
Come enjoy the laugh-out-loud comedy "Social Security" by Andrew Bergman. Thurs-Sat: 8pm Sun: 1pm *Note: No show 3/22. Location: Broadway West Theatre, 4000-B Bay Street, Fremont 94538. Ticket Information: $10-$25 http://www.broadwaywest.org
Be The Match Walk and Run San Jose | April 18
You have the power to cure blood cancer. Join us for the upcoming Be The Match Walk and Run. Each year, thousands of patients need a marrow transplant, but have no donor match in their family. Time: 7:30am Event Village Opens 8:30am Opening Program 8:45am Tot Trot 9am 5K Starts 9:05am 1K Starts Closing Program and Award Ceremony will immediately follow. http://www.bethematchfoundation.org/site/TR/WalkRun/Foundation?fr_id=3420&pg=entry
Walk for a Cause in Memory of Kiran Pabla | April 19
Walk for a cause in memory of Kiran Pabla and the Kiran Pabla Scholarship with Home of Hope. Support the SLOW DOWN movement to ensure we can all join hands to save lives. The scholarship will educate underprivileged children in India. Time: 9:00am – 12:00pm Location: Hellyer County Park, 985 Hellyer Ave, San Jose, California https://www.facebook.com/events/1536704326612753/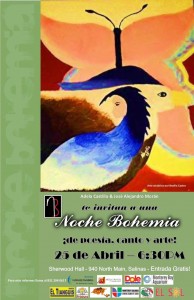 Noche Bohemia | April 25
An evening of art, music and poetry at Noche Bohemia. Join this community free event. Located at Sherwood Hall, 940 South Main, Salinas. Time: 7:00 pm.
Kiss Me Dirty Mud Run | April 25
No Way…San Jose! That's right, KMD is runnin' West towards the Bay Area in a Girlie Gold Rush and we'll be mining some mud. Wishing you could be one of those California Girls, why not ROAD TRIP and see the sights on the way to this NorCal venue? So don your favorite "chick suit" and come sling more mud than a political primary as we slop, drop and roll into filthy fun under the California sun…or famous Bay Area fog. Time: 9:00 am. Location: Santa Clara County Fairgrounds http://www.kissmedirty.com/san-jose-ca.html
Los Gatos Spring Wine Walk | April 25
Join us for the Spring Wine Walk in Los Gatos where you can enjoy fine wine, great shopping, food samples, and of course delicious coffees and teas by Tico Coffee Roasters in charming downtown. Sip tastings from 40 wineries pouring in shops and boutiques throughout Downtown Los Gatos. Stroll the Wine Walk Route and enjoy great local wine, food & shopping. Tickets are $50 in advance, purchase at or call 408.354.9300. Time: 1:30pm – 5:30pm. Location: Downtown Los Gatos. www.LosGatosChamber.com
Classes with Teatro Vision at the School of Art and Culture | April 14-June 18
Learn acting and dance with San Jose's leading teatro company and professional dancers! All classes are bilingual. Students will be considered for casting in the October, 2015 production of MACARIO. This class is teens and adults ages 14 and up. To register for classes, please contact: Arturo Magano at (408) 794-6249 or info@schoolofartsandculture.org
Willow Glen Spring Wine Walk | April 25
Join the Willow Glen Business Association for a spring afternoon of strolling the avenue and sampling wines from more than 30 wineries at our "Spring Wine Walk." Tasting sites will be set up in various businesses along Lincoln Avenue in beautiful downtown Willow Glen. This is a great opportunity to visit some shops and restaurants and meet our many local business owners and managers. Location: Downtown Willow Glen, Lincoln Avenue and Willow Street, San Jose 95125. Ticket Information: Tickets are $35 in advance, and include tastings at more than 30 locations and a commemorative wine glass. There is limited availability. If tickets remain on day of show, they will be $40. http://www.willowglen.org/Wine-Walks
Monterey Bay Aquarium Presents Día del Niño | April 26
Celebrate children and families at our annual Día del Niño event on Sunday, April 26. Enjoy live Latin music performances, crafts, special bilingual programming and more. Free with Aquarium admission!  Special Activities:
Free admission for children ages 12 and under all day
Bilingual feeding programs in English and Spanish
Performances by Gabriela Sepúlveda, featured in the national television shows "La Voz Kids US," "Sábado Gigante" and "Tengo Talento"
Family craft room to create a take-home souvenir
http://www.montereybayaquarium.org/visit/special-events/dia-del-nino
Death Of A Salesman | April 1-26
Arthur Miller's 1949 Pulitzer Prize-winning "Death of a Salesman" is a quintessential American tragedy. A scathing critique of capitalism and the failure of the American Dream to bring true happiness, the play follows aging salesman Willy Loman as he and his family confront their dreams and failures, hopes and fears. Wed, Thurs: 7:30pm Fri, Sat: 8pm Sun: 2pm. Location: San Jose Stage Theater, 490 S 1st Street, San Jose 95113. http://www.thestage.org
Once | April 21-26
Winner of eight 2012 Tony Awards, including Best Musical, "Once" is a truly original Broadway experience. Featuring an impressive ensemble of actor-musicians who play their own instruments onstage, "Once" tells the enchanting tale of a Dublin street musician who's about to give up on his dream when a beautiful young woman takes a sudden interest in his haunting love songs. As the chemistry between them grows, his music soars to powerful new heights, but their unlikely connection turns out to be deeper and more complex than your everyday romance. Emotionally captivating and theatrically breathtaking, "Once" draws you in from the very first note and never lets go. It's an unforgettable story about going for your dreams and the power of music to connect all people. Tues-Thurs: 7:30pm Fri: 8pm Sat: 2pm, 8pm Sun: 1pm, 6:30pm. Location: San Jose Center for the Performing Arts, 255 Almaden Boulevard, San Jose 95113. http://broadwaysanjose.com/once/
Dancin' In The Row – SjDANCEco Dance Festival 2015 | April 26
sjDANCEco invites you to their annual "sjDANCEco Dance Festival," formerly "Dancin' Downtown," now located at Santana Row. The non-stop, full-day dance performance is part of National Dance Week, taking place outside in Park Valencia at Santana Row in front of Maggiano's Little Italy restaurant.The "sjDANCEco Dance Festival" is intended to showcase the wealth and diversity of South Bay dance artists. All dance companies, choreographers, studios, performing groups, and cultural organizations from all across the Bay Area–including San Francisco, North Bay, East Bay, Peninsula, and South Bay regions–are encouraged to showcase their works. 10am-3:30pm. Location: Santana Row, 377 Santana Row, San Jose 95128. http://www.sjdanceco.org/events.html
2015 Nihonmachi Fun Run And Walk | April 26
Come join the community for a 5k (3-mile) fun run and walk around the historic San Jose Japantown neighborhood. All ages are welcome! Proceeds benefit Yu-Ai Kai Senior Center. Afterwards, enjoy a free Health Fair at the Akiyama Wellness Center, located at the corner of Jackson and 3rd Streets.The Nikkei Matsuri Festival will run from 10am until 5pm on Jackson Street between 4th and 6th Streets. Location: Yu-Ai Kai Senior Center, 588 N 4th Street, San Jose 95112. Ticket Information: $40 for adults 13-54 ($30 before 4/14) $25 for seniors 55-74 and children 12 and under ($20 before 4/14) Free for seniors 75 and older Free for participants with sponsorships of $75 or greater https://www.eventbrite.com/e/2015-nihonmachi-runwalk-registration-15585574874
Fun Parent Participation Mommy Or Daddy And Me Class | March 9-April 27
"Mommy or Daddy and Me Spanish Immersion Class" is an award-winning program presented by Let's Play in Spanish and Susy Dorn Present! Give your children the gift of Spanish by stopping by and checking out a free trial class. Both you and your child will be speaking Spanish in no time. This 50-minute class is for children 2-7 years old. Thank you, and see you soon! If you decide to email us for the free trial class, be sure to send us the following information: parent's full name; child's name and date of birth; primary e-mail; phone (please include area code); how you heard about us; and how many children will be attending. Location: Let's Play in Spanish, 2483 Old Middlefield Way, Ste C, Mountain View 94043. Ticket Information: Free Trial Class – must RSVP on the Official Website or by e-mail. http://letsplayinspanish.com/free_trial_class.html
Mariachi Reyna de Los Angelas | April 29 & 39
Enriching the mariachi forum as America's all female mariachi ensemble, Mariachi Reyna de Los Angeles bring sensitivity, beauty, warmth and an attractive perspective to the realm of Mexico's musical heritage. Tickets: Gold Circle: $40, General Admission: $29, Senior/Military: $25, CSUMB Staff/Faculty, Alumni: $15, Non-CSUMB Students: $15, CSUMB Students/Children: $10. Location: World Theatre at CSUMB http://boxoffice.printtixusa.com/calstate/eventcalendar
Introduction To Bachata | March 19-April 30
Want to learn a fun, new dance style this spring? Join us at MACLA for this unique opportunity to learn Bachato, a sophisticated and fast-paced dance which originated in the Dominican Republic. This introductory class includes basic footwork and timing to get you comfortable with open and closed Bachata styles. This is a great class for both experienced and new dancers–all you need is to enjoy the music! Students are encouraged to take the 6-week series, but can attend single classes. Please wear comfortable clothing and shoes with non-abrasive soles. This class is taught by David Sanchez. Location: MACLA, 510 S 1st Street, San Jose 95113. Ticket Information: $15 for a single class $90 for the 6-class series http://maclaarte.org/programs/community-arts/
En Plena Flor (art exhibit) 3/3-4/28
See all of the artwork coming in for the En Plena Flor art exhibit. Location: 546 Valencia Street, San Francisco, CA 94110, US Free This beauty "Huitzilopochtli's Flor de Lily" is by Mary Lucille Nuñez/Delira https://www.facebook.com/pages/Mary-Lucille-NuñezDelira/219690188070578