Featured Event: Latina Coalition Membership Appreciation Night | 3/11
Latina Coalition Silicon Valley is proud to announce our 2015 ELLA class! Join us for this membership mixer as we introduce the class of 2015, mix and mingle with new and former members, and enjoy the beautiful view from the Capital Club! As this is a membership appreciation event, members get in free! Non-members may attend for a $50 yearly membership fee and also get in free! 5-7 pm Location: Silicon Valley Capital Club 50 West San Fernando San Jose, CA 95113 Register here: http://www.eventbrite.com/e/latina-coalition-membership-appreciation-mixer-tickets-15793937091
A Moon for the Misbegotten | Now until 3/7
Directed by Fred Tollini, SJ, "A Moon for the Misbegotten" is the final play by one of America's most important playwrights. Eugene O'Neill was a four-time Pulitzer Prize winner and a winner of the Nobel Prize. The son of a very popular and commercially successful 19th century actor, his writing style bridged the 19th and 20th centuries, moving from melodrama to realism to expressionism and back again. He is the rare writer whose late work is considered his strongest, and his depiction of the Tyrone family–a portrait based on his own family–in "Long Day's Journey Into Night" and "A Moon For the Misbegotten," is among the most painfully moving in literature. Location: Louis B Mayer Theatre – Santa Clara University, 500 El Camino Real, Santa Clara 95053. Ticket Information: $5-$15 http://scupresents.org/performances/mainstage-theatre-moon-misbegotten
Watsonville Film Festival | March 5-8
This is the 4th year for the Watsonville film festival. Check out the amazing films. http://watsonvillefilmfestival.org/2015-festival/
Sunday in the Park with George | Now until 3/8
Multi-award-winning Foothill Music Theatre presents "Sunday in the Park with George," the Pulitzer Prize-winning Broadway musical with music and lyrics by Stephen Sondheim and book by James Lapine. Inspired by the iconic pointillist painting "A Sunday Afternoon on the Island of La Grande Jatte" by George Seurat, this funny, heartfelt musical delves into the inner-lives of both the artist and his subjects. With a colorful cast ranging from introspective artists to indifferent American tourists, "Sunday in the Park with George" tells of the inspiration and agony faced by both George Seurat and, in the second act, his great-grandson, also an artist. This masterful painting-come-to-life won the 1985 Pulitzer Prize for Drama, as well as multiple Tony Awards for its original run and subsequent Broadway revivals. Location: Lohman Theatre – Foothill College, 12345 El Monte Road, Los Altos 94022 Ticket Information: $12-$32 http://www.foothill.edu/theatre/index.php
Disney's The Little Mermaid Jr | Now until 3/8
Journey "under the sea" with Ariel and her aquatic friends in Disney's "The Little Mermaid Jr.", adapted from Disney's 2008 Broadway production. In a magical underwater kingdom, the beautiful young mermaid Ariel longs to leave her ocean home–and her fins–behind and live in the world above. First, she'll have to defy her father King Triton, make a deal with the evil sea witch Ursula, and convince the handsome Prince Eric that she's the girl whose enchanting voice he's been seeking. Fri, Sat: 8pm Sun: 1pm, 4pm. Location: Sunnyvale Community Center Theatre, 550 E Remington Avenue Sunnyvale, 94087. Ticket Information: $19 for general admission $16 for students and seniors (60+) $9 for children 5 years or younger *Note: A $3 service fee will be added to each ticket at checkout. http://www.sunnyvaleplayers.org/
Carlos Mencia | 3/5-3/8
Carlos Mencia is undoubtedly one of today's most popular entertainers and comics. Whether it is man-on-the-street interviews, studio comedy, commercial parodies, nationwide sold-out tours, or films, Mencia demonstrates an extraordinary ability to connect with a wide and diverse audience. $ 25.00 Location: Improv Comedy Club, 62 South Second Street, San Jose, CA 95113 View Map
George Lopez Listen To My Face Tour | 3/6 Santa Cruz and 3/7 San Francisco
George Lopez is a multi-talented entertainer whose career encompasses television, film, standup comedy and late-night television.
3/6 – 307 Church Street, Santa Cruz, CA 95060, 8 pm Location: The Warfield 307 Church Street, Santa Cruz, CA 95060
3/7 San Francisco Price: 982 Market Street, San Francisco, CA 94102
Ozomatli (Napa) | 3/6
Shifting gears from electro-cumbia to garage rock, hip-hop, and Pérez Prado mambo, Ozomatli infuses a DJ party mix with dynamic live band chops and attitude. After nearly twenty years together, having toured internationally, collaborated with the Boston and New York Pops orchestras, and served as Cultural Ambassadors for the U.S. State Department, Ozo's more recent accomplishments have ranged from being the first band to be asked to give a musical talk at the TED Conference to the release of their current album "Place in the Sun". 7:00 PM Location: 1030 Main St, Napa, CA 94559 $ 40.00
Rodgers and Hammerstein's Cinderella | 3/3-3/8
Rodgers and Hammerstein's "Cinderella" is the Tony Award-winning Broadway musical, from the creators of "The Sound of Music" and "South Pacific," that's delighting audiences with its contemporary take on the classic tale. This lush production features an incredible orchestra, jaw-dropping transformations, and all the moments you love–the pumpkin, the glass slipper, the masked ball, and more–plus some surprising new twists! Be transported back to your childhood as you rediscover some of Rodgers and Hammerstein's most beloved songs, including "In My Own Little Corner," "Impossible/It's Possible," and "Ten Minutes Ago," in this hilarious and romantic Broadway experience for anyone who's ever had a wish, a dream, or a really great pair of shoes. Tues-Thurs: 7:30pm Fri: 8pm Sat: 2pm, 8pm Sun: 1pm, 6:30pm. Location: San Jose Center for the Performing Arts, 255 Almaden Boulevard, San Jose 95113 http://broadwaysanjose.com/cinderella/
Taco de Ojo – Exhibition | Now – 3/14
Latino Toons Collective is a Latin American collective of comics, art, and poetry with collaborators from the Rio Grande all the way down to Tierra del Fuego. Their influences stem from underground comics, street art, indigenous art, and various forms of counter-culture. They embrace a diversity of styles and backgrounds as a heterogeneous group of proponents of the line. Their varied works reflect a collective interest in an experimental approach towards both the subject matter and technique employed in generating a dialogue that seeks to transcend borders and boundaries. "Taco de Ojo" is the name of their self-published anthology, and their current show, both of which showcase the best work from the collective. Combining elements from comics, design, illustration, and conceptual art, they seek to push expression to a new frontier. "Taco de Ojo" is slang for "eye candy," and is synonymous with "getting an eyeful" in Spanish. The Latino Toons Collective aims to serve a meal for the mind and eyes, a richly condimented visual experience colored with flavors from all over Latin America. Tues-Fri: 12pm-7pm* Sat: 12pm-5pm *Opening Reception 2/6: 7pm-11pm. Location: Anno Domini Gallery, 366 S 1st Street, San Jose 95113. Ticket Information: Free. http://www.galleryad.com/
Shrek the Musical – Now – 3/14
"Shrek the Musical," based on the Dreamworks film by the same name, is a hilarious musical about everyone's favorite ogre. In a faraway kingdom turned upside down, things get ugly when an unseemly ogre–not a handsome prince–shows up to rescue a feisty princess. Throw in a donkey who won't shut up, a villain with a short temper, a cookie with an attitude and over a dozen other fairytale misfits, and you've got the kind of mess that calls for a real hero. Luckily, there's one on hand–and his name is Shrek. Location: Morgan Hill Community Playhouse, 17090 Monterey Street Morgan Hill 95037. Ticket Information: $22 for adults $18 for seniors (ages 60+) $15 for students and children (includes full-time students). http://svct.org/plan-your-visit/
Mexica New Year (Yancuic Xihuitl Yei Acatl) | 3/14
Location: Emma Prusch Park, 647 S King Rd, San Jose, California 95116. https://www.facebook.com/events/708494182530139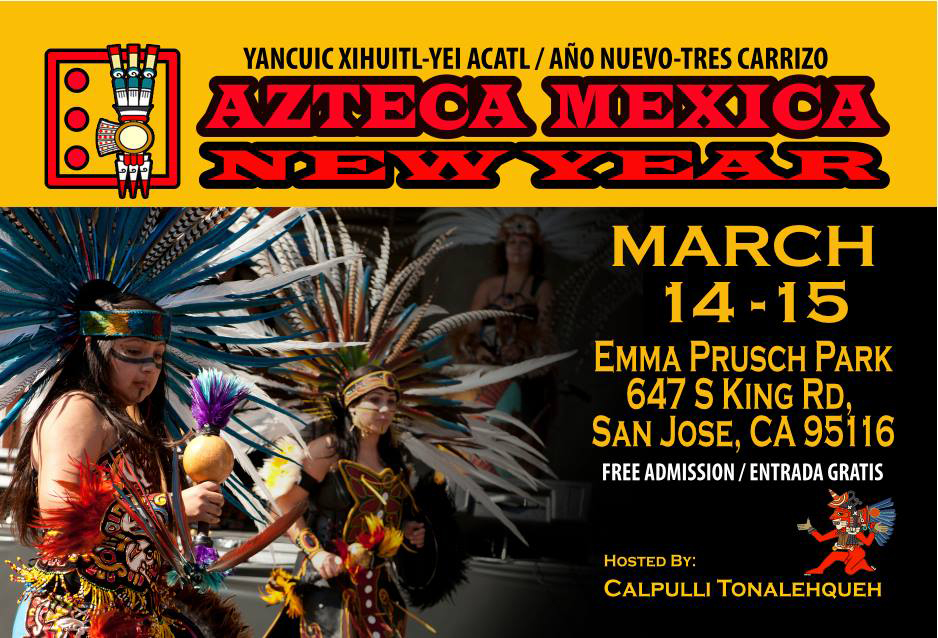 Taste of Willow Glen Featuring The Joe Sharino Band | 3/14
Dance to the music of Willow Glen's own Joe Sharino Band, and enjoy tastes from select Willow Glen Restaurants. Auction items and a full cash bar will also be available. Band plays at 8pm. Location: San Jose Elks Lodge, 444 West Alma Avenue, San Jose 95110. Ticket Information: $75 in advance (includes admission, food, and two complimentary glasses of wine) http://www.willowglen.org/taste_of_willow_glen
5th Chicana/o Biennial 12/ 5- 3/14
Work by Juana Alicia, Carmen Argote, Jesus Barraza & Melanie Cervantes as Dignidad Rebelde, Adriana Garcia, Wayne Alaniz Healy, Ester Hernandez, Judithe Hernández, Miguel "Bounce" Perez, Tony de los Reyes, Celia Herrera Rodriguez, Sonia Romero, Alex Rubio, Ana Serrano, Shizu Saldamando, Patssi Valdez, and Linda Vallejo. An exhibition and public forum to reflect on the critical edge and aesthetic interventions within contemporary Chicano art. Curated by Joey Reyes. http://maclaarte.org/programs/visual-arts/
Les Miserables (Mountain View) | 3/7-3/15  
The world-renowned musical adaptation of Victor Hugo's great humanitarian novel of love, valor, and compassion at the deadly barricades of 19th century Paris comes to Mountain View. A bishop's unexpected act of kindness transforms social outcast Jean Valjean into a champion of the wretched, but a relentless inspector refuses to let past sins lie buried. Thurs: 9:30am Fri: 9:30am, 7:30pm Sat: 2pm, 7:30pm Sun: 1pm and/or 6:30pm. Location: Mountain View Center for the Performing Arts, 500 Castro Street, Mountain View 94041. Ticket Information: $10-$22 http://www.pytnet.org/
Untamed – Ballet | 3/19-3/22
In "Serenade for Strings," you will see choreographer Garrett Ammon unleash his own take on Tchaikovsky's iconic score. Pastoral yet precise, Ammon builds on the legacy of Tchaikovsky's concerto with this refreshing interpretation."Frankie and Johnny" is Michael Smuin's passionate tribute to the legendary Gene Kelly. In this sinister Latin saga, Smuin combines authentic mambo with traditional dance to tell the story of Frankie, and how her lover, Johnny, does her wrong. Through classic Kelly steps paired with Smuin's storytelling, you will watch Frankie's passions run wild amidst a soundtrack of some of the biggest names in Latin and mambo music."Untamed" rounds out the evening with "Objects of Curiosity," choreographed by Smuin's choregrapher-in-residence, Amy Seiwert. In this evocative piece, you'll see Seiwert examine the tensions between desire and restraint, pairing them with a delicate score that mirrors her study on stage. By letting this attention to detail run free, she invites everyone on a journey of exploration in shape and form that will leave you wanting more. Please note, this ballet contains material that is intended for mature audiences. Thurs, Fri: 8pm Sat: 2pm, 8pm Sun: 2pm Location: Mountain View Center for the Performing Arts, 500 Castro Street, Mountain View 94041. Ticket Information: $23-$71 http://smuinballet.org/untamed/
Ricardo Arjona |3/26
Ricardo Arjona has sold more than 20 million albums and is one of the most successful and respected Latin-American singer-songwriters of all time. U.S. fans have not seen the legendary singer-songwriter perform on a tour of this scale ever. Arjona has created a complete universe on stage for his Viaje Tour. The ambitious production needs more than 200 people nightly to execute his vision, which includes forty-tons of scenery, 200 robotic lights, and a high definition LED screen measuring more than 20-meters in height. Location: SAP Center, 525 W Santa Clara Street San Jose 95113. Ticket Information: $60-$150 http://www.sapcenteratsanjose.com/events/detail/ricardo-arjona
The Boy Friend | Now-3/28
This award-winning musical comedy was inspired by the 1920s jazz and flapper beat. You will enjoy this tuneful and affectionate valentine to the innocence and high spirits of this era. The score includes: "Won't You Charleston With Me?"; "I Could Be Happy With You"; and "It's Never Too Late to Fall in Love." Fri, Sat: 8pm* Sun: 2:30pm *Note: Sat 3/14 is at 2:30pm instead There is no show on 3/6. Location: Saratoga Civic Theater, 13777 Fruitvale Avenue Saratoga 95070 Ticket Information: $20-$35 http://www.wvlo.org/
Seussical | 3/20 – 03/29
Tony winners Lynn Ahrens and Stephen Flaherty have lovingly brought to life all of our favorite Dr. Seuss characters, including Horton the Elephant, the Cat in the Hat, Gertrude McFuzz, lazy Mayzie, and a little boy with a big imagination–Jojo. The colorful characters transport us from the Jungle of Nool to the Circus McGurkus to the invisible world of the Whos. Ticket Information: $10 for adults $5 for children http://www.rjjt.org/
Rain – A Tribute to The Beatles | 3/27-3/29
"Rain: A Tribute to The Beatles" is a live, multimedia spectacular that takes you on a musical journey through the life and times of one of the world's most celebrated bands. Going further than before, this expanded "Rain" production adds even more hits that you know and love from the vast anthology of Beatles classics, such as "I Want to Hold Your Hand," "Hard Day's Night," "Sgt. Pepper's Lonely Hearts Club Band," "Let It Be," "Come Together," and "Hey Jude." Fri: 8pm Sat: 2pm, 8pm Sun: 1pm http://broadwaysanjose.com/rain-tribute-beatles/
Maroon 5 | 3/31
Maroon 5, born and bred in Los Angeles, with their catchy hook, soaring vocals, and signature sound, have solidified their position as one of pop music's most enduring artists. The band captured their first of three Grammy Awards as "Best New Artist" of 2005 and have gone on to sell more than 17 million albums worldwide. Maroon 5's releases have also gone gold and platinum in over 35 countries. 7:30pm Location: SAP Center, 525 W Santa Clara Street San Jose 95113. Ticket Information: $28-$122 http://www.sapcenteratsanjose.com/events/detail/maroon-5
Salsa for the Environment | Now – 3/25
Tropicana Night Presents: "Salsa for the Environment " A 10 hour intensive salsa dance course, while supporting the environmental movement Collective Wave in the country Ecuador. 7:00 PM We are moving towards building a self-resilient city of eco-villages. More info on the following blog: collectivewave.blogspot.com Location: La Peña Cultural Center 3105 Shattuck Ave. Berkeley, CA 7pm – 9pm 2 Hours a Day 5 Wednesdays – February, 11th – February, 25th – March, 4th – March, 11th – March, 25th Each class is a progression from the previous class. However, drop in`s are welcome. $10 suggested donation per person, any support helps. No one is turned away for lack of funds. After paying the rent of the space, 100% of collected funds supports the Collective Wave movement in Ecuador. No partner necessary. Instructor: Josuè Danniel Saenz Negrete – aka – La Muerte 16 years dancing, 6 years teaching. http://muertela.blogspot.com/ Course Description: – Fundamental Footwork – Musical Timing – Leading & Following / Concepts-Techniques – Body Communication / Postures – Turning Patterns – Techniques for Improvisation – Emphasis in Personal Creativity – Meeting People – Lots of Fun After each class, you are welcome to practice your moves by attending a weekly latino dance event called Sonido Baylando in dowtown Berkeley.
En Plena Flor (art exhibit) 3/3-4/28
See all of the artwork coming in for the En Plena Flor art exhibit. Location: 546 Valencia Street, San Francisco, CA 94110, US Free This beauty "Huitzilopochtli's Flor de Lily" is by Mary Lucille Nuñez/Delira https://www.facebook.com/pages/Mary-Lucille-NuñezDelira/219690188070578
Film Screening: Mateo | 3/18
The Center for Latin American Studies presents a screening of the film Mateo. Colombia's entry for the 2015 Oscars, "Mateo" centers on a 16-year-old who seems destined to follow his uncle into a life of violent crime. Forced to take a theater class in order to stay in school, Mateo finds himself caught between his uncle's insistence that he turn over incriminating information about the troupe and his growing love of the theater. 86 minutes. Spanish with English subtitles. Room 105, North Gate, UC Berkeley, CA 94720  7:00 PM This event is free and open to the public. No registration necessary. http://clas.berkeley.edu/events/spring-2015/mateo
Jarabe de Palo | 3/27
Latin Grammy winner JARABE DE PALO just got nominated for 3 awards, including "Album of the Year" "Best Rock Song" and "Best Pop/Rock Album" for his latest record 'Somos. 9:00 PM Location: 360 Saratoga Avenue, San Jose, CA 95129 $ 30.00 Location: Rockbar – 360 Saratoga Avenue, San Jose, CA 95129. $30 ADV; $40 At the Door; $55 VIP (Includes Meet & Greet)
Cesar Chavez Commemorative March | 3/28
Memorial Mass – 9:30a.m. Followed by Commemorative March – 11:00a.m. NEW LOCATION! SAME ROUTE! Mass and March will be held at: Our Lady of Guadalupe Church 2020 East San Antonio Street, San Jose, CA 95116 Please contact Melinda Chacon for more information at chavezfv.info@gmail.com or 408.355.4183 ***SI SE PUEDE!*** https://www.facebook.com/events/1529002310712090
14th Annual Cesar E. Chavez Commemorative Breakfast | 3/31
Please join Chavez Family Vision, Inc. in celebrating the 14th Annual Cesar E. Chavez Commemorative Breakfast. We are excited to announce Richard Ray Perez, Project Producer, Director. of Cesar's Last Fast as our Keynote Speaker. Time: 8:00 am Location: Holiday Inn San Jose, 1350 North First St, San Jose, California 95112 http://chavezfamilyvision.org/category/articles/our-latest-events/
Dinara Omarova's "From Russia With Love" Artist Reception & Tours | 3/12-4/12
Carmen Milagro & The Payne Mansion Hotel Present: Dinara Omarova "From Russia with Love" Russian-born Dinara Omarova understands this deeply. Dinara's difficult early years as a child as well as her Azerbaijani and Russian roots have shaped her perspective and view on life, art, passion and spirituality. However, rather than inhibit her passion, these hard early years drove her to seek it. Dinara embraces all of life; the light and the dark, the calm and the storm. Passion fills her heart as she lets her entire body flow with every stroke of the brush. What results are feelings captured on canvas. Art heals the soul. Location: Payne Mansion Hotel ~ 1409 Sutter Street at Franklin. For FREE tickets please go to: https://www.eventbrite.com/e/carmen-milagro-presents-from-russia-with-love-artworks-by-dinara-omarova-tickets15862510195?utm_campaign=new_event_email&utm_medium=email&utm_source=eb_email&utm_term=eventurl_text