Featured Events: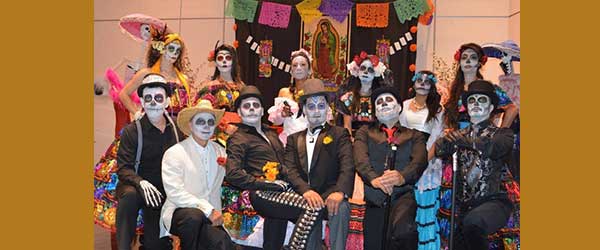 La Llorona | 10/31- 11/2
The award winning musical drama, La Llorona/The Weeping Woman,  returns to San Jose for a limited engagement – three performances only!  It is an epic tale of Love, Vengeance, and Betrayal. Previous productions on the west and east coast, including New York, have had sold out performances so purchase your ticket today. The last time La Llorona visited San Jose, all the performances were sold out so don't delay.

Conducted by Temirzhan Yerzhanov. Mexican Heritage Theater – School of Arts & Culture @ MHP 
1700 Alum Rock Ave.
San Jose , CA 95116. Tickets range from $10.00 – 35.00 Website: http://www.operacultura.org/calendar/La-LLorona_2013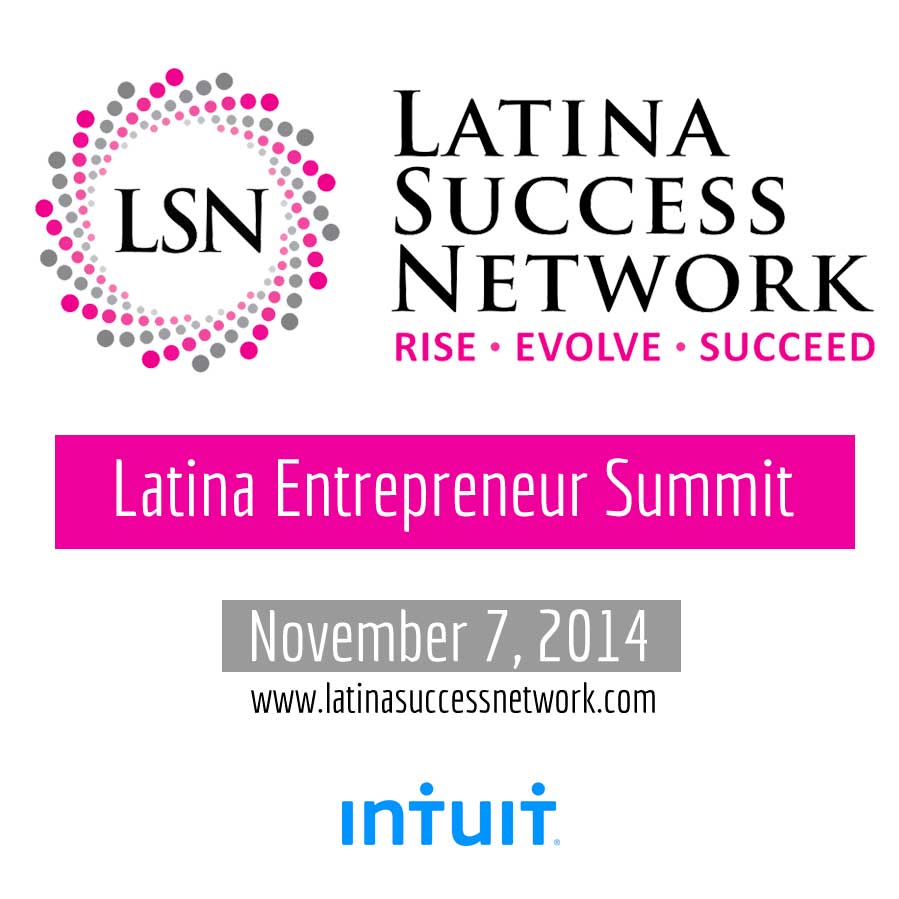 Latina Success Network (LSN) – Latina Entrepreneur Summit Hosted by Intuit | 11/7
Latina Success Network (LSN) in parnership with Intuit, maker of innovative services for entrepreneurs, is very pleased to bring you a day full of exchange of ideas, best practices, introduction to new products/services, lessons learned and journeys shared by rising Latina entrepreneurs in the Silicon Valley.You will also have plenty of opportunity to network, form new business partnerships and get to know your fellow Latina entrepreneurs who have developed products and services that are revolutionizing their communities. One of the goals of LSN is to create an economic Latina ecosystem where sustainability is created by Latinas doing business and with each other.Tickets: Complimentary. Location: Intuit Mountain View Campus. Time: 9-4 pm. https://www.eventbrite.com/register?orderid=368740232963&client_token=100d511cc6a647599140bb786e55c5e4&eid=12673369389
SAN FRANCISCO SYMPHONY 7TH ANNUAL DAY OF THE DEAD | 11/1
Bring the entire family as the San Francisco Symphony marks the Day of the Dead with the seventh annual concert celebrating Latino music and culture. Arrive at 1pm for pre-concert festivities in the Davies Symphony Hall lobbies, including refreshments, children's activities, and colorful displays celebrating Día de los Muertos. Half price for ages 17 and under. Recommended for ages 7 and older. Group discount not available. Link: http://www.sfsymphony.org/Buy-Tickets/2014-2015/Dia-de-los-Muertos-Community-Concert.aspx
Silicon Valley Jewish Film Festival | 11/1-11/9
Over four weeks, you'll be treated to side-splitting comedies, moving dramas, provocative features, and hard-hitting documentaries during the Silicon Valley Jewish Film Festival. This year's festival features a record number of films, including: coming-of-age comedies ("Hunting Elephants"), real-life based dramas ("Aftermath"), engaging documentaries ("The Return of the Violin"), cross-cultural connections ("Under the Same Sun"), and romantic comedies ("It Happened in Saint-Tropez," "One Small Hitch"). Organization: Silicon Valley Jewish Film Festival. Location: Camera 12, 201 S 2nd Street, San Jose 95113. Ticket Information: $14 at the door ($12 for students and seniors) $12 in advance ($10 for students and seniors). http://svjff.org
DIA DE LOS MUERTOS @ CHILDREN'S DISCOVERY MUSEUM | 11/2
In Mexico, Central America, and parts of the United States, this cultural holiday is celebrated with playful skeletons and colorful displays honoring loved ones. Join us for performances, storytelling and special art activities. Time: 12 -4 pm. Location: Children's Discovery Museum, 180 Woz Way, San Jose, CA 95110. FREE. https://www.cdm.org/event/dia-de-los-muertos/
SAN FRANCISCO DAY OF THE DEAD | 11/2
Festival of Altars Where: 4-11pm, Garfield Park, 25th/26th & Harrison Streets, San Francisco. We welcome you to make an altar for a loved one that has passed away. Making a Day of the Dead altar is a way for us to honor the life of someone who is no longer with us and to remember our ancestors. Each year, hundreds of personal altars fill Garfield Park. Time: 4:00 pm Procession: November 2, 7pm, meet with community members, artists and activists including Francisco x. Alacaron, Starhawk and traditional Aztec dancers following the traditional 13 Standards and the various creatures large and small. Ritual assembles at 22nd and Bryant 6-7:00 pm, on Sunday Nov. 2, 2014.
DÍA DE LOS MUERTOS FESTIVAL // OAKLAND'S FRUITVALE VILLAGE | 11/2
The much-anticipated, 19th annual Día de los Muertos Festival in Oakland's Fruitvale Village is happening soon. Time: 10:00 a.m. to 5:00 p.m. Address: East 12th Street, at 33rd, Oakland, California. Cost: Free
DIA LOS MUERTOS @ MISSION CULTURAL CENTER FOR LATINO ARTS | 11/2
Our Day of the Dead celebration is the coexistence that leads us to reflect on our lives. We invite you to join us on the celebration where we link the past with the present. Exhibition dates: October 14 – November 21, 2014. Participating artists are: Sindy Escoto, Maria M. Serafin, Ginger Godinez, Ashley J. Tomajan, Nick Mancillas, Flor Khan, Ximena Soza, Cristian Muñoz, Gabriel M. Rodriguez, Sue Mathews, Sergio Martinez, Danny Ayala, Adriana Camarena, Erin McElroy, Ivonne Iriondo, Flor Crisostomo and Alfonso Ochoa. Time: 6 pm; Cost: $7 Location 2868 Mission Street @ 25th St, San Francisco, California 94110 https://www.facebook.com/events/864731993538095/?ref=70
DIA DE LOS MUERTOS MARCH TO STOP EVICTIONS | 11/2
Dia De Los Muertos March to Stop Evictions! Our battle for the Mission and SF continues. Our next community action will take place during DIA De Los Muertos march. We need affordable housing, not market rate housing or condos and NO Monster in the Mission (Proposed 10 story luxury housing @ 16th and Mission) Our ancestors are with us. They fought battles before us and we will battle for the next generation of La Mision! Time: 6:00 Location: 24th and York street, San Francisco Facebook: https://www.facebook.com/events/293474020860562/?ref=2&ref_dashboard_filter=upcoming
VIVA LA VIDA: AN EVENING OF REMEMBRANCE AND CELEBRATION | 11/2
Join Galería de la Raza for our annual Dia de los Muertos celebration and fundraiser. This year as part of our Public Programs we will be presenting a FREE community gathering entitled: Creating Sacred Space MC/Host by Sandra Garcia Rivera. Later in the evening join us for Bailando con Nuestros Muertos: A Galería De La Raza Fundraiser Showcasing a stellar line up. Proceeds will go to support Galería's programs. Time: 12:00 Location: 2857 24th Street, San Francisco. Link: http://www.galeriadelaraza.org/eng/events/index.php?op=view&id=5509; Creating Scared Space 5:30-7PM, 24th Street and Bryant Street. Cost: FREE. Bailando con Nuestros Muertos: A Galería De La Raza Fundraiser; Featuring Performances by: Bomberas De La Bahia | La Misa Negra. Doors Open | 8PM. Cover charge: $30 (proceeds support Galería's programs). Sugar Skull Workshop | 12PM-5PM Fee: $10 covers cost of materials
DIA DE LOS MUERTOS // REDWOOD CITY | 11/2
Event starts at 6:00 pm. Welcoming by the mayor of Redwood City at 7:00 PM, 7:10 Procession and live music. FREE activities for kids at the San Mateo History Museum and Community Altar exhibition. Event includes altar contest, food, arts and crafts, and live entertainment. FREE. Location: Downtown Redwood City.
Viajando Destination Argentina – Dining Event | 11/5
Viajando means to travel or go on a journey. Our tradition continues this November–destination: Argentina. The obvious question is: "With all previous events having live entertainment, will this month feature tango dancers?" Good question, but it's a bit soon for us to show our hand–but that's a good question. Here's what we do know: there will be three seating times at 6pm, 6:30pm and 7pm and a 5-course, prix-fixe menu. We are accepting reservations and are planning to sell out, so reserve your space today! Join us for a memorable evening of great cuisine and live entertainment. Buen apetito from Chef Manuel and Iliana Ramirez. Location: LV Mar, 2042 Broadway St.,Redwood City. Ticket Information: $45 per person
MEXICAN MUSEUM TO SHOWCASE RECENT GIFTS AND ACQUISITIONS SPECIAL EXHIBITION | 10/10/14 – 1/18/15
MEX Collects: Recent Gifts & Acquisitions will include these new artworks to enhance the Museum's five main collecting areas: Pre-Hispanic Art (Meso-American, Central American, and Peruvian collections, spanning 2,500 years of history). The Mexican Museum, the premier West Coast museum of Mexican, Mexican-American, Chicano, Latin American and Latino art, culture and heritage, announces an exhibition entitled MEX Collects: Recent Gifts & Acquisitions, which will feature a dramatic selection of over 30 recent pieces recently gifted to The Mexican Museum. Location: The Mexican Museum is open Wednesday – Sunday from noon to 4 p.m., located at Fort Mason Center, Building D, Marina Boulevard and Buchanan Street, in San Francisco. FREE Admission. The Museum offers a wide variety of programs, including Family Sundays, exhibitions, special events, lectures and public programming throughout the San Francisco Bay Area. For more information, please visit: http://www.mexicanmuseum.org or call (415) 202-9700. The Museum is currently preparing for the completion of its permanent home, which will be built in downtown San Francisco's Yerba Buena Garden Arts District and is expected to open in 2018.
Visions at Twilight: Dia de Los Muertos 2014 | 10/11–11/8
SOMArts Cultural Center Presents:15th Annual Day of the Dead exhibit. Inspired by current events, cherished relationships and Day of the Dead celebratory rituals, more than 80 Bay Area artists from a breadth of cultural backgrounds create elaborate, traditional altars and multi-dimensional contemporary art installations.  Visions at Twilight: Día de los Muertos 2014, offers viewer an opportunity to engage with art that addresses themes ranging from the deeply personal to the political.  The Day of the Dead exhibition provides a way for artists and viewers to embrace the beauty of life and to honor the spirits of the dead. Location: 
934 Brannan Street, San Francisco, CA 94103. Visit http://www.somarts.org/imaginingtime/
"FRIDA KAHLO IN AMERICA: THE CREATION OF A UNIQUE VISUAL LANGUAGE" | 11/6
In conjunction with the Dobles Vidas exhibition in Thacher Gallery and USF's Day of the Dead celebrations, come hear Celia Stahr, Ph.D., adjunct faculty in Art History, give a lecture, "Frida Kahlo in America: The Creation of a Unique Visual Language" Following the lecture, students in the M.A. program in Museum Studies will be offering tours of the Dobles Vidas exhibition in Thacher Gallery.To learn more about Dr. Stahr's forthcoming book, Frida Kahlo in America, see her blog: fridakahlojourney.com FREE Location: University of San Francisco, 2130 Fulton Street, San Francisco, CA 94117. https://www.facebook.com/events/724330700977955/?ref=22  http://www.usfca.edu/library/thacher/
Pacific Mambo Orchestra Performance | 11/8
2014 GRAMMY winner for Best Tropical Latin Album PACIFIC MAMBO ORCHESTRA perform on Saturday, November 8 at 8:30 PM at the historic Cocoanut Grove Ballroom at the Santa Cruz Beach Boardwalk.The 19-piece big band is dedicated to championing the classic mambo sounds of the great Latin big bands of the 1940s through 1960s, including Machito, Tito Puente, Celia Cruz, and many others. They set the music world on fire earlier this year when their self-titled debut album won the Grammy for Best Tropical Latin Album, beating out Marc Anthony. With a repertoire of mostly original arrangements, the selections move in a frenetic pace, pulsing with the sounds, rhythms, and beats that only a true big band is capable of producing. ADDRESS: 400 Beach St, Santa Cruz, CA 95060. TIME: 8:30 PM   (Doors: 7:00 PM; Salsa dance Lesson begins at 7:30 PM). PRICE: $30/Adv $35/Door, No Comp Tickets http://kuumbwajazz.org/pacific-mambo-orchestra-saturday-november-8-at-the-cocoanut-grove-ballroom/
Performing Arts Workshop Presents: Donor & Community Appreciation Night | 11/12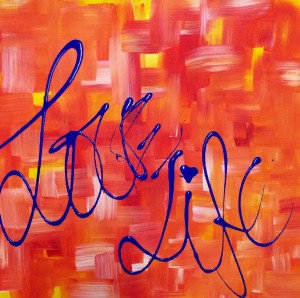 ART & KITCHEN WALK…because FOOD is ART too! "International Artists Walk" featuring 5 ARTISTS: Danny Ayala – Mexico, Francisca Huezo – San Salvador, El Salvador, Sergio Martinez- Mexico, Phuong Xuan Nguyen – Salt Lake City, USA, and Dinara Omarova – Moscow, Russia. Delectable Chef's Choice Edibles – Japanese Mediterranean Cuisine & Wine Tasting and 49er Cars! Guitarist Demetrio Flores; Children's Performance(s). For every $25 donation at the door you'll receive (1) Free raffle ticket to win a PAINTING from one of our artists above! No Host/Cash Bar & you'll receive (1) Raffle ticket for every drink purchased for a bottle of 1997 Private Reserve Beringer. ALL proceeds go to Performingartsworkshop.org. Location: Mangiare Bistro located at 301 Executive Park Blvd SF. For Tickets: https://www.eventbrite.com/e/performing-arts-workshops-donor-and-community-appreciation-party-tickets-13444333363
Oprah's The Life You Want Weekend | 11/14-11/15
Start each day anew. Live your calling. Believe in what you can, and will, become. Create the life you want. Begin your journey at this all-new, empowering weekend gathering. Not only will you see the possibilities of a new life–the life you want–you'll leave empowered to take charge and make it happen. Friday, Oprah takes the stage in a profound, moving, and intimate one-woman show. Oprah brings her story and vision to life, creating a transformative journey for every person in the audience. Saturday, Oprah unleashes that energy, leading a day-long gathering of thousands, with hand-picked "life trailblazers," each of whom brings a unique power to connect, dig deep, and open hearts and minds. From teaching to conversation to one-on-one connection to music, laughter, and breathtaking moments, this will be an unforgettable life experience. Location: SAP Center, 525 W Santa Clara Street, San Jose 95113. Tickets start at $99 and up. http://www.oprah.com/app/oprahs-tour.html
Unmasked – Exhibition | Through 11/15
MACLA opens its 2014-15 season with "Unmasked," an exhibition about real and re-imagined superheroes. Latino artists Dulce Pinzon, Hector Hernandez, Carlos Donjuan and Rio Yanez explore cultural and social issues of identity and otherness through the visual language of comic books, science fiction and superheroes; they also incorporate the heroic story of and expand on the mythology of the superhero. Organization: MACLA. Location: MACLA, 510 S 1st Street, San Jose 95113. Ticket Information: Free. Wed, Thurs: 12pm-7pm Fri, Sat: 12pm-5pm. http://maclaarte.org
Contemporary Art Making From The Studio To The Streets With Gwen Mercado-Reyes | Through 11/18
In this course we will explore a variety of art-making techniques utilized in the studio and examine how artists transition these approaches to the public eye.Tues: 6:30pm-8pm* *No class on 11/11 Location: MACLA, 510 S 1st Street, San Jose 95113. Ticket Information: $15 for single class $105 for 7-class series. http://maclaarte.org
The Sound Of Music | 11/14 – 11/23
"Let's start at the very beginning…a very good place to start." With that iconic line, CMT's 47th season begins!  In the summer of 2014, CMT San Jose presented "Oklahoma!," the first production written by that acclaimed musical theater duo, Rodgers and Hammerstein. In the fall of 2014, CMT presents their final collaboration, "The Sound of Music." The 1960 Tony Award winner for Best Musical, this beloved title has introduced classics such as "My Favorite Things," "Do-Re-Mi," "Edelweiss," and so many more into the world's songbook. Join us for a holiday experience of love, laughter, and family. Thurs, Fri: 7pm Sat: 2pm, 7pm Sun: 1pm and/or 6pm. Location: Montgomery Theater, 271 S Market Street, San Jose 95113. Ticket Information: $14-$18. http://www.cmtsj.org
Singin' In The Rain | 11/6-11/15
The "Greatest Movie Musical of All Time" is faithfully and lovingly adapted by Broadway legends Betty Comden and Adolph Green from their original award-winning screenplay in "Singin' in the Rain." Each unforgettable scene, song, and dance is accounted for, including the show-stopping title number, complete with an onstage rainstorm! Hilarious situations, snappy dialogue, and a hit-parade score of Hollywood standards make "Singin' in the Rain" the perfect entertainment for any fan of the golden age of movie musicals. Benefit on November 12: Doors open at 6:45pm; tables are reserved; dinner served at 7pm. Organization: Lincoln Theatre Guild. Location: Lincoln Black Box Theatre, 555 Dana Avenue, San Jose 95126. Ticket Information: Opening/Matinee/Weeknight: $13 for adults $11 for seniors and students $9 for kids Weekend (Friday and Saturday nights): $15 for adults $13 for seniors and students $11 for kids Closing: $18 for adults $15 for seniors and students $13 for kids Benefit (11/12): $40. http://www.lincolnperformingarts.com/LPA/Home.html
JOHN LEGUIZAMO – DIARY OF A MANIAC // SAN FRANCISCO | 11/14 & 11/15
Comedian and actor John Leguizamo is perhaps best known for his one-man stage shows and his chameleon-like ability to satirize a range of ethnic groups. John Leguizamo was born on July 22, 1964, in Bogotá, Colombia. He spent the mid- to late-1980s performing in comedy clubs. He made his film debut in Casualties of War (1989). Other film roles followed in quick succession. He turned to live theater as a means of blasting Latino stereotypes through fierce comedic caricature. Leguizamo's onstage success led to television opportunities. Tickets: $ 37.95. Location: Cobb's Comedy Club, 915 Columbus Ave., San Francisco, CA 94133. www.cobbscomedy.com
DOBLES VIDAS: FOLK ART FROM THE MEXICAN MUSEUM | Through 12/12
Dobles Vidas: Folk Art from The Mexican Museum presents over 60 works that explore the people, places and traditions of Mexico. From popular festival wear to domestic items to fantastical creatures, these colorful and compelling works provide a glimpse into the rich and diverse world of Mexican folk art and its customs. Dobles Vidas is the second collaboration between The Mexican Museum and the University of San Francisco's Thacher Gallery and M.A. in Museum Studies Program. Drawn from The Mexican Museum's extensive collection of over 7,000 pieces of folk art, the exhibit highlights works from the Nelson A. Rockefeller Collection. The curatorial team includes Marlena Cannon (The Mexican Museum), Emily Breault, Merrill Amos (MA '14), Leah Belcher (MA '14) and Glori Simmons.Programming is co-sponsored by USF's Center for Latino Studies in the Americas (CELASA), the Department of Art + Architecture, and the Intercultural Center among others. Located in the Gleeson Library-Geschke Center, the Thacher Gallery at USF is free and open to the public from noon to 6 p.m. daily. Hours are extended for events and students. Free. Location: University of San Francisco, 2130 Fulton Street, San Francisco. Link: http://www.usfca.edu/library/thacher/exhibitions/dobles-vidas/  Photos: https://www.facebook.com/media/set/?set=a.10152341137757965.1073741859.94427552964&type=1
Happy Birthday San Jose Family Day | 11/21
History Park says "Happy Birthday" to San Jose! Meet members of Founding Families, and take tours of the Peralta Adobe and Fallon House. San Jose, or "El Pueblo de San Jose de Guadelupe," the first Pueblo of California, was founded November 29, 1777. Come have a slice of birthday cake to help celebrate! Learn about life in early San Jose through hands-on activities and storytelling. Food is available throughout the surrounding San Pedro Square Market. Time: 1pm-4pm. Location: Peralta Adobe and Fallon House Historic Site, 175 W St John Street, San Jose 95110. Ticket Information: $8 for adult tour $5 for children's tour (ages 4-9) $5 for six activity tickets. http://historysanjose.org/wp/events/friends-family-series-happy-birthday-san-jose/
Holiday Wine Stroll And Festival 2014 | 11/21
Sip and stroll historic Saratoga, and enjoy the "Dicken's Themed Wine Stroll." Sip wine from over 20 local wineries–all centrally located within walking distance. All will be pouring premium wines with savory nibbles for your tasting delight. Enjoy holiday festivities with a tree lighting ceremony, Christmas carols, a chance to meet Father Christmas, horse-drawn carriage rides, a children's activity zone, shops bursting with boutique shopping opportunities, a craft zone, and live, holiday music. Visit the Saratoga History Museum to see the free holiday exhibit. Big Basin Way will be ablaze with merchant's decorated shop windows. See Dickens' characters strolling in Victorian garb. Sample wine from these award-winning wineries: Baccarossa, Baiocchi Wines and Vineyards, Burrell School, Chesebro Wines, Cinnabar Winery, Comanche Cellars, Cooper-Garrod, Domenico Winery, Enoteca Five, Guglielmo Winery, House Family Vineyards, Left Bend Winery, Lightheart Cellars, Perrucci Family Vineyard, Sarah's Vineyard, Savannah Chanelle, Ser, Roudon Smith, Three Arches Winery, Travesio, and Charles Usher. Time: 5-8 pm. Location: Saratoga Village, Big Basin Way & 5th Street, Saratoga 95070. Ticket Information: $45 on the date of event $40 prior to event. http://www.saratogachamber.org
Rebelde de Adela Castillo | 11/21
Book reading from Adela Castillo. Time: 6:30-8:30 pm Location: 40 Central Ave, Salinas.
alinS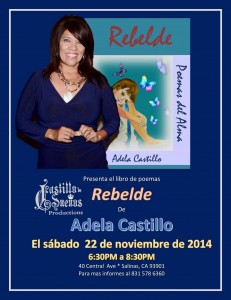 Big, Bad And Sexy Comedy Tour | 11/26
If huge laughs are what you seek, "The Big, Bad and Sexy Comedy Tour" delivers it in a big way on the Improv stage! Herman "Big Worm" Romero, a San Jose native, started this show four years ago at the San Jose Improv, where he headlined for the first time. This show has been running strong ever since. He brings his no-holds-barred humor to the stage with a performance you will not soon forget. The "Big, Bad and Sexy Comedy Tour" features comics from all over the comedy circuit for an all-star line-up of laughs. Time: 8 pm. Location: Improv Comedy Club, 62 S 2nd Street, San Jose 95113. Ticket Information: $15 Two-item minimum Ages 18+. http://sanjose.improv.com