Disclosure: This is a compensated campaign in collaboration with Latina Bloggers Connect and NEUTROGENA. All opinions are my own.
by Linda Castillo
It's hard to believe that summer is already over and it's time to get ready for fall. Time to pack away your shorts, bathing suits and tank tops and get your cold weather clothing out from storage. But it comes just in time, as I am ready to pull out my staple fall wardrobe items to bring on the new season.
Boots, boots, and more boots! Fall is the perfect time to throw on a pair of comfy boots. My favorite color for boots is cognac, which works well paired with so many colors. Also, scarfs are a great accessory for fall and an easy way to add color to an outfit. I like wearing an animal print scarf to add some flair to an outfit and for this fall I plan on picking up a new oxblood color scarf or even splurge on a pair of oxblood boots.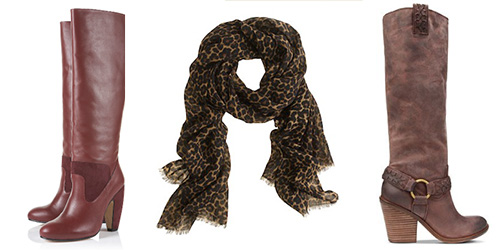 Not only can you get your wardrobe ready for fall but there are also some tips to update your skincare routine too with Neutrogena. Starting a regular skincare routine that includes cleansing, moisturizing and beautifying can help you have healthy and radiant skin during the fall season.
Cleansing: Washing your face at night and in the morning is one of the most important things you can do to prep your skin for the next day. Neutrogena Oil-Free Acne Wash gently cleanses and it also has Salicylic Acid to exfoliate skin helping treat and prevent breakouts.
Moisturize: The most important thing you can do is to moisturize your skin especially during the colder fall weather. Neutrogena Rapid Wrinkle Repair Night moisturizer works wonders to prevent dryness, create a smooth look for your skin while diminishing wrinkles.
Beautify: Another tip to brighten up your face during the summer months is to carry some makeup products in your purse such as blush or concealer. Neutrogena Custom Healthy Skin custom glow includes a blush and a bronzer so that you can apply give your skin some additional color. And we may not always get the best night's sleeps so it is always good to have on hand Neutrogena Healthy Skin Brightening Eye Perfector to disguise any dark under eye circles and de-puff the eye area.
Linda Castillo is the Founder and Executive Editor of http://www.modernlatina.com/. She writes on topics that empower and inspire Latinas including art, motherhood, green living, culture, travel, and issues transforming the Latino community. Linda has earned a B.S. in Business and a M.S. in Mass Communications from San Jose State University.