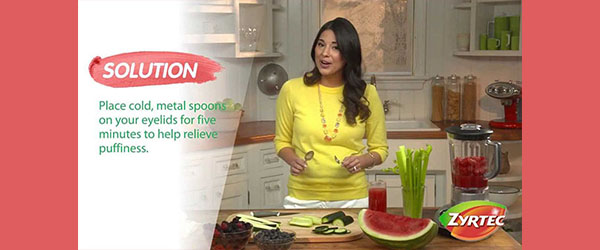 Note: This post is part of a sponsored campaign on behalf of Latina Bloggers Connect and the makers of ZYRTEC®
Many of you may have beauty tips that have been passed down from your mama or abuelita. Thinking back to my grandmother and my mother, I recall how the both of them truly embraced their natural beauty by not wearing any making or minimal make up on special occasions. While they didn't implicitly share any beauty tips, I learned from their beauty routines to keep it simple and truly embrace your own unique, natural beauty.
And for my daughter, just like the generations of women in our family before, I want her to embrace her natural beauty from the inside and outside. Most of the time the best beauty tips actually don't break the bank and really just become a part of your daily lifestyle. And while she is only two now, looking forward I know that I have some beauty tips that I would like to pass down to my daughter.
Wash your face nightly, to remove any makeup that may plug your pores or allergens that you may have picked up throughout the day.
Eat healthy and you will have healthy skin. This includes eating plenty of vegetables and fruits and drinking at least 8 glasses of water day.
Always use a moisturizer with SPF protection even on those rainy days. Start early when it comes to protecting your skin from the sun's harmful rays.
For those who have allergies there are specific beauty challenges that come along with having allergies.  ZYRTEC® teamed up with beauty and fashion expert, Carmen Ordoñez from VivaFashionBlog.com, Carmen shares beauty tips that have been passed down from her mama y abuelita. Check out the video here:
Some of Carmen's tips include:
How to Avoid Irritating a Red Nose: Use baby wipes instead of tissues, which are gentler on the skin.
How to Relieve a Puffy Face: Try drinking watermelon juice.  Watermelons are a high water content fruit and are an excellent source of antioxidants.
How to Help Hydrate a Puffy Face: Eat more fruits and vegetables like cucumbers, celery and zucchini all of which have high water content.  Citrus fruits and berries are also rich in vitamin C.
How to Refresh Your ALLERGY FACE™: Place two metal spoons in the refrigerator and then place the back of the spoons on your eyelids for five minutes.
Visit YouTube.com/Zyrtec more videos from Carmen. Also, be sure to stay tuned for the release of part three, which will be distributed later this summer. You can follow Carmen on Twitter at @VivaFashion and check out her blog www.VivaFashionBlog.com. For product savings and rewards to help you feel better, visit Zyrtec.com and Facebook.com/ZYRTEC.