by Linda Castillo
Last year Graciela Tiscareno-Sato author of Latinnovating: Green American Jobs and the Latinos Creating Them was one of our Featured Latinas. And this year she is making news again with the debut of her new children's book, Good Night Captain Mama.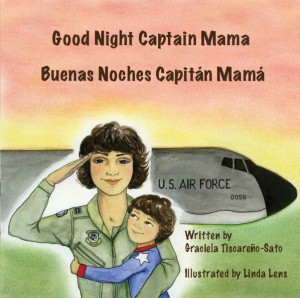 Inspired by a conversation with her own child, Graciela's takes her experience as a decorated Air Force veteran and mother to create this bilingual children's book. The story captures a special moment as Captain Mama explains to her son, Marco about all the different colorful patches. The patches serve as way for Captain Mama to share what it means to serve in the U.S. Air Force. Good Night Captain Mama is a great story to read with your child as it reminds parents and children alike that parents are not only mamas and papas but also are heroes in their children's eyes.
April 28th is last day to preorder the book and have your name included IN the printed book. Also, if you preorder two books you will get a free embroidered patch, just like the patches on Captain Mama's flight suit, to share with your child. On top of that, a portion of the sales from this book will be given to V-WISE (Veteran Women Igniting the Spirit of Entrepreneurship), a project operated by the Institute of Veterans and Military Families at Syracuse University. For more information about Good Night Captain Mama visit http://www.captainmama.com.
Additionally, you can join the Twitter Party "Is Speaking in Spanish to Children Unpatriotic?" this Friday, April 26 at 1PM Eastern/10AM Pacific. The twitter party will be discussing bilingual children's books, and the controversy surrounding the author's decision to include the Spanish language in this book depicting a military service member in uniform. http://ht.ly/jZpbK
To join the party follow @condorbooktours and @gracetiscareno and use #captmama at tweetchat or your favorite group tweet platform.
Linda Castillo is the Founder and Executive Editor of http://www.modernlatina.com/. She writes on topics that empower and inspire Latinas including art, motherhood, green living, culture, travel, and issues transforming the Latino community. Linda has earned a B.S. in Business and a M.S. in Mass Communications from San Jose State University.