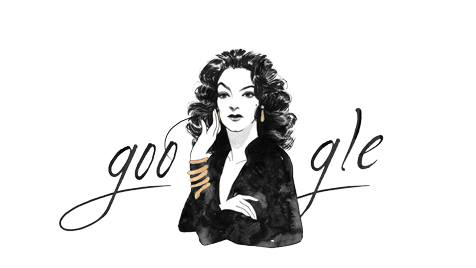 Excerpt from Google Doodle
April 8, 2018 – María Félix's 104th Birthday
When an important Mexican filmmaker first approached Maria Félix about an acting career, she responded: "When I want to, it will be through the big door." Félix would launch a film career on her terms, even turning down Hollywood magnate Cecil B. Demille to debut in her home country where she would become an icon of the Golden Age of Mexican cinema.
Born in 1914, Maria Félix grew up modestly in Álamos, Sonora, Mexico among 11 siblings. During her teen years, her family moved to Guadalajara where Félix was crowned Beauty Queen at the University of Guadalajara. She got her break after moving to Mexico City, starring in El Peñón de las Ánimas (1942). Her offscreen defiance of famous co-star Jorge Negrete earned her the reputation for toughness that followed her throughout her life and career.
Maria Félix's contributions to international culture are prolific. In addition to releasing 47 films in Mexico, Spain, France, Italy, and Argentina, she was considered a muse by famous artists like José Clemente Orozco and Diego Rivera, novelists and playwrights like Jean Cocteau, Renato Leduc, and Carlos Fuentes, and musicians like Juan Gabriel and Francis Cabrel. She was also a fashion icon, wearing clothes and jewelry designed expressly for her by famous designers like Christian Dior and Cartier Paris.
Though her career started in Mexican cinema, Maria Félix's impact on cinema, art, music, and fashion reverberates overseas, transcending barriers to establish her as extremely influential female voice in international cinema. Created by guest artist Paulette Jo, today's Doodle captures the stunning movie icon's portraiture.
Happy 104th birthday to Maria Félix, a cinematic pioneer!