by Linda Castillo
Yes, you read the headline correct! CNET's Seth Rosenblatt recently reported that Google is offering vouchers to any women and minorities interested in learning how to code.
According to a blog post from Gregg Pollack, CEO of the Code School, Google is paying for three free months for any women and minorities interested in tech to expand their skills. The offer is part of Google's $50 million "Made With Code" initiative, which aims to help close the gender gap in tech.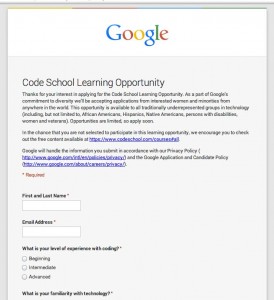 Google will be offering the same vouchers to the women who attended its annual Google I/O conference in San Francisco and Google also released an online application that's available to women everywhere. While Google says its available vouchers for women number in the "thousands" be sure to complete the application soon to be considered for the program.
This new program comes a few weeks after Google published a diversity report that indicated that 30% of its employees are women, 2% African-American and 3% Hispanic decent. The report states "Google is miles from where we want to be—and that being totally clear about the extent of the problem is a really important part of the solution." In addition to Google giving more than $40 million to organizations working to bring computer science education to women and girls, these free coding vouchers are another step forward to closing the gender gap in tech – kudos to Google!
Linda Castillo is the Founder and Executive Editor of http://www.modernlatina.com/. She writes on topics that empower and inspire Latinas including art, motherhood, green living, culture, travel, and issues transforming the Latino community. Linda has earned a B.S. in Business and a M.S. in Mass Communications from San Jose State University.