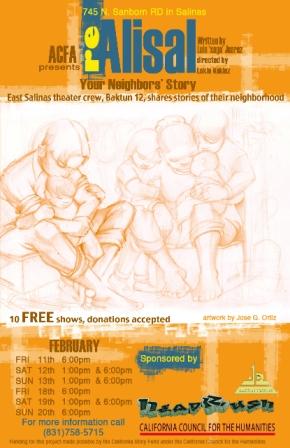 by Vanessa Garcia
Living in Salinas I've known some of the history of this town, which is either known as the home of John Steinbeck, or the highest national average rate of gang members.  But what do we really know about Salinas?  What else do we know about the The Alisal, and its stories that don't make national headlines?
For the past year Headrush, along with members of Baktun 12 from Salinas, have been interviewing residents of East Salinas and recording the stories of their lives in this neighborhood.  Residents from all walks of life, including immigrant farm workers, longtime Filipino residents, East Side homies, public servants, employees, and even some of the remaining white residents still living in The Alisal have been interviewed for this production. 
This will be Headrush's first ethnographic play, meaning that reAlisal is based on the true stories of real life people from East Salinas.  In addition, all the actors in the play are also current or former East Side residents.
Headrush really dug deep to find "the history beneath of headlines,"  says Luis 'Xago' Juarez, who grew up in East Salinas, knowing much of the neighborhood's rich history that has often been suppressed by the media.  reAlisal poses the question of how a community tells its own story, and focuses on the theme of land ownership and territories in East Salinas and will reveal the various stories from the neighborhood that was once home to the Okie farm workers of the Midwest Dust Bowl. 
reAlisal focuses on the current issues facing its resident's today, as well as the  issues faced during the population boom from the Dust Bowl immigrants working in the Salinas Valley during the Depression.   
Headrush will examine many of the issues faced by residents of Salinas, including how the home of Nobel Prize winning John Steinbeck couldn't afford to keep its libraries open, the decampment of its white population, youth gang violence, high murder rates, foreclosures, and replacement of taquerias for McDonald's and Starbucks.  These are  some of the issues Headrush will explore as its residents give you the real story of The Alisal – in reAlisal: Your Neighbor's History.
Location: Breadbox Firehouse Theatre, 745 North Sanborn Rd., East Salinas
Show times:
February 11th 6pm, 12th 10am student show & 6pm, 13th 1pm matinee & 6pm; February 18th 6pm, 19th 10am student show & 6pm, 12th 1pm matinee & 6pm
$5 or pay what you can!
Vanessa Garcia has written for Modern Latina since 2008, in addition to Live en Vivo, and 831 Magazine.  Many of her articles reflect her interests in art, music, culture, travel, and the environment.  Vanessa received her Bachelor's degree from UCLA in Anthropology, and is currently finishing her Master's as San Jose State University in Mass Communications.