This is part of a compensated campaign with Latina Mom Bloggers and Huggies.  However, all opinions expressed are my own.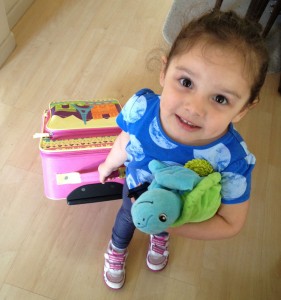 My family typically travels during the holiday season and getting everything together can be stressful. Not only do I have to pack my bags but I also have to pack my little one too. I try to anticipate everything that my little one may need but it never fails that I end up forgetting something.
With my daughter I have found that packing some items to help her feel like home always seems to work. Here are a few items that I always pack:
Sound machine: The sound machine has a variety of sounds to mirror white noise to comfort babies. I always use the sound of the ocean to keep my daughter sleeping during the night and bonus is that my husband and I also enjoy that relaxing background sound.
Backpack full of favorite toys: I like to pack few toys that will keep my little one busy. She has a small backpack that I stuff with two books, Legos, and her baby doll. I pack two books to stick to our nightly routine of reading a bedtime story. I also have a fun colorful suitcase that my daughter loves to pull around like a "big girl".
Snacks for the road: Having snacks to munch on during a road trip is key to keeping your little one comfortable. Some of my favorite snacks to pack include bananas, gold fish, and yogurt. These items are easy to eat on the go.
Reliable diapers and wipes: We also pack Huggies Snug & Dry diapers, which prevent leaks especially important for those 3-hour road trips. And of course we always have on hand Huggies® Natural Care Wipes with Triple Clean layers that come in handy for so many things from spills in the car to wiping her hands. Check out some of the other features of these two products include:
Huggies® Snug & Dry Diapers with NEW SureFit Design:
Provide up to 12 hours of leakage protection
Unique flexible waistband for all-around fit
More conforming gap-free fit
Huggies Natural Care® Wipes with NEW Triple Clean Layers:
Gentle on baby's skin, thick enough to clean the mess
Strong, soft, absorbent layers
Grab a pack of Huggies Snug & Dry Diapers with New SureFit Design and Huggies Natural Care Wipes with New Triple Clean Layers. Visit Huggies.com/tuprueba for more information about the new Huggies products. Or join in the conversation on Twitter at @Huggies, http://www.facebook.com/HuggiesLatino, and #HuggiesLatino.