by Nicole Bueno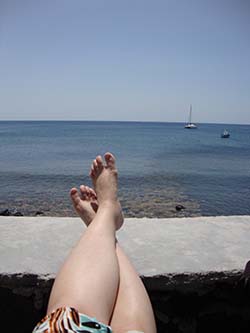 To many, February is the month of love as it encompasses Valentine's Day.  If you find yourself single, don't fret.  Now is the time to focus on the positives of being single, embracing it, and taking every opportunity you have because of your single status.
A woman who is married with two children once shared that she is jealous of people who are single because they can come and go as they please and do not have to take a husband or children into account when making plans.   You may not like being single, but others who are not would love to be in your place and have the opportunities available to you.
Being single is a source of distress for many women.  Societal and family pressures can make even the most confident woman doubt herself.  You need to know there is nothing wrong with you.
Following are some tips to keep in mind to help you embrace your single status:
Have a positive attitude and live in the present.  Don't live your life sulking about being single.  You may not be single forever.  You may meet the love of your life tomorrow or the next day.  So don't waste your time and energy sulking about it today.  Enjoy each moment because tomorrow is another day.
Travel.  Take advantage of the time you have to travel the country and the world.  If you find that special someone you want to spend your life with, your priorities often change and time or responsibilities may not allow the freedom to go where you want when you want.  If you're concerned about traveling alone, get a group of friends together or sign-up for a singles trip.
You deserve the best.  Don't settle for a relationship with someone who is not the right person for you.  The days spent in an unfulfilling relationship with the wrong person are days taken away from finding the right person.
Self-growth.  Take the opportunity to get to know yourself better.  Go to the movies alone, read self-help books, eat at a restaurant by yourself.  Being single does not mean having to stay home if your friends are busy.  Spend time with yourself and learn to enjoy your own company.  Once you're able to do this, you won't find yourself in an unsatisfying relationship due to a fear of being alone.
Take up hobbies or things that interest you.  Join a group with other like-minded individuals and you may develop friendships other single people or meet that special someone in the process.
Get to know your family and friends better.  If you are married or in a relationship and have children, that becomes the priority in your life.  It can make it difficult to find time to spend with family and friends.  As a single woman, you have a precious opportunity to get to know your friends and family better, spend increased time with them, and have satisfying adult relationships.
There are many positive things and opportunities that being single provides.  Key is to focus on them, learn to trust yourself, and go after the things you want.  You are in a position that affords many opportunities that may not last forever so take advantage of them and you can find success
Nicole Bueno is a Licensed Clinical Social Worker and is a Mental Health Therapist. Nicole received her Bachelor's Degree in Social Work from San Jose State University and her Master's Degree in Social Welfare from U.C. Berkeley. She is currently a Master's Degree candidate of the Sport Psychology program at John F. Kennedy University. She has her own private practice in San Jose, California. Nicole can be reached at nbueno.lcsw@yahoo.com or (408) 724-1009.