by Linda Castillo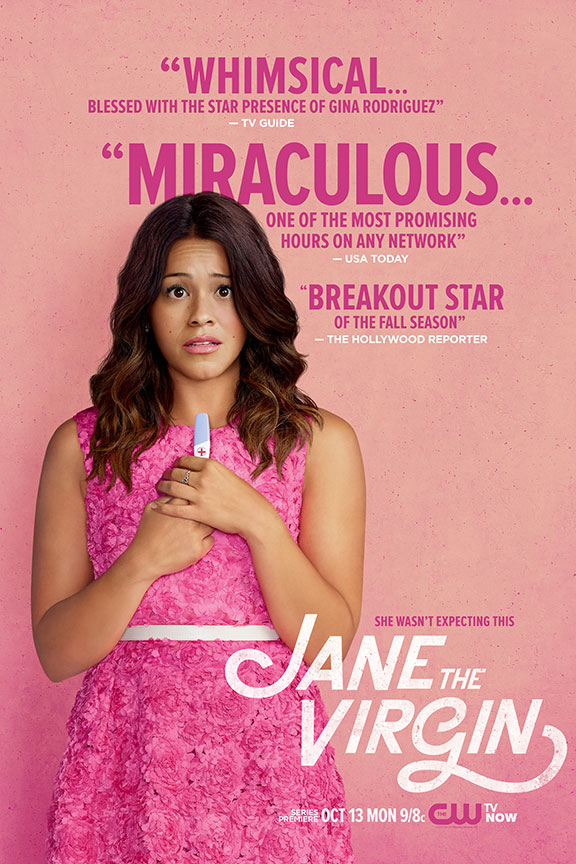 Have you been watching "Jane The Virgin"? If not, you are missing out and you need to catch up on the episodes on demand pronto!
Affairs, murder, mystery, drama, love triangle, unexpected pregnancy, and more – Jane The Virgin has it all. Based on the telenovela Juana La Virgen, "Jane the Virgin" follows 23-year-old Jane Villanueva (played by Gina Rodriguez). When Jane Villanueva was a young girl, her grandmother, Alba, convinced her of two things: telenovelas are the highest form of entertainment, and women must protect their virginity at all costs. Jane is a driven young woman studying to become a teacher, nursing a dream to be a writer, and supporting herself with a job at a hot new Miami hotel. She has a wonderful fiancé — a handsome, hard-working detective named Michael — who loves her enough to accept her detailed timeline for their future together and even her insistence on "saving herself" until they're married. But Jane's world is suddenly turned upside down when she goes to see her doctor for a routine check-up and is accidentally artificially inseminated with a specimen meant for the patient in the next room.
Gina Rodriguez shines as Jane and is accompanied by a talented cast including Jaime Camil, Gina Rodriguez, Andrea Navedo, Ivonne Coll and Justin Baldoni. But don't take my word for it; check the show out for yourself and you will be hooked!
Linda Castillo is the Founder and Executive Editor of www.ModernLatina.com. She writes on topics that empower and inspire Latinas including art, motherhood, green living, culture, travel, and issues transforming the Latino community. Linda has earned a B.S. in Business and a M.S. in Mass Communications from San Jose State University.