by GinaLisa Tamayo 
It's bittersweet to think summer is long gone. Take a look outside and you'll begin to see the leaves turning. You know that could only mean two things; it's that time of year to visit your colorist and to try a few new styles.
Personalize your hair color
Ombre is staying "in" this season but is evolving into something other than your classic ombre.
"It's just changing so it's not your basic blonde. People are getting into more colors and reverse ombre is in," said Kylie Woolen of the Lytle's Redwood Empire Beauty School in Santa Rosa,Calif.
If you're still sporting highlights from the summer and don't want to make a major change, request a color two to three shades lighter than your natural hair color to blend the color from summer for a sunkissed look.
If you are brunette, think dark chocolate browns or warm espresso colors. It's a common mistake to go too dark. The rule of thumb: when going darker stay within two shades of your natural color. For more dimension add reddish highlights– it always creates a bold look.
Chestnut and auburn colors are also popular, especially, if you have warm skin tones. 
Try a new style
Fashion runways set the styles for the season.
Blunt bangs or straight across bangs appeared frequently on the runway.  There's a reason why you should try them; aside from giving you a polished look, they'll cover those unwanted lines on your forehead and make you look younger! 
For a more relaxed stylish look try loose braids or half up half down with beach waves.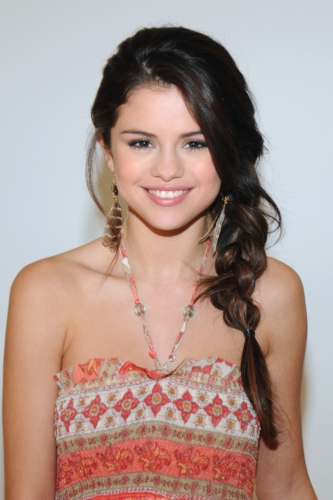 Selena Gomez (Photo Courtesy of PRNewsFoto/U.S. Fund for UNICEF, Michael Simon/ Startraks)
If you'd rather wear your hair up, sock buns are classy and gorgeous but most people don't know how to do them. Find out here to complete the look.

Volume is always in.  A bouffant may seem over the top, but Carolina Herrera and Oscar De La Renta used this stylish trend on the runway.
Remember, you can never go wrong with straight and glossy hair. This is a good look for the office or a night on the town. Alternatively, sleek ponytails also made an appearance on the runway.
Always Accessorize
There are plenty of ways to embellish your hair. Head wraps can dress up any casual look. Decorative hair clips and feathery hairpins will have heads turning your way. Headbands are an easy way to complete any outfit. One special accent can make all the difference in turning a bad hair day into a stylish one.
Overall, hair trends this fall season are fun and fantastic. Try something new, whether it's trying a new color or mastering the sock bun, you'll be happy you tried it!
GinaLisa Tamayo is a senior studying Communication at the University of Southern California. She currently works as a multimedia journalist at Annenberg TV news on campus. GinaLisa interned two summers at KTVU-Fox 2 in Oakland, CA. Prior to her work in broadcast journalism, she worked as an arts and entertainment reporter for an award winning publication called Neon Tommy.  Upon graduating from USC, she plans to move to a smaller market to work as a news reporter. Eventually, GinaLisa would like to report for a news station in the Bay Area, the place she calls home. GinaLisa grew up in beautiful Sonoma County with her parents, little sister Anna, and dog Ricky. Aside from news, she loves to write on an array of topics including fashion, food, and travel.