by Vanessa Garcia
The first annual Salinas Music & Arts Summit kicked off on July 11th at Natividad Creek Park.  The festival was spearheaded by Rafael Garcia, who envisioned an event where local musicians could showcase their talent in a festival setting, introduce the community to its local art, and expose Salinas youth to the various art programs available to them. 
Garcia, who is the vice president of the Alisal Eagles youth football program, recruited a a group of local volunteers and organizations to bring the event to life.  Alisal Rotary, Alisal Percussion, and the Youth and Honors Orchestra were among the organizations who lent a hand in the event.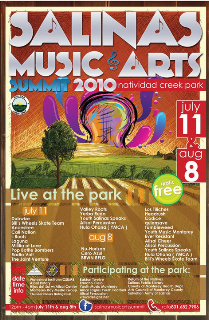 The Salinas Public Library was also out with its bookmobile promoting Crazy Techie Summer, where they will be holding a series of free digital arts classes with the Adobe Suite and ComicLife software.  Students will be encouraged to enter their work in a contest for prizes.
The event also included children's arts and crafts, a jump house, and various craft vendors.  The Salvation Army of Salinas also held an airbrush workshop.
Garcia said the community came together and helped with various aspects of organizing the event.  Many of the bands were eager and excited to perform at the event, especially because the amphitheater at the park is rarely utilized for art and community events.
The festival ended with local favorite Dubwize, and included Cali Nation, Militia of Love, and I-Roots among others.  Indigenous Chaos, a local teatro group from San Juan Bautista featuring three generations of artists, opened up for Dubwize and blew the audience away with their amazing talents.
The event will be taking place again next month on August 8th.  It will feature a Chicano rock band called New Horizons, in addition to Cero Azul, BRWN BFLO, Los Tiliches, Youth Music Monterey, and Alisal Percussion, including teatro by Headrush, and Hula Ohana from the YMCA.
Garcia hopes to make the Salinas Music & Arts Summit an annual summer event as a means of featuring the artistic talent nestled in the Salinas Valley.  "I'm doing my part to make the music succeed in the area, and so people can come out and enjoy the show, and see what's in their own backyard."
Vanessa Garcia has written for Modern Latina since 2008, in addition to Live en Vivo, and 831 Magazine.  Many of her articles reflect her interests in art, music, culture, travel, and the environment.  Vanessa received her Bachelor's degree from UCLA in Anthropology, and is currently finishing her Master's as San Jose State University in Mass Communications.