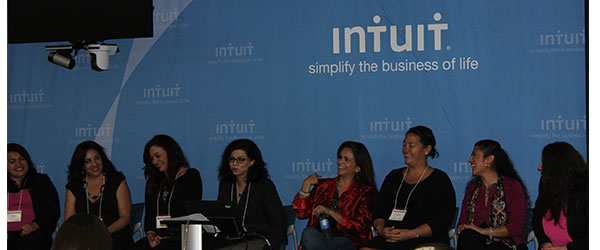 by Linda Castillo
On November 7, 2014, the Latina Entrepreneur Summit hosted by the Latina Success Network (LSN) and Intuit was attended by over a 100 Latina entrepreneurs and aspiring entrepreneurs. Rosie "the Closer" Zepeda, founder of LSN planned a unique event for Latina entrepreneurs based on the principle to create a Latina Economic Ecosystem. Specifically, Rosie explains that this approach is where Latinas do business with each other, leverage resources, form authentic and financially viable connection for a more efficient and sustainable way of creating Latina global brands. And to that end, the summit kicked off with guests enjoying some delectable treats from Latina owned companies including delicious paleo gluten-free cupcakes from Cake Therapy, yummy crepes from San Jose Crepe Company, organic juice from Vitamina Juice Blends and coffee from Tico Coffee Roasters.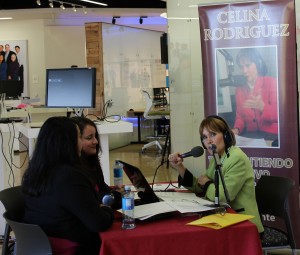 This was not your typical summit where attendees are stuck in a chair all day taking notes. Quite the contrary, the venue was filled with a lot of interaction, energy, and a lively exchange of ideas was happening.
Upon arrival guests could see a live radio broadcast with San Jose's popular Spanish-language media personality Celina Rodriguez for her show "Noticias y Mas Con Celina Rodriguez" airing on La Kaliente AM-1370. Celina was there recording live from the event and interviewing guests and panelists throughout the day. Celina also spoke to the attendees about her career path in broadcast television to taking the leap to host her own radio show.
The event had a Latina Entrepreneur panel where each panelist shared a unique story about their journey as an entrepreneur. The speakers spoke about the challenges and experiences they went through to build a successful business.
The panelists included:
"Have a problem create a solution"- Monica Espinoza, CEO, Cake Therapy
"What do you do when you need to grow"- Darlene Tenes, Latino LifeStyle Expert, Casa Q
"So you want to leave your corporate job and start a business" – Rose Mendoza, CEO, AyDios Mio Shop
"How to re-invent yourself after you fail" – Carmen Milagro, Entrepren-Artist, WAAHOO Productions LLC
"Use your God given gifts, even when others say no" – Deldep Medina, Co-founder, Avion Ventures
"Build your business, according to the lifestyle you want" – Carmen Rosas, Entrepreneur Attorney
"It's ok to make money and make a difference in the world" – Kety Esquivel, Principal, Esquivel & McCardson Consulting & Dandelion Strategies
Panelist Monica Espinoza shared how her mother's diagnosis with diabetes was the reason she started Cake Therapy. She wanted to bake cakes with alternative ingredients that her mom and family could enjoy without causing any health issues. Cake Therapy was born to offer gluten free and paleo baking mixes, without preservatives or additives and always free of gluten, dairy, soy, corn and even grain free options and taste good too! Monica also shared her "aha" moment to change her business model from only baking the products to now selling cake mix for customers to bake on their own.
During the lunchtime break, attendees enjoyed networking and innovation gallery where participating entrepreneurs displayed their products and services. Attendees were able to eat lunch with the Latina entrepreneur panelists continuing the conversation about entrepreneurship and ask specific questions.
Another interactive component to the summit provided seven rising entrepreneurs the opportunity to pitch to the audience in a supportive arena and to receive immediate feedback from the audience. The entrepreneurs who participated in "the pitch" process included Montserrat Ayala, Vitamina Juice Blends, Anna Rico, San Jose Crepe Company, Silvia Suro, Cherrysh, Ofelia Gallegos, Ely's Design, Mariana Faerron, Tico Coffee Roasters, Monica Espinoza, Cake Therapy and Diana Lopez, CASA De Gitanas.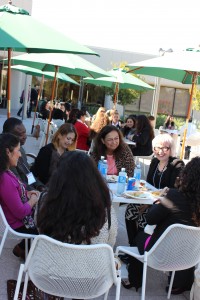 True to other events hosted by Rosie "the Closer", the attendees were interacting, engaged and making deep connections with other likeminded Latina entrepreneurs.
"What was most valuable to me was the lessons I learned from each of the participants. Their challenges and their resiliency inspired me. What will be different for me is that after Friday, I am starting to act upon my ideas. I intend to use the motivation these amazing women infused in me to move forward," recounted attendee Maria Vargas.
Attendees were provided invaluable information that they can use to grow or take the leap to start their own business while making long lasting connections. Rosie also introduced another valuable resource, the LSN Latina Start-Up Academy a 3-month accelerator beginning February 2015. To learn more about Latina Success Network and future events visit http://www.latinasuccessnetwork.com
Linda Castillo is the Founder and Executive Editor of www.ModernLatina.com. She writes on topics that empower and inspire Latinas including art, motherhood, green living, culture, travel, and issues transforming the Latino community. Linda has earned a B.S. in Business and a M.S. in Mass Communications from San Jose State University.