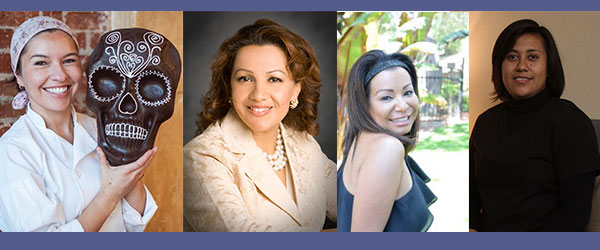 by Perlita R. Dicochea
In recognition of the inaugural meeting of the Hispanic Chamber of Commerce Silicon Valley Women's Group, Modern Latina is profiling a few Bay Area Latina entrepreneurs. Diverse by personal background, motivations, and craft, they are among a unique group of women who chart their own paths. Some of the analyses reviewed below suggest that public policy and professional organizations could do more to support the specific needs and experiences of Latina entrepreneurs and foster their future growth and success.
According to the most recent data collected by the Census Bureau in 2007, Latinas run 788,000 businesses generating over $55 billion in annual revenue throughout the United States.[i] In Santa Clara County, of an estimated 2012 population of over 1.8 million, 26.9% are Hispanic. Hispanics own 10.8% of 156,084 total firms and women own 29.7% of all firms in the county. The figures for San Jose are higher—women own 30.7% of all 71,553 firms while Hispanics represent 14.2% of all business-owners.[ii]
The Latina business-owners with whom I spoke demonstrate a great deal of thoughtfulness about the challenges and advantages of entrepreneurship as well as incredible courage in sharing their passionate, independent spirits with the world. Unfortunately, data on female Hispanic/Latina-owned firms are inconsistently gathered by the U.S. Census Bureau. Fortunately, other sources—if scarce—do exist to provide some context for the profiles Modern Latina offers in this and forthcoming issues.
Past Research
Among the scant sociological research from the late 1990s and early 2000s, one analysis concludes that Latina entrepreneurs are motivated first and foremost by a strong desire to improve their children's lives, particularly by using their profits to finance the education their children need to become professionals or start their own businesses.[iii] Other research from 2013 asserts that many of those driven toward entrepreneurship do so as a result of discriminatory hiring practices and other obstacles in salaried positions, particularly among immigrants.[iv]
The Latinas I spoke with cite other primary reasons for embarking on their own business ventures – including the desire to help others, pursue a passion, or the need for more flexible schedules in order to raise children. A few among this group of Latinas discuss the stereotypes and prejudices they experience as businesswomen of color.
Current Data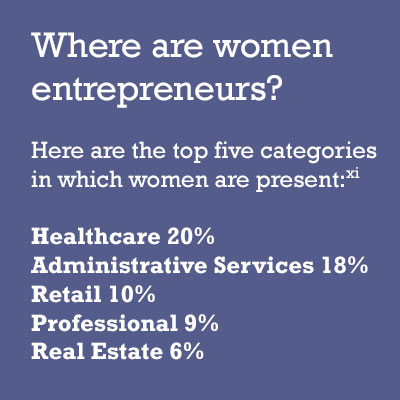 In more recent analyses, Latina entrepreneurs are found to be "broadly successful," tending to have higher incomes than their white female counterparts, while earning less than those Latinas of equivalent traits who hold wage/salary occupations.[v] Thus, the authors suggest that some Latinas become their own bosses for non-pecuniary reasons.
The latest data from 2007 show that women-owned firms totaled 7.8 million and generated receipts of $1.2 trillion. Minority-owned firms totaled 5.8 million up from 4 million in 2002.[vi]
The total number of Hispanic-owned businesses was 1.57 million in 2002, 2.26 million in 2007, and is projected to reach 3.16 million in 2013.[vii] In addition, 9.1% of Hispanics are self-employed, compared to 7.8% of the general U.S. population.[viii] Within the Latina/o data set, immigrants reflect a greater proportion of entrepreneurs.[ix]
The Gender Gap & Other Troubling Trends
The above sources would give credence to popular headlines associated with Latina entrepreneurs such as "Growing and Powerful" and "Rising Stars." But a deeper look complicates the picture.
While women make up 47% of the workforce, a 2011 Ewing Marion Kauffman Foundation report underscores the tremendous difference between males and females as entrepreneurs, particularly as owners of high-impact businesses that create a significant number of jobs. Women make up 35.3% of total entrepreneurial activity while men make up 64.7%. Men run 6.3% of firms with more than $1 million in revenue while women run 1.8%.
According to the Kauffman study, this gender gap represents a major economic deficit. Thus, supporting women's entrepreneurship is not a gender-equity issue, the report promulgates, but an economic one in part because most new jobs are created by new businesses within their first five years of establishment.[x]
Moreover, while much data that draws from 2007 figures show a notable increase in Latina/o entrepreneurship, other findings indicate that the number of Latina-run businesses declined during the economic crisis post-2007 at much greater rates than those of their male counterparts.[xii]
Several of the Latinas whom interviewed with Modern Latina embarked on their business ventures during the current economic crisis. All of them demonstrate great perseverance. We invite you to read our profiles of Latina entrepreneurs and learn more about their businesses.
Perlita Dicochea earned her Ph.D. in Ethnic Studies with an affiliated discipline in Environmental Economics and Policy at U.C. Berkeley. Her current research focuses on non-profit efforts to integrate environmental justice approaches within climate change research and policy. Send Perlita comments and suggestions for future stories at perlita@cal.berkeley.edu and follow her on Twitter: @dr_perlita
---