by Anna Dapelo-Garcia
Women on average are paid 20% less than men. If you break the pay gap down by race and ethnicity, it is even worse: Latinas are paid 46% less1. It takes until November 2 for Latinas to achieve equity in pay with men. Latina Equal Pay Day brings awareness to this race and gender wage gap.  It is a day that emphasizes the importance of equal pay not only for woman but society at-large.  Equal pay for equal work is a right for all.
Members of Lean In Latinas (LIL) recognizes the importance of Latina Equal Pay.  The group comprised of 600+ members in California, New York, Texas and North Carolina are committed to closing the wage gap for Latinas.  LIL's mission, to provide a platform of encouragement and support for Latinas in the workplace to achieve higher levels of performance, is supported by monthly meetings and other key activities.  Discussions provide confidence building, idea exchange, and inspiration.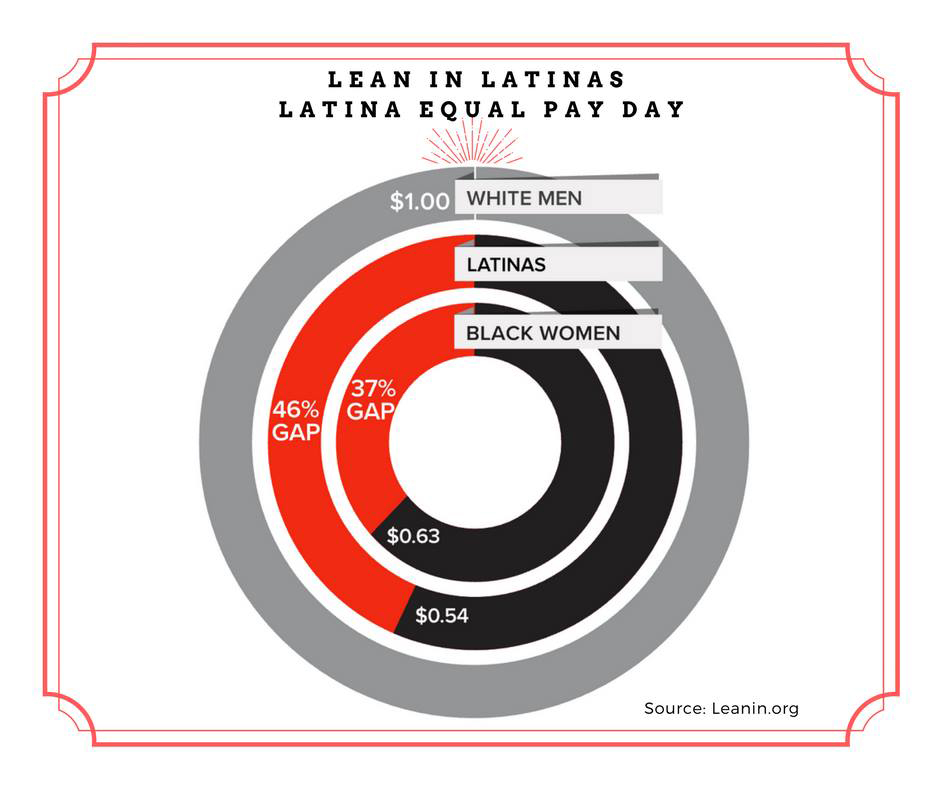 There are a number of key strategies for Latinas to close the wage gap.  One of the primary strategies is for Latinas to pursue and obtain a college education. College graduates, on average, earned 56% more than high school grads in 2015, according to data compiled by the Economic Policy Institute2. A college education not only creates a competitive edge but also opens up doors to higher-level and higher-paying job roles.  In addition, there are many job roles that are only open to candidates with a college education.
Other key strategies include obtaining a mentor and/or sponsor to help effectively navigate the work place and to prepare for the next higher level job role.  There are executives willing to help younger, more junior business professionals gain the skills needed to continue to move up the career ladder.
Negotiating for pay is not only an action taken for a new job but also for the job you are in.  Men more than women negotiate for higher pay.  This is an area of opportunity for women, and if no action is taken to improve this, men will continue to make more money than women.  Lean In Latinas has taken action on this issue.  For example, a meeting was dedicated to learning how to negotiate for higher pay.  The session was facilitated by a total rewards expert who sees first-hand how men are more comfortable with asking for more money and with negotiating.  At the meeting, not only was it important for LIL members to hear about the do's and don'ts of negotiating, but more importantly how to negotiate involving role-playing.  It is vitally important to get comfortable with hearing yourself ask for more money.  Two LIL members did just that! Each asked for raise and got it!  It is Latinas like this, that will contribute to closing the gender and race wage gap.
Lean In Latinas provides a safe, supportive, and encouraging environment for its members to gain the confidence and skills to be effective professionally and personally.  Activities and discussions not only take place in monthly meetings but many outside networking opportunities. All of these activities will create the next generation of Latina leaders and hopefully close the wage gap.
Latinas are paid 46% less than men. Latina Equal Pay Day is a day that emphasizes the importance of equal pay. What are you going to do to close this wage gap?
To learn more go to LeanIn.Org and leaninlatinas.org
1https://leanin.org/equalpay/data
2 https://www.usatoday.com/story/money/2017/01/12/pay-gap-between-college-grads-and-everyone-else-record/96493348/
Anna Dapelo-Garcia is an administrator at Stanford Health Care and Founder of Lean In Latinas. She serves on several boards including the Hispanic Foundation of Silicon Valley and the University of San Francisco Master of Public Administration program. Most recently, she was named as the 2017 Woman of the Year by the Women's Health Care Executives.  As Founder of Lean In Latinas, she was appointed as a Regional Program Leader by the Lean In Organization. She has a Bachelor's of Arts in management from St. Mary's College in Moraga, California and a Master's in Public Administration, with a concentration in health services administration from the University of San Francisco.